The era of matching dresses is

 

becoming a thing of the past.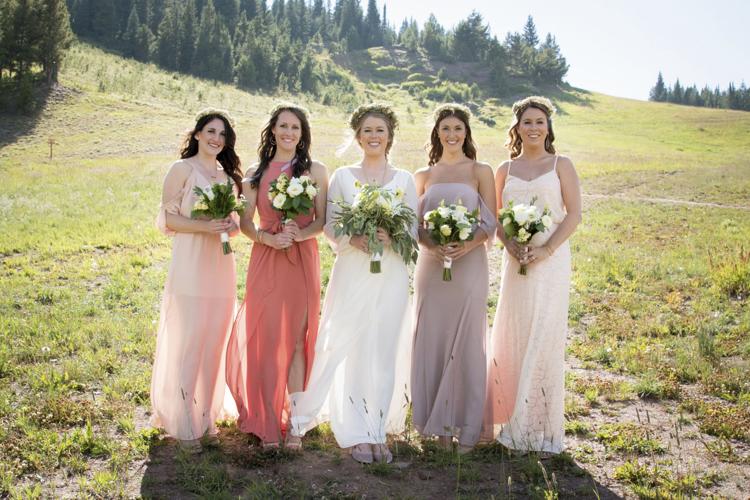 NEW YORK — Alison Kelly felt she had enough on her plate dealing with her own wedding gown and all the details of her mountain getaway nuptials without micromanaging how her bridal party would dress.
So instead, she asked her maid of honor — her sister — and the rest of her bridal party to choose natural tones to honor the informal Vail, Colorado, location that she and her husband had picked for their Sept. 2 nuptials, and to wear styles that made them feel good.
"I'm surrounded by women who make their own decisions and are strong and independent. There's no way I could tell any of them what to wear. It just wouldn't even work," Kelly laughed. "I know that they know their own bodies."
She was thrilled with the results, a soft mix of rose blush, light red, ivory and taupe that proved the perfect complement to her own white gown. The bridesmaids wore matching rings of flowers on their heads. The groom's party was also not matchy-matchy. He wore light gray, his best man was in black and the other groomsmen were in darker gray. Identical boutonnieres tied their looks together.
While brides have been giving their stand-up loved ones greater freedom from the constraints of more traditional — often hideous — matching confections, they now seem to be taking the mismatch bridesmaid trend a step further. Matching colors in different silhouettes or identical dye lots for different styles of dresses have given way to completely different cuts, textures and colors.
"They did so well," said Kelly, who lives in Colorado Springs, Colorado, and works as a librarian. "They kept showing me the pictures of what they were thinking. I thought that was really nice because I was just too busy doing my own thing and planning my own stuff. I trusted them, and it ended up being much better than I imagined."
The trend is well represented on the retail side. David's Bridal, with more than 330 stores in the United States, Canada, Mexico and the United Kingdom, has an online section of mismatched bridesmaids options with advice on how to make the concept work, from using the same color in different styles to choosing wildly different fabrics, lengths, silhouettes, colors, prints and embellishments.
One suggestion from the company: Select different shades of the same color, but include light, medium and dark shades to allow for an ombre gradation. For large wedding parties, mix in some pale neutrals that will offset the overall palette.