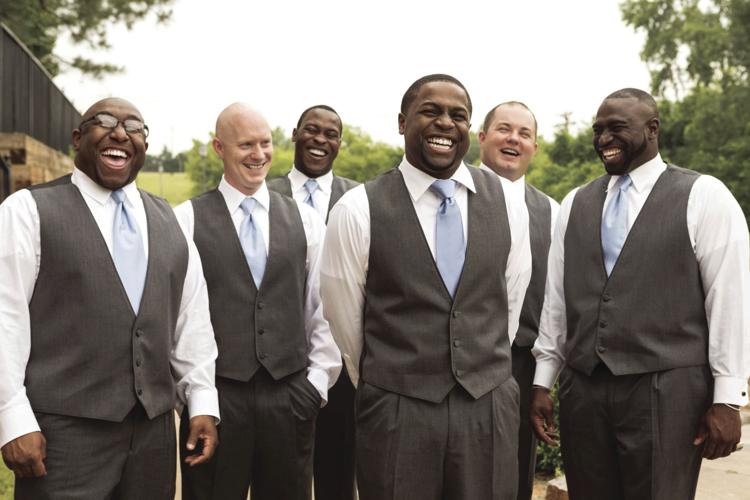 Groomswear is every bit as important as the bridal gown. With more options than ever in men's fashion, men don't have to compromise their personal style to look good. Alia Wilson, wedding planner at Firefly events and video blogger for Men's Wearhouse sums it up perfectly, "[Brides and grooms] want to look like themselves on their wedding day, but just the very, very best version of themselves." The Q and A below answers how grooms can be that very best version of themselves on their wedding day.
WHEN SHOULD I START SHOPPING FOR MY SUIT OR TUXEDO?
According to Men's Wearhouse, you should start within six months of your wedding date. Your final fitting should be as close to the actual wedding date as possible for both you and your groomsman. Speaking of groomsman, pick out exactly what they are wearing so all they have to do is to show up for the fitting.
SUIT OR TUXEDO?
Your choice depends on the how formal of a wedding you are planning. It also depends on how formal of a wedding dress your bride is wearing. You don't need to see it to know — she can describe the color, style and beading in order for your stylist to determine how formal your attire should be. For a formal wedding and look, the tuxedo is the more traditional option. A suit is best for destination, rustic and less-formal weddings. Keep in mind, though, that you can still dress up a three-piece suit quite a bit.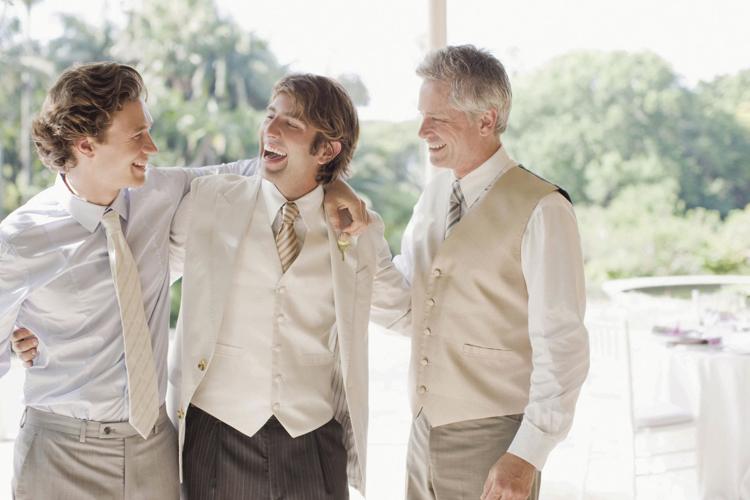 WHAT IS THE DIFFERENCE BETWEEN A SUIT AND A TUXEDO?
A tuxedo consists of a satin lapel and buttons, as well as a satin stripe down the pants leg. A three-piece suit allows more flexibility with colors and style than a tuxedo. Purchasing a suit is more affordable (and more functional) than buying a tuxedo. Although if you will wear the tux more than once, it's worth the investment to purchase it.
WHAT COLOR?
Again, consider what the bride is wearing. If she is wearing an eggshell or offwhite, go with black. If she is wearing stark white, go for dark blue or another color suit. Off-color suits (burgundy and emerald) are currently popular.
Groomsmen typically match the attire of the groom, but one of their accessories like a tie/bowtie or boutonniere could match the bridesmaids' dresses or florals.
HOW DO I PERSONALIZE MY LOOK?
There are many ways to add personality to a suit. Think about adding a patterned tie, a tie bar or a bowtie. You can also purchase highly personalized cufflinks, add suspenders and funky socks to express yourself.
WHAT COLOR AND TYPE OF SHOES?
For a tuxedo, avoid a wingtip and go for the shiny shoes to keep with the formal look. A brown shoe with navy or gray suit is popular now and also adds a level of elegance to the suit. Leather soles add to the formality. Either way you decide, make sure those shoes are shiny and polished!