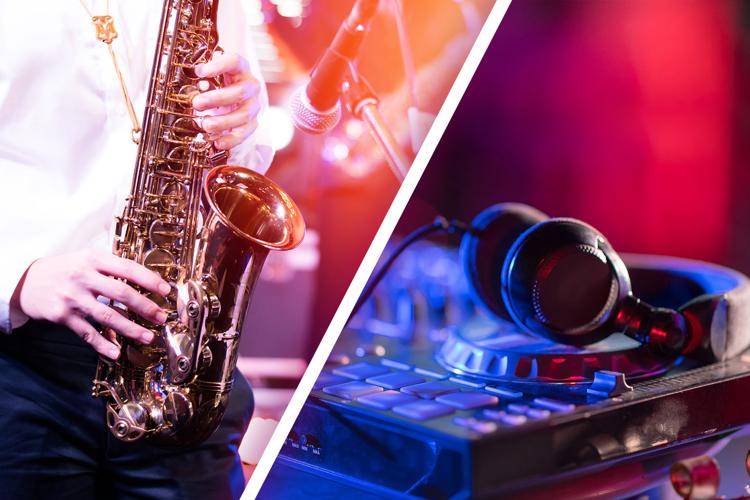 No reception is complete without music. The couples' preferences have to be balanced with entertaining their guests. So, the big decision becomes, hire a band or a DJ? Here's a list of pros and cons to both and how ensure you get the best entertainment value for your money.
Budget
As you might guess, bands are more expensive than DJs. But live music can create a specific atmosphere that can't be achieved by a DJ. On the other hand, DJs can tailor music to a wide variety of preferences from the original artists. Check around online to get a feel for the costs and weigh your musical desires against your budget. Or split the difference — have a band play at the ceremony and a DJ spin at the reception.
The vibe
The size and type of your wedding event will dictate the vibe. If it's a small, quiet ceremony and brief reception, the romantic feel created by a string quartet might be the perfect background music. If it's an all-out bash with large numbers of people, a DJ might be the right choice to meet a variety of tastes and requests.
Theme and venue
If your wedding has a theme, you might want to reflect that mood in the music. Make sure the band or DJ can meet your requirements. Also take into account the venue and any restrictions. A band will need a larger performance space than a DJ, of course, and special power and logistics may be involved (stages, amplifiers and PA systems, lights, etc.).
Music and reviews
Whether you choose a band or a DJ, you'll have some musical preferences, so ask for a suggested playlist based on these choices and any music that is of particular interest (first dance, ethnic or theme music). Don't forget to include the ability to handle requests from guests. Professional entertainers will be more than happy to also send you references and links to video of past performances. The bandleader or DJ will also act as an MC for the event, so get a feel for their personality. You might want to take in a live performance to gauge the music and rapport with an audience.
Availability and costs
Because top wedding bands and DJs are in demand, make sure you choose with enough advance notice to ensure availability on you wedding date. Six months in advance is good time to begin the booking process. Cost, of course, is also a factor. You'll want to decide if they'll play through the entire event or just the reception. Four hours of music is a good baseline to begin from when negotiating, but ask about overtime if the party goes into overdrive.
The show
Make sure your band or DJ can dress and present their show appropriately. Fog machines and disco balls probably won't work well with a black-tie event. Express this early on and share any themes or the venue location so the look of the show will match. Professional DJs and bands will always be prepared to reflect the vibe of almost any wedding ceremony or reception.
The deal
After you've covered all these bases, it's time to seal the deal with a contract. Within the contract, the specific terms of the length or the performance and any overtime costs should be covered, as well as break times, deposits and the refund policy should the show fall short of expectations. Also, if the bandleader or DJ you meet becomes ill or unavailable on the date of the event, ask who will replace them and set up a time to meet with them as well.