The smile of Cori McGrath attracted Jim Lyons, who was looking online for a compatible date in autumn 2014. The mountain backdrop of the guy who was hiking lured Cori, who liked to travel. They met Oct. 16 at a brewery in Kirkwood and watched the St. Louis Cardinals lose a post-season championship game.
The bartender encouraged the spirit of their first date and they started checking the boxes.
Jim had his career together, Cori noticed. His degree in computer information systems had led to a seven-year career with Mercy Hospital. "I majored in biology but wanted to go back to school to be a nurse. He also was super funny," she admitted.
He grew up in Godfrey, Ill., and Cori was from Ballwin. They meshed well.
"She was very different than I was in personality. I was very introverted growing up, but we really clicked right away. We had so much to talk about with different viewpoints. Plus, she has an adorably funny laugh," he decided initially.
Just two months later, her family invited Jim to wear the family's Santa Claus suit. His theatrical side, with a well-practiced "ho, ho, ho," won over relatives and fooled the little kids. After accepting congratulations, Jim and Cori kissed under the mistletoe and he said, "You know I love you."
He passed the initiation and neither retreated.
Jim encouraged Cori to finish nursing studies and she introduced him to international travel. A trip to Thailand in 2017 fit his intention of proposing. Contrary to his usual truthfulness, he claimed he had no ring to take on the trip.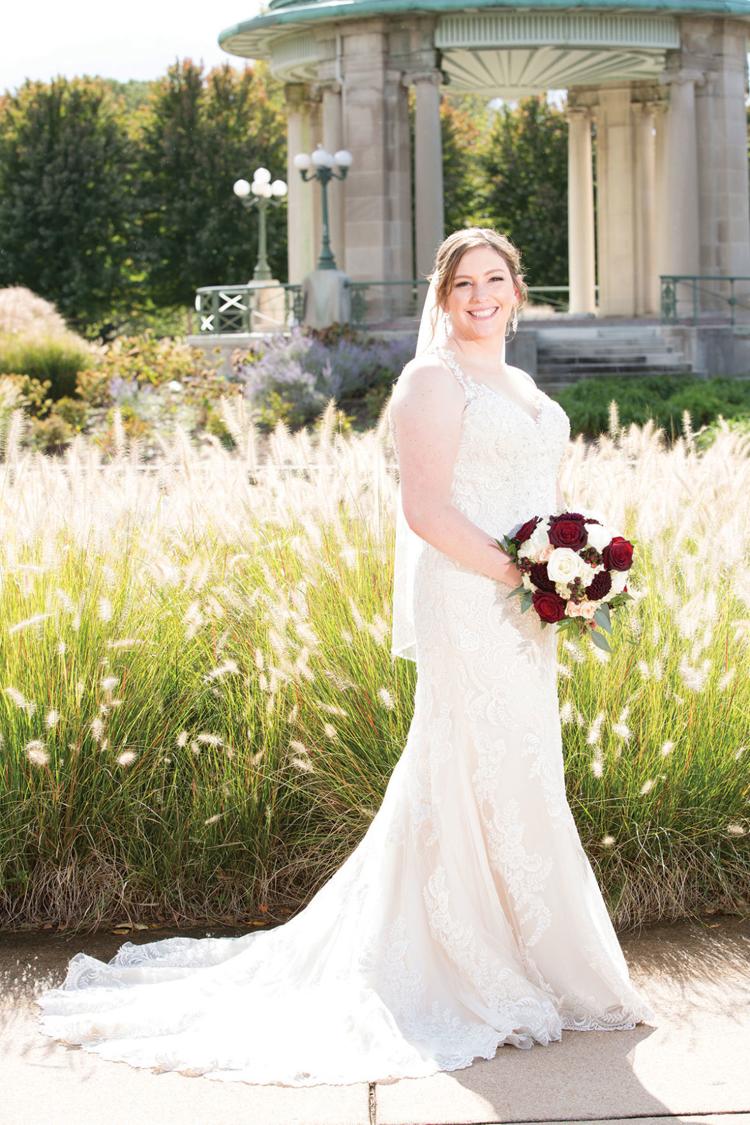 "We were on the last stop of the trip, an island in southern Thailand," Cori remembered. "Our beachside hut opens to the ocean. We decide to take some pictures of the sunset. This would have been a really good place to propose, I couldn't help thinking."
Jim thought so, too. He had gone back to the hotel and asked for champagne. The bartender reached "way back for the only bottle." A couple from Germany, the only witnesses, emailed pictures of his proposal on June 3, 2017.
Planning a fall wedding, they headed to The Jewel Box in Forest Park for an indoor ceremony in a natural setting.
They planned an "all-inclusive" ceremony honoring close ties with family and friends. Manhasset String Quartet provided music. The only sister of each of them was among six bridesmaids wearing burgundy dresses. Flower girl and ring bearer were children of cousins. The father of one of Cori's high school friends officiated and two friends sang. They gave flowers to all the parents and Cori's 92-year-old grandmother, their only living grandparent.
Favorite things highlighted the ceremony.
"The ceremony was so 'us,'" said the bride. They inserted readings of their choice and personalized most of the rest. The groom added, "We touched up the traditional vows."
Jim appreciated Cori's look of confidence when he saw her. "She sometimes gets pessimistic about things. I never heard her talk more positively than she did about her dress. She reflected that coming down the aisle," he said.
Cori credited her mother with fashioning many details, including a display of family wedding pictures. Fresh flowers went into centerpiece vases they decorated with gold leaf. Teddy bears guarded gifts. Her dad strung lights on floating initials behind the head table, a welcome destination.
"When we finally sat at the head table," Jim said, "we had a quiet spot to talk a little bit." Part of the appeal was seeing – for "just a moment," Cori said – all the guests who had come to share their wedding with them.
Although Cori's family happily filled the dance floor much of the evening, Jim broke his own family tradition to dance at the reception.
The groom's new cooking skills will help keep them on schedule as Cori begins studies to become a nurse practitioner. He called her the "sweetest person" he knows, while his compassion, respect and support of her endears him to her heart. "Nobody gets too high and nobody gets too low as a couple," the bride said. "We have good role models as both sets of our parents are still together. The wedding has moved us out and has gotten us onto the road of life."