Hiwot Woldgeorgis and Yohanis Menje followed traditional practices on their wedding weekend of Sept. 2 to 4, 2017. They tucked in time for praising God in the Christian Orthodox tradition of their local Ethiopian Orthodox Tewabech Church, but coordinating themes of ceremony and celebration through three days took a predictive eye and attention to details for overall effect.
Six hundred people who joined them on the middle day at Saint Charles Convention Center were treated to a combination of old and new, religious and intercontinental. 
"We were officially married on Saturday, starting with the ceremony at church," Woldgeorgis said. "Our church service is very long, three or four hours, so with liturgy and praising and songs, we are usually finished around 1 (p.m.). So we split it into Saturday and Sunday." On Monday, close family and friends celebrated in traditional outfits.
'We invite and just assume they are coming.'
Always hopeful of a big wedding, the couple decided in spring to be married in St. Louis in late summer 2017. "My mom and I were the only people planning everything," she said. Connie Barber, the convention center's senior catering sales manager, helped them organize their theme and use space to best effect.
Thus, the dream came true. The original plan for 500 guests swelled intentionally to 600.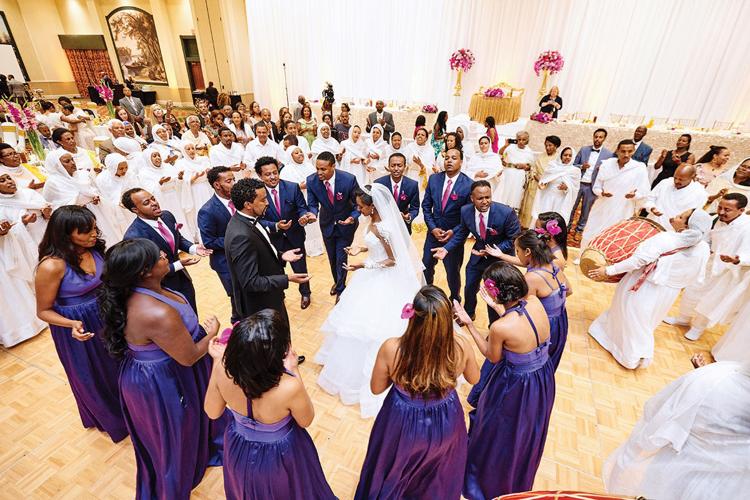 "We don't do RSVPs and don't have assigned seating. We invite and just assume they are coming," Woldgeorgis said. Indeed, they did arrive – from Norway, Germany, Ethiopia and Canada, as well as the United States.
Barber, with experience in international weddings, knew Saint Charles Convention Center would fill the couple's needs for this "lower-keyed" event.
"Hiwot knew that, with the 600 number, she needed a big venue," Barber said. "She knew that the facility fit her perception of what they wanted to do, with choirs coming in, making the dance floor big in the ballroom."
'It signifies purity and that we are an example of Christ as we become one.'
The couple's cultural tradition embraced "church white." The look extended to walls and tables, plus robes of more than 50 choir members from their local church and Atlanta, Ga., the groom's previous home, as well as Nashville, Tenn., and Washington, D.C.
"It signifies purity and that we are an example of Christ as we become one. Every choir has a different outfit, but this showed unity from all different states, too," said the bride.
The newlyweds, hands often raised in praise gestures, joined priests and guests in the Wereb, a song of high holidays. Women wore their Sunday-best netela, large white cotton scarves handmade in Ethiopia which cover the body. Kebero drums, tsenatsel hand bells and choir cane sticks, called mekuamia, marked the rhythm and enhanced the dramatic setting.
Barber envisioned the scene for a single impression. "I recommended the white drape to finish the wall without obstruction from doors. The room is light, soft ivory. Color would come with huge flowers," she said. "On 60 tables, a double runner of purple and gold coordinated with the napkins and chair wraps to provide the elegant look that Hiwot wanted."
A love of orchids spilled over in purple, favorite color of the couple's 4-year-old daughter, Samaria. The bride's bouquet and centerpieces brightened highlights on white backdrops.
Woldgeorgis mingled Ethiopian form with traditional white American gowns for herself and Samaria, who "thought it was a big party thrown for her," recalled her mother. For this event, appliques on the fluffy white dress of her daughter matched her own bridal gown.
'You do one thing and check it off and move on.' 
The head table was planned carefully to focus on the bride and groom. After considering multiple options, the bride and groom were centered on a double riser just behind attendants, women to one side and gentlemen on the other, also raised just a single level above guests.
Plentiful traditional Ethiopian food was served. With an open invitation to their community, Barber said, a reasonable number had to be set so Meskerem Ethiopian Restaurant could prepare the food.
"Originally we looked into family-style dinners, but it wouldn't feasibly work," she said of the traditional menu which included raw meat. The bride preferred two 48-foot-long food lines, which they placed in a pre-function area outside the ballroom. "It turned out to be a soft flow, not rushed, to be served from the many dishes offered," Barber noted.
Tej and tella, traditional beverages, were "definite musts," Woldgeorgis said. Serving was adapted, Barber noted, to accommodate an Ethiopian custom of having it poured at guests' tables.
The evening event began at 6, food was served at 9:30 and the multi-tiered cake designed by the bride was served at 10:30 p.m. Guests wished the bride and groom well with a sparkler send-off.
Later, the bride, a health care practitioner, expressed gratitude for the opportunity to have the big wedding of her dreams. Planning it in only six months for herself and her husband-to-be, a business owner, was to her liking.
"The longer you have, the longer the debate over issues with so many options. If you have a short amount of time, you do one thing and check it off and move on," she advised.
St. Louis Best Bridal is the best place for a bride and groom to get started with wedding planning, offering inspiring photo galleries, wedding and engagement announcements and more.