Reading like a novel, Jen Wirtz and Ryan Schonhoff's romance started, "It was a cold and wintry night …," on Jan. 28, 2012.
"I was ready to call it a night," said the manager of event and exhibitor services at Saint Charles Convention Center. Then, Ryan "swooped in" to dance. Easy conversation followed. He found her "attractive, fun, confident" and she liked his initiative as newly falling snow outside threatened to cut the evening short.
Jen made it clear. Any relationship would consist of real conversation rather than text messages for her.
So what did they do next?
He texted her to set a time to talk by phone and negotiate a date at a Korean restaurant that became a favorite. She lived in St. Ann while he was rehabbing his house in Glen Carbon, Ill., and worked at Ameren in downtown St. Louis.
Ryan said, "We talked a lot." The conversation was fruitful. "Once we took the time to know each other, we were inseparable," Jen said.
Although they shared similar values, their youthful upbringing varied greatly. Ryan came from a traditional family while Jen spent Monday to Friday with grandparents and went "home" on weekends. They planned their first trip to the Florida Keys for late April. An eventual decision to live together, Ryan said, was to see if they could find balance. Jen added that they "wanted to make certain we would know each other" before committing for a lifetime.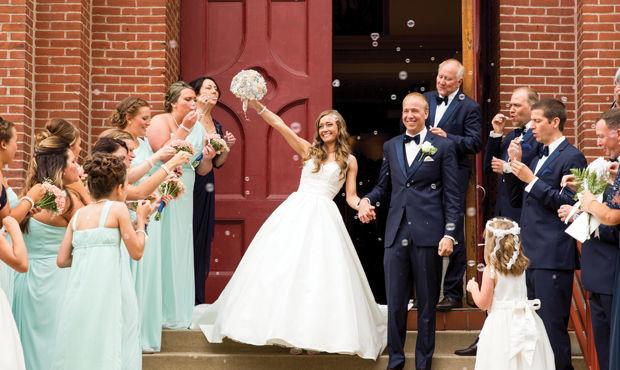 Results were positive. "Sharing made us stronger," he said, "and made our commitment better."
Becoming engaged was an early idea in their relationship. Ryan planned the occasion for – when else? – a wintry evening after the two-year anniversary of their first dance facing Main Street in St. Charles. So how was the weather? Icy. Stormy. With the ring in his pocket, they took wine home rather than challenge the weather further.
He asked her to wait in the car to be certain the scene was set.
"There is a huge hallway where I put this trail of rose petals," Ryan said. "That's when I said, 'Hey, come on in.' I forgot to get down on one knee and she called me on it, but everything went well."
It was a celebration meant just for two. "That night we just soaked it all in," Jen said.
'Sharing made us stronger and made our commitment better.'
Putting their wedding into place, they wanted to share vows in a church where they were committed. Once they found St. Peter Catholic Church nearby in St. Charles both beautiful and welcoming, the bride-to-be concentrated on a winter of classes in the Rite of Christian Initiation of Adults (RCIA) to complete her membership. Deacon Larry Bolt, who led her one-on-one sessions, was an easy choice as their officiant.
As a professional in the event field, Jen acknowledged her expectations might have been higher than the average bride. Once she stepped away from her working role at Saint Charles Convention Center for their reception, they delighted in making knowledgeable selections.
With a year to plan, she signed up – with Ryan – to personalize details for their wedding with eight groomsmen, four ushers, seven bridesmaids, two junior bridesmaids, two flower girls and one ring bearer. They would have it no other way for 240 guests.
"We wanted to invite everyone we have known from way back to be part of this," Ryan said.
Wedding decor echoed the light vintage style of engagement photos with old-fashioned props borrowed from his family. They "hopped in" a 1950 GMC pickup truck recently restored and painted green to drive from church to the St. Charles riverfront for photos. A fishing basket held good wishes and guests' photos taken that evening. Her grandmother's typewriter showed a thank-you note written for guests that ended, "You are our favorite people in the world and WE LOVE you!"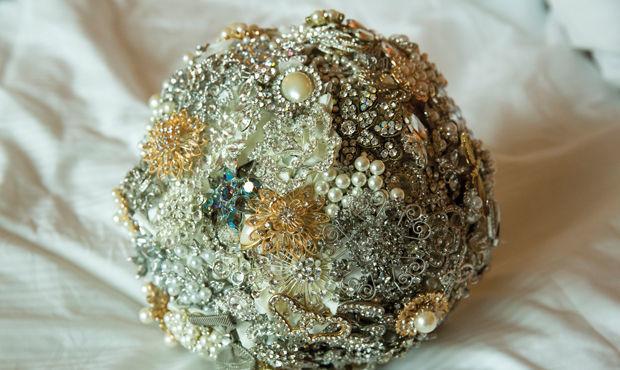 Jen spent months gathering crystal brooches, many of them from family, to form her bouquet with a grandmother's rosary wound around it, and mini bouquets for the flower girls who proudly displayed the sparkling "floral" pieces. Her oldest niece, age 13, asked before the wedding to use her aunt's bouquet when she becomes a bride some day, a tradition Jen hopes to share because "it won't ever wilt. It is something that you can cherish."
Colors chosen were mint green and navy with cream accents. Her ambitious plan to arrange bridesmaids' fresh bouquets detoured when the bulk floral order arrived a month early. "It was probably a blessing in disguise," she said. She moved a "last-minute hassle" of forming peach-colored carnation bouquet into the hands of professionals.
Jen's only tears that day sprang from joy as she started down the aisle.
"When those doors opened and I saw my soulmate waiting for me, there was an amazing, overwhelming feeling." Her father, who gave her away, sensed her emotion and held her tight. "The ceremony for me was the best part. It was all smiles," she said. Ryan's calmness surprised him. "Even though hundreds of people were there, it felt like just us standing there. It was very special," he said.
As they exited the church, attendees "cheered us with bubbles," the bride recalled. After pictures along the riverfront and a few minutes – "it was 30 but felt like 2," Jen said of their day's time-for-two – alone, they moved into the party bus for more pictures at Creve Coeur Park, a frequent destination for biking and walking their dog. Dex(ter) gave Jen a kiss for good luck on her and Ryan's wedding day and also posed with them for thank-you notes they planned to send later.
Dance lessons were intended as relaxation away from rehabbing Ryan's house in Glen Carbon where they planned to move soon after the wedding, but decided instead to rely on their practiced style when they danced the first time as Mr. and Mrs. to "Marry Me" by Train. A gobo on the wall behind their VIP seating arrangement illuminated their first names, mutual initial and wedding date.
A friend's video with pictures of their growing-up years was a surprise shown after dinner. They kept the top of a double-tiered wedding cake for their one-year anniversary, with guests enjoying luscious sheet-cake flavors: red velvet and chocolate with fillings and frosting.
"We were so busy and the day went by so fast!" Jen said.
Fortunately, no snow kept the newlyweds home from a two-week honeymoon to Italy – Rome, Sorrento, Florence and Venice.
"It doesn't get more romantic than that," Jen mused. They felt their marriage would receive a boost after Pope Francis blessed their wedding rings at his public audience. At tastings in Tuscany, they selected wines to celebrate their fifth, 10th and 15th wedding anniversaries. Ryan said they hope to travel more in their immediate future "after all the wedding and house madness."