The story began, "Once upon a time…" when Ashley Harrison and Matt Fehr were preschoolers.
Their only memory is liking each other when they were 3 years old at St. John's United Church of Christ in Red Bud, Ill. Story of the crush continued through kindergarten. One day, when Ashley was playing puppets with a friend, Matt snuck up and kissed her on the cheek. On a dare or his own idea, he quickly ran away.
"Our first kiss was back in 1989!" Ashley said.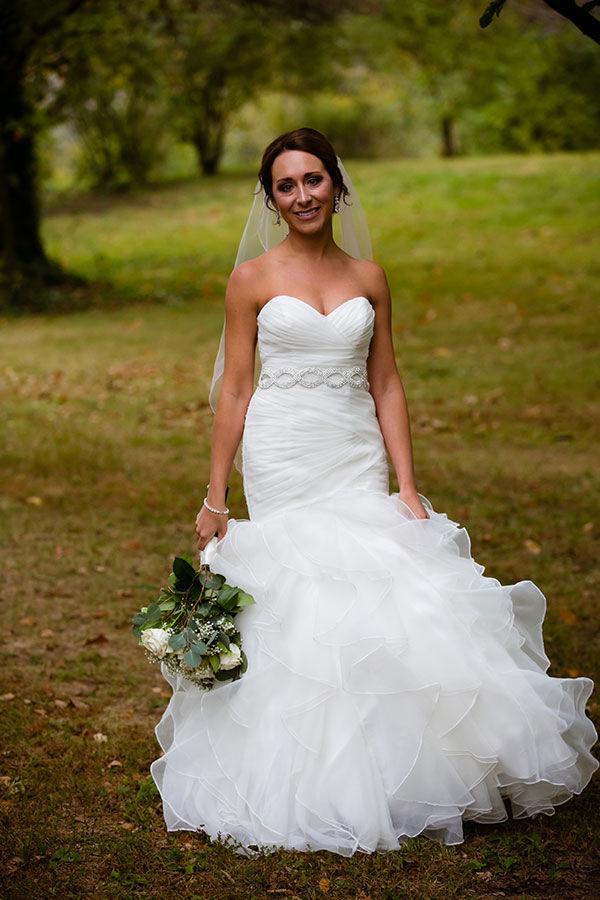 In third grade, her family moved "away" – 25 miles down the road. Her friends thought they should get "married" then and there. In fifth grade, Matt worked up courage to call and invite her out. Ashley faked asking permission and told him her mom wouldn't let her have a boyfriend.
They grew up without stumbling into each other, not even at the annual Red Bud picnic.
In October 2009 they became Facebook friends. "We talked about a year online before we actually met again in person," Ashley recalled. Reconnecting with a friend led them to meet – even when the friend cancelled. Matt added, "After 15 years, everything was extremely comfortable."
The rekindled tale for the next eight years suit their personalities, they agreed, but also fit Matt's early description of what would lie ahead.
"Almost from the first time
we hung out, he told me relationships were marathons, not sprints," Ashley explained. Advancing toward a finish line, he was ready to propose on New Year's Eve 2017. By mid-afternoon, she suggested they eat out early.
"It kind of rushed my plans, but it just seemed like the time to do it. I threw it together at the last moment like I do some things," said low-key Matt. He proposed in their Columbia, Ill., home.
They picked Main Street Abbey, just two blocks away while it still was being rehabbed from church to event space. They hoped for autumn for a casual ceremony in a traditional setting. Oct. 13, 2018, was chilly and it rained late.
Calling themselves "products of the '80s," they translated favorite colors – his was blue, hers pink – into details of dusty rose, navy and gray. Ashley wore her stepfather's wedding band around her ankle, borrowed her grandmother's eighth-grade graduation purse and carried a great-grandmother's blue handkerchief. The groom wore baseball cuff links, a gift from Kyle, his teenage godson.
Reading unexpected notes from each other set the stage. Their first look was at her parents' home. "It was better to experience more intimately, rather than onstage in front of 150 people," Matt said. "She sort of snuck up behind me. We were both just excited. It took off the pressure."
The encounter eased their nerves. "After that, everything was fine," the bride said. Her grandmother, a lifetime stabilizer, also was with her in the morning and Matt's aunt took charge of ceremony timing. Ashley's 86-year-old grandfather, formerly a pastor in Smithton and now retired to Florida, married them.
"We pretty much either made or built all the reception décor from scratch, because I love to craft and Matt is handy. We built wood boxes and stained them for the tables. We built an arbor for the altar. I hand-lettered a time line on an old window."
Matt's No. 1 request was to serve delicious food, so Salt + Smoke, a local restaurant, catered. Matt's aunts baked cakes, including tiers for cutting a first slice and saving the rest for their first anniversary. Of almost a dozen varieties of chocolate candies, including turtles and caramels, the aunts made, few survived the evening.
The groom counted first-dance music as one of their hardest decisions. Down to four finalists, they drew Chris Stapleton's "Tennessee Whiskey" from a hat for the Ralph Butler Band to play.
Experiencing life together is important to them for their long storybook tale to end "happily ever after."
"He just brings out the best in me. I feel really calm and like myself when I am with him. That has longevity to it," Ashley said.
Matt discovered it in their teamwork.
"We can get through things and support each other," he added. "It is one of the biggest things that holds us together. We want what is best for each other."