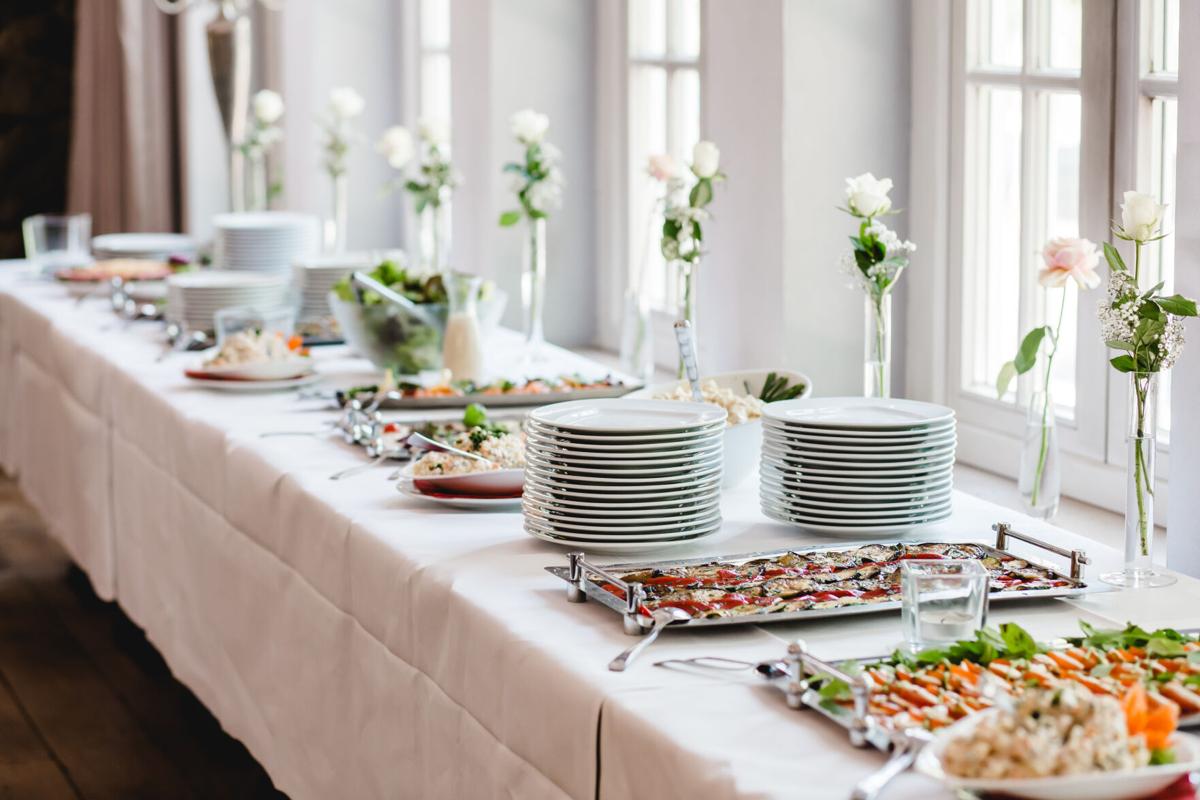 When you're planning a wedding, you're inundated with decisions, regarding everything from the color palette to the guest list to the venue. One decision that deserves particular attention, though, is the food.
The biggest thing to consider is what feels right for you and your partner, says Kristin Byars, owner of luxury wedding consulting company Kristin Ashley Events.
"I always ask my couples, 'Where do you eat? Where do you like to drink? What do you like to do? What is your vibe?'" she says. "Because, yes, all of the food and drinks can be trendy, but the most important thing is how a couple foresees their day and their experience with their guests."
We tapped Byars for her expertise when it comes serving options and talked everything from trends to COVID-19 safety to how to make your wedding meal memorable.
Looking for a Cost-Effective Crowd-Pleaser?
Buffet-style dining gets people up, moving and eating. If you'd rather get the party started on the dance floor than have everyone stagnant and seated, this might be the best option for you. As a bonus, it can be a more budget-friendly choice.
As couples prioritize health and safety, Byars says, she has been seeing more buffets with servers dishing out dinner rather than having guests serve themselves.
"It does take a little bit longer, but I think it's a better way of doing it," she says. "You want to create the safest experience for your guests."
Opt for a seated situation.
A full-service seated dinner will always be the most traditional way to share a meal with your loved ones on your wedding day. Your guests can relax and enjoy the night as courses are brought to them.
But just because you're going the more formal route doesn't mean the meal has to be boring.
Byars says she is seeing a lot more creativity coming out of the kitchen from caterers she's worked with, such as 23 City Blocks. She notes that there seems to be a bigger focus on healthier veggie-forward dishes, rather than starch-heavy meat-and-potato plates.
Rocking a Small Guest List?
This is your chance to get personal.
When you have a smaller guest count, you give yourself – and your budget – more room for personal touches, Byars explains. Consider hosting a multicourse meal at your favorite restaurant, incorporating more artisanal details (like edible florals in your cocktails) or using the opportunity to really focus on locally sourced, in-season ingredients.
When Byars hosted her own small wedding last fall, she collaborated with her chef to select meal options for each of her guests based on their favorite foods and dietary preferences.
An increasingly popular option, food stations, above all else, give you flexibility. Whether you're having a traditional ballroom wedding, a casual cookout or an upscale garden fête, you can set up stations to fit your theme and taste, and your guests can eat what they want when they want it.
"I'm seeing it at a lot more outdoor events," Byars says. "You can go casual in style but still enhance the experience." Byars' favorite food station examples include make-your-own macaroni-and-cheese stations, stations offering multiple varieties of fresh salads and even custom frozen-rosé stations.
"People will say things like, 'Oh, no one remembers the food,' but they remember the food when it's amazing," Byars says. "If you create a really good experience for your guests – and this is not just with the food but with anything with your wedding – they will walk away knowing exactly what they ate."