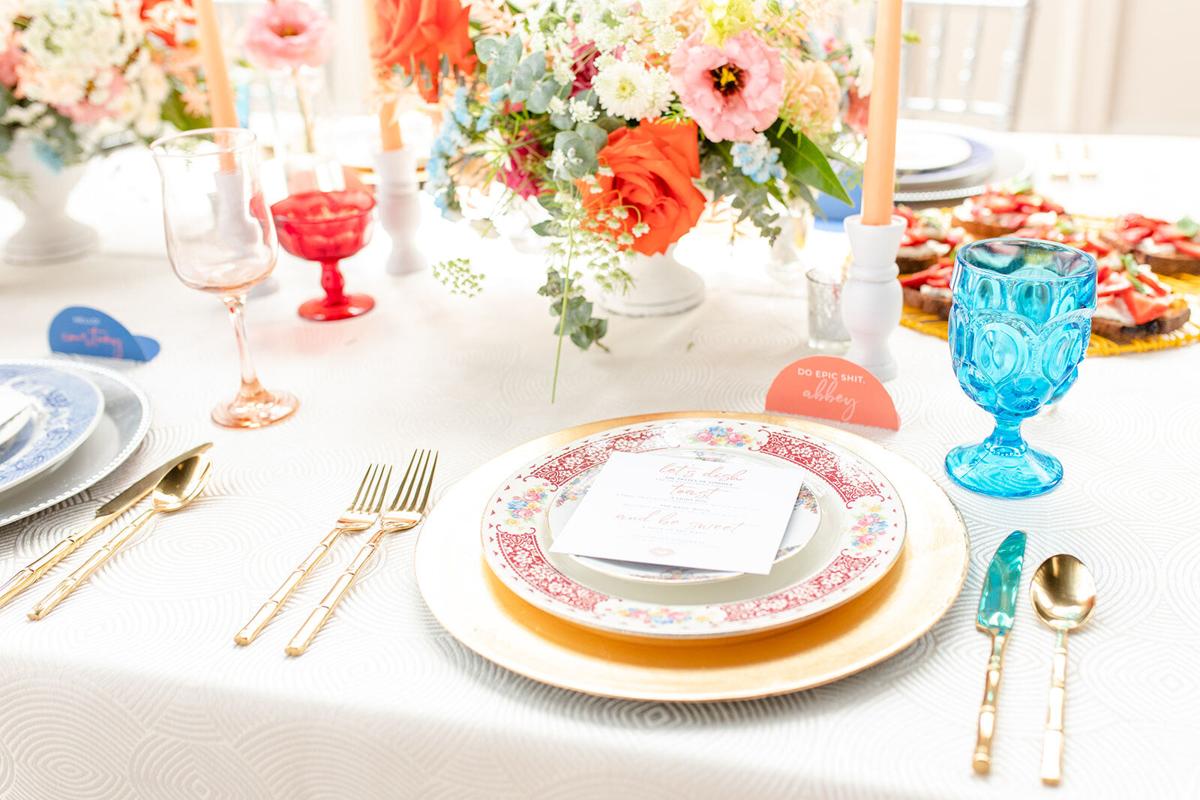 Some grandmothers just have style. Lucky for Tammy Kirkiewicz of local vintage rental company Nadine & Mina, both of her grandmothers had it in spades, which catapulted her into the business of entertaining when she inherited their fantastic vintage glass, flatware, mismatched china and serving pieces.
"Both were extremely creative," Kirkiewicz says. "Nadine was a national flower show judge. She did gardening and taught me how to embroider. She always had prim-and-proper, immaculate tables, with everything set perfectly."
Mina also knew how to entertain, a gene that Kirkiewicz has inherited. "My paternal grandmother painted china," she says. "[She was] a very good cook and family-oriented. It was easy [for me] to take on table settings and entertaining."
The wedding industry was one of those hardest hit by the public health crisis. As weddings were postponed, some within the industry suffered worse than others, including Kirkiewicz.
"When you charge per item, like a florist or caterer, I have learned that the deposit covers everything," she explains. "Deposits for 200, 300, 400 guests are now down to 100 guests. Their deposit covered it, so there was no more money coming in. Florists are selling less centerpieces; caterers are selling less plates."
Kirkiewicz embraced the trend of intimate weddings, though, and found an establishment that could serve not only as a home to all of Nadine & Mina's vintage wares but also as a venue. Settings, located in St. Louis' Benton Park neighborhood, is not limited to wedding-related events, though.
From hosting darling tea parties to working lunches to dinner parties, the versatile Victorian storefront also offers space for a bridal suite and photography sessions, with access to vintage furniture and wares.
Able to service a wedding of 400 or more people, Kirkiewicz's collection contains items that mostly date back to the 1930s and the Depression era.
"Manufacturers cheered people up during the Depression and gave these out for free," she says. "The ones getting the most attention are the carnival glass, [which] has an iridescent finish. That's [why it's called] carnival glass; you could win it as a prize. They almost look like oil spilled in water. Candlelight does wonders with it."
Also popular are her cocktail glasses for signature drinks or bourbon tastings. Nadine & Mina's sophisticated pieces ensure a timeless essence at your event. From a singular color, like blush pink, for your big day, to a beautiful blend of varied hues, the real appeal of the vintage wares is that each adds a uniqueness not to be repeated at following fêtes.
"One of the unique characteristics of [these rental items] is that you can look at pictures of weddings that have used my pieces – and you can't date them," Kirkiewicz says. "You can't pinpoint the year it was taken because of the colors, styles and vintage look."