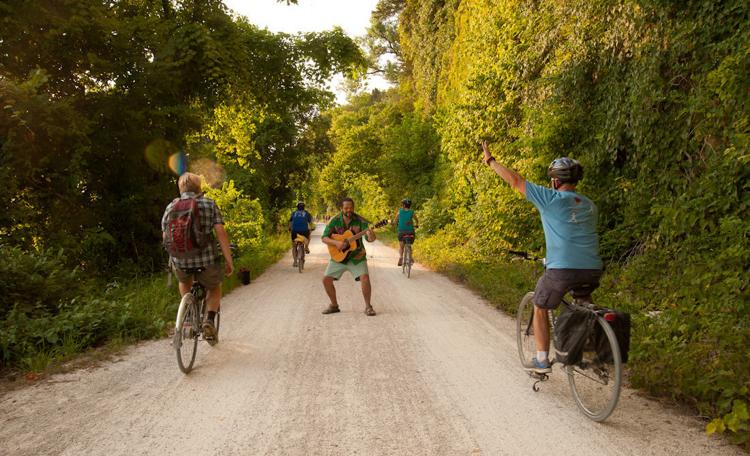 If you're a cycling enthusiast, film buff or nature lover, head on out to downtown Columbia, Mo., for the Boone Dawdle on Saturday. 
Sponsored by the True/False Film Fest nonprofit organization, the Boone Dawdle is in its 10th year and makes its way from downtown Columbia to the Blufftop Bistro at Les Bourgeois Vineyards in Rocheport with an entire afternoon chock-full of leisurely outdoor events.
These events include a 16-mile bike ride stretching from downtown Columbia on the MKT Trail to the Katy trail and onto the Blufftop Bistro. Trailside surprises are sprinkled along the bike path, such as an "advice machine" and a small carnival.
True/False Film Festival managing director Camellia Cosgray says the Boone Dawdle is her favorite event of the year, and she encourages all levels of cyclists to participate.
"It's a really fun, relaxed, outdoors event," Cosgray says. "It's pretty flat the whole way, so it's something that just about anybody can do. I'm very confident that I could do it, even though I haven't actually ridden a bike in a couple of years. So if I can do it, anybody can."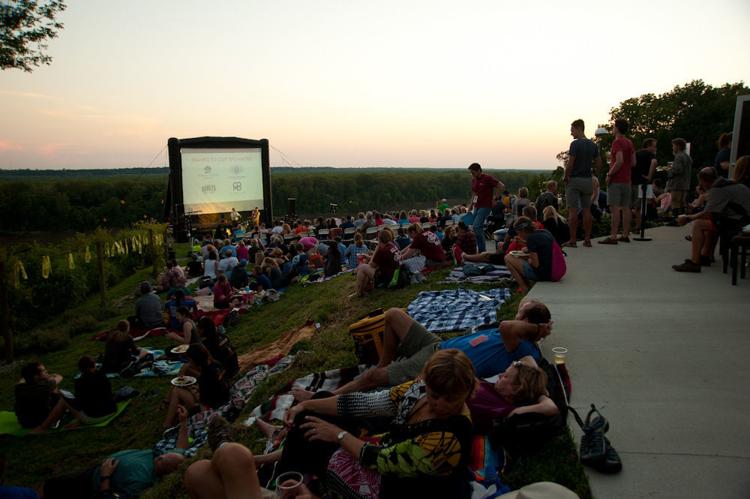 Once attendees arrive at the winery, they can enjoy a picnic-style, locally sourced meal including  beer, wine and other drinks and accompanied by live music.
"It's just such a beautiful spot," Cosgray says. "I love being out there, it's so fun especially after the ride, to just hang out, looking at the river as music playing and with really good food, it's just a really wonderful place to be."
After sunset, there will be an outdoor screening of the documentary "Circus of Books" and a Q&A session with the filmmaker. According to Cosgray, the film society picked this documentary for its compelling story and overall lightness.
"Circus of Books is just sort of a really lovely film," Cosgray says. "It's affecting, and there's certainly sad moments and heart-wrenching moments, but it's also very funny at times."
The film showcases a financially struggling couple, Karen and Barry Mason, in 1976 who answer an ad in the paper to run an L.A. porn store named "Circus of Books." The store quickly becomes a hub for the local LGBT community and within a decade is the largest distributor of gay porn in the U.S. Focusing on the double life that the couple led as both dedicated friends to the LGBT community and parents in a time when this culture was not accepted, the documentary is filmed by their daughter Rachel Mason.
A raffle will also take place and proceeds will go to the Ragtag Film Society, an all-volunteer effort to promote independent film and media art and to serve the film community. Raffle items include a bicycle from Walt's, a local bike shop, passes to festivals and other small ticket items.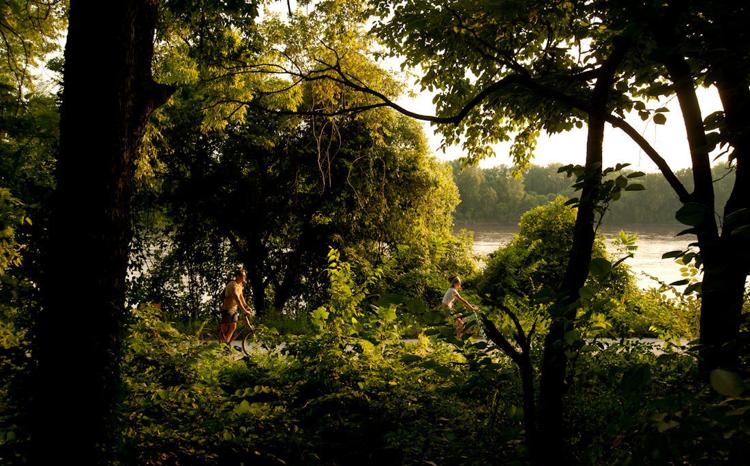 A mini-float trip is available when cyclists reach Katfish Katy's, near the midway point. The 25-minute round trip is led by the Missouri River Relief team and features views of the limestone bluffs, eagles' nests and prehistoric artwork along the Big Muddy.  
Where Downtown Columbia, Mo. • When 1:30 p.m. to midnight. Aug. 10 • How much $70 for party pass, $90 for the whole event when booked online now More Info • truefalse.org; 1-573-442-8783