Inside the nondescript building at an Olivette office park, dozens of players sit at rows and rows of card tables, silently strategizing and quietly quipping.
"He's got more master points than the pope," said Dick Lazaroff, 69, president of the St. Louis Bridge Center board, motioning toward one of his opponents, Jack Bryant, 87.
Bryant looked up from his cards over a pair of royal blue rimmed glasses.
"He doesn't play often," replied Bryant.
"Not here," said Lazaroff.
"He'd be overdressed," said Bryant.
And so went the game at the St. Louis Bridge Center, which is figuring out ways to stay robust and active during the pandemic. The club is the largest of a handful in the area, and is celebrating its 10th anniversary this year. Before the pandemic, it would have about 120 of its 800 or so members show up at any given day, ready to play. On this recent afternoon, about 70 did. Other bridge clubs include Bridge Haven in St. Ann, Bit O'Bridge in Lake Saint Louis, as well as bridge at country clubs.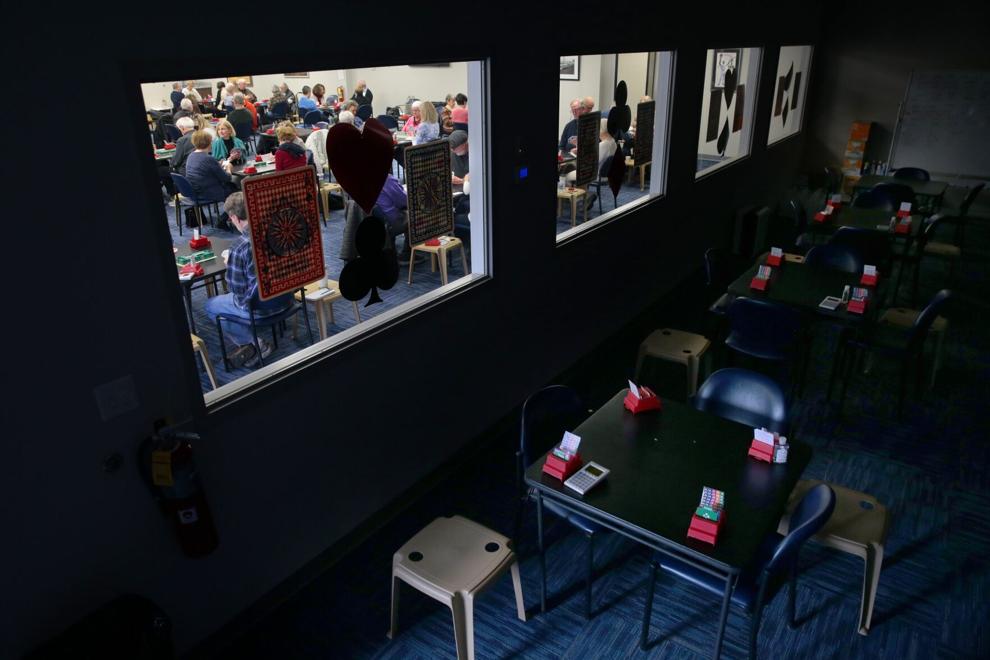 "You can talk to all those people out there, and they've made a lot of good friends because of bridge," said Mark Ehret, a director at the club who runs the games. "People who were single who have gotten married."
"People who have married have gotten divorced," quipped Bob McDill, another director.
The members who saw the center as a social and mental lifeline had to adapt quickly during the pandemic. The center shut its doors in March 2020.
"When COVID first hit, it was pretty sad," said McDill.
Most of the players are seniors, and the thought of putting them in close contact for several hours a day, touching the same cards over and over, was a recipe for disaster. The first coronavirus cases in Colorado were traced to a bridge club in Colorado Springs; the first death in Colorado was an elderly female player.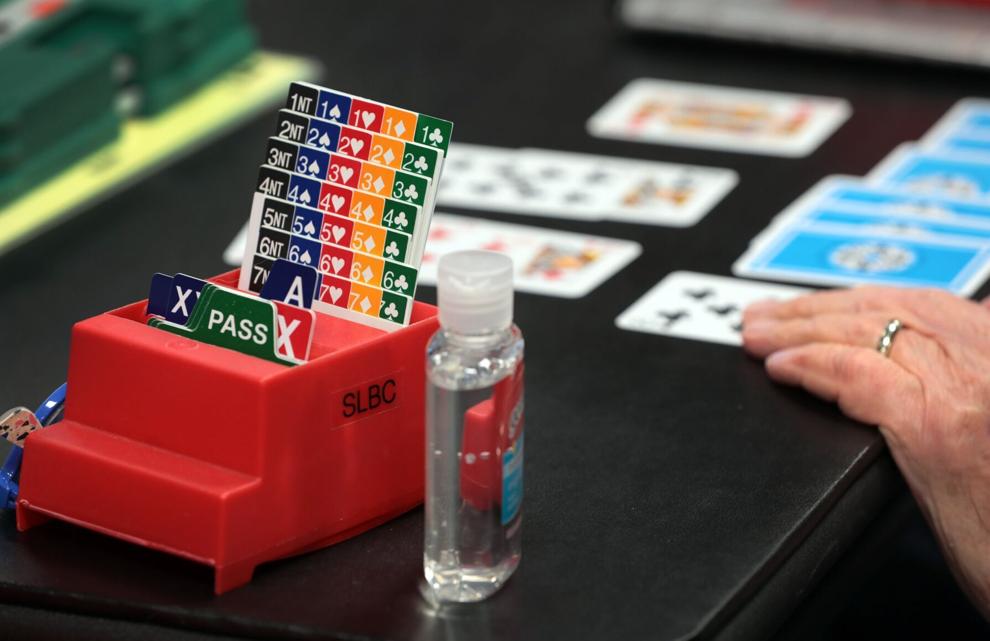 Board president Lazaroff, a retired pediatrician, watched the numbers carefully. The club reopened in June, then closed again in December when a member tested positive. It stayed closed, with the goal to keep everyone healthy through the holidays and the omicron variant.
In February, it reopened for face-to-face play. Members pay $10 to play for the day, which usually lasts from about 10 a.m. through 1:30 p.m.
Meanwhile, the club added better ventilation, provided hand sanitizer, took away finger foods and required members to be vaccinated.
After the building closed, the members moved their play online, and they continue to do so some days. That's a boon for snowbirds who live in Florida and Arizona part of the year, for members with mobility issues and for introverts. And while there's a chat feature online, and while the computer provides more data at the end of a game, it's not quite the same as face-to-face play.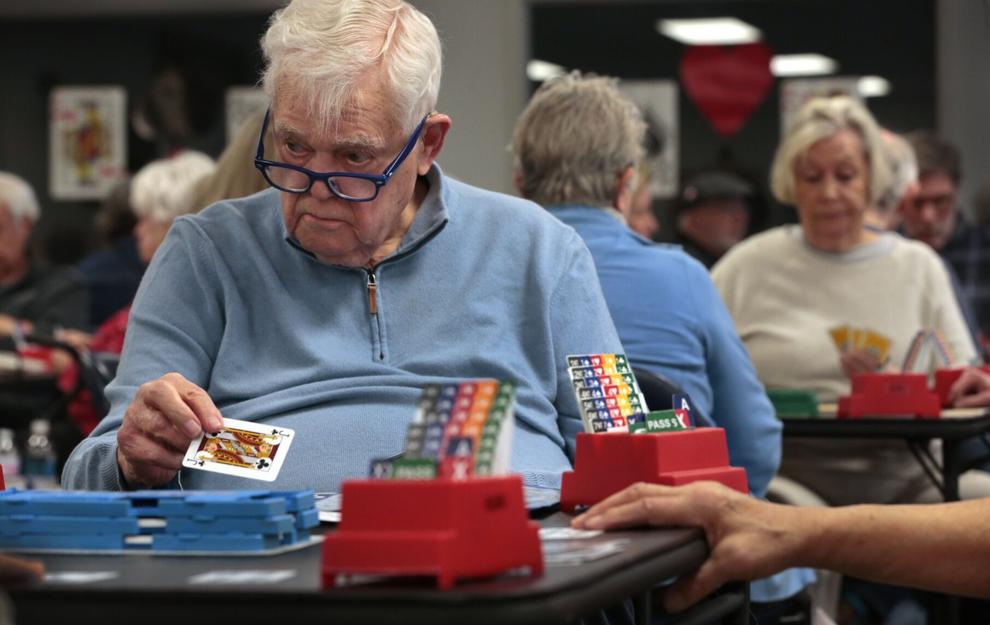 Bridge is a social, cerebral and competitive card game played with four people at each table. Each person has a partner and each partnership attempts to score points by making a bid or by defeating the opposing partnership's bid. Making it even more difficult is the only way you can communicate with your partner is by using "conventions" you have agreed to play with each other and a bidding box with 35 separate symbols. The room is extremely quiet during play.
In duplicate bridge, which they play at the St. Louis Bridge Center, players can compete on a level playing field because all play identical hands but against different competition.
"Basically, it's a very cerebral game. It requires players to use both memory and executive functioning skills of the brain," said Lazaroff. "And it allows for continuous learning and study to improve their bridge knowledge. Some even pay for playing lessons with a professional who helps them to improve."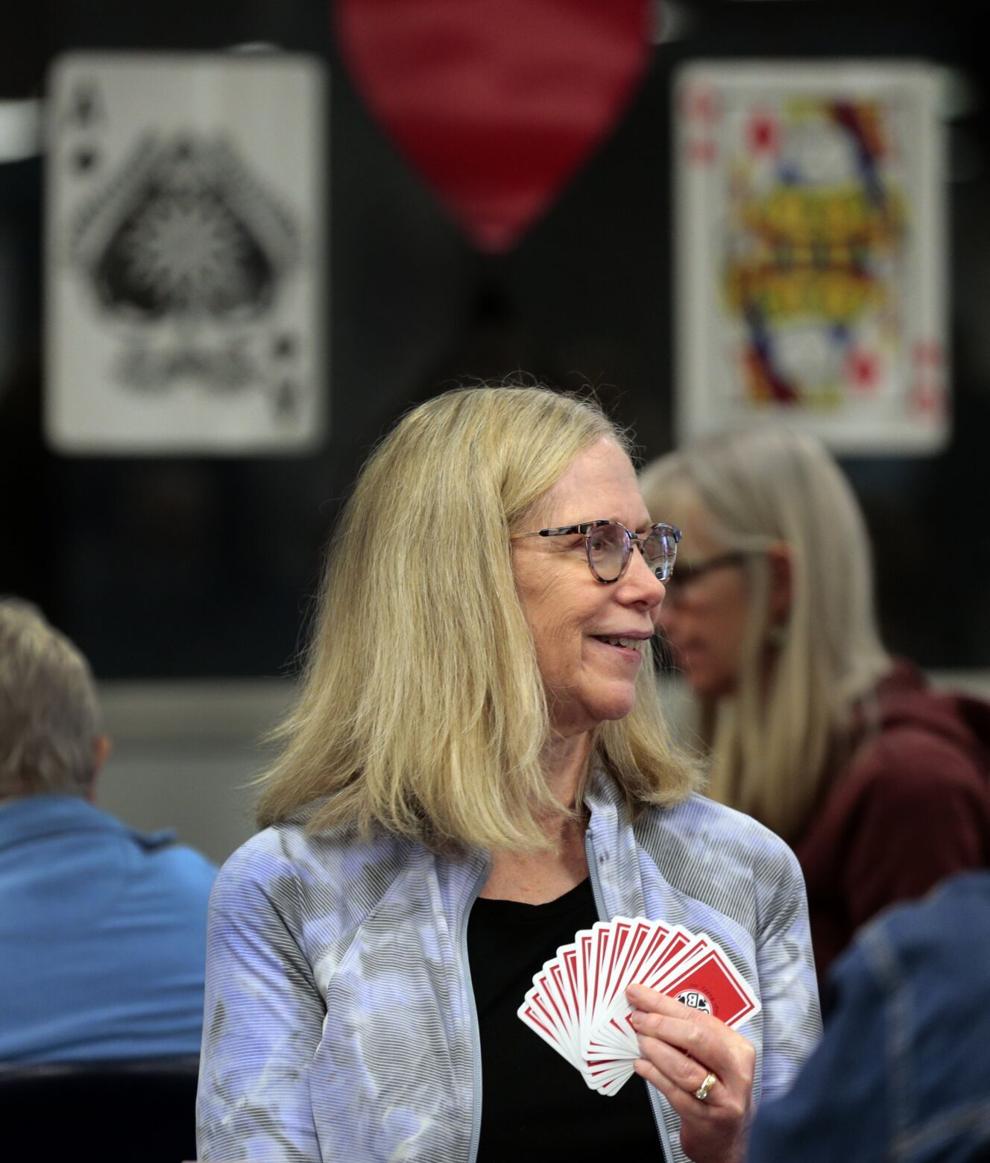 He points out the better players are often "numbers people" like actuaries and accountants, or ones with logical minds like attorneys and physicians.
"When playing, I'm trying to visualize everybody's hand based on every piece of information that I've received from the bidding and the play on the hand," he said. "Good players can do that at an extraordinary level. Bad players can barely get past the cards they're holding in their own hand. But regardless of one's skill level, everyone still has fun."
As a kid, Lazaroff learned to play by watching his mom and grandparents. He picked up the game more actively when he retired.
The bridge center provides lessons, though those have fallen off a bit during the pandemic. Members occasionally meet with the bridge team at Washington University to help them improve and learn.
"Anybody can play this game. Anybody," said Ann Lemp, 68, a retired attorney from Webster Groves. "And if you come in, you will be surrounded by people who want you to learn how to play the game because they want this game to keep going and they want new people to play against. If you show up here, you are going to be valued and cherished."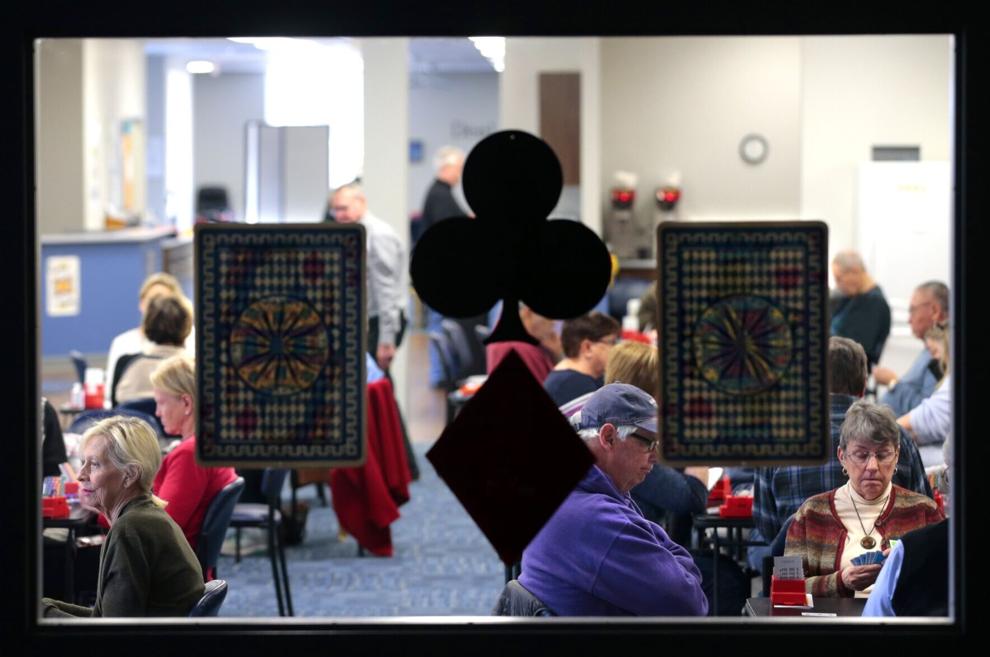 It's a caring bunch, they say. Every year, they raise money for the Alzheimer's Association, the charity of choice of the American Contract Bridge League. The league cites study after study that says the game is good for your brain, improves your immune system, and can delay dementia.
The St. Louis Bridge Center has raised up to $80,000 annually for the Alzheimer's Association, and hopes to raise the same amount during its effort in June.
A few times while the center was closed, the club hired a piano player to come to the center's parking lot and play live music for its members. They knew that even though players could compete against one another online, it's the socialization and real-life interaction that keeps people active and happy.
"I truly believe that you cannot have more fun with 10 bucks," said Bryant, Lazaroff's opponent with the royal blue glasses. "Just a martini is what? Twelve or 13? No, I mean that."
Lemp likens the club to the bar "Cheers," where everybody knows your name. And if they don't know your name, they will still ask about you and your partner, and want to know how you're doing.
"It's kind of like this place is a community in the way a church would be a community," said Lemp. "It's so healthy. I love this place."