Bring it on home: Our readers love to travel to Ireland
Our readers seem to love to travel to Ireland. Each week we run a "Bring it on home" column where readers send us photos of their travels. We've had so many come in from Ireland lately that we've decided to feature several of them here. 
Kevin and Shannon Burke
Who and where •  Kevin Burke of St. Louis and Shannon Burke of League City, Texas, standing inside Blarney Castle in Ireland.
The trip • The siblings and their mother, Judy Fogertey of St. Louis, toured Ireland with the C.I.E. tour group.
Travel tip • "The highlight of the journey was spending the last night at the Dromoland Castle."
Mark and Kathleen Range
Who and where: Mark and Kathleen Range of Columbia, Ill.,  in front of the entrance to the Cliffs of Moher.
The  trip • They took a seven-day trip to various cities in Ireland (Dublin, Ennis, Killarney, Waterford and more) to celebrate their 41st anniversary and to check an item off Kathy's bucket list. She found out her ancestors (the O'Briens) owned Bunratty Castle near Limerick, and they experienced a medieval dinner there.  
Travel tip • "If you've never been there, you can't beat a guided tour through a reputable company. You'll see so many different places and all the details are taken care of for you. Also, you will definitely need a waterproof jacket."
Ross and Dana Cantrall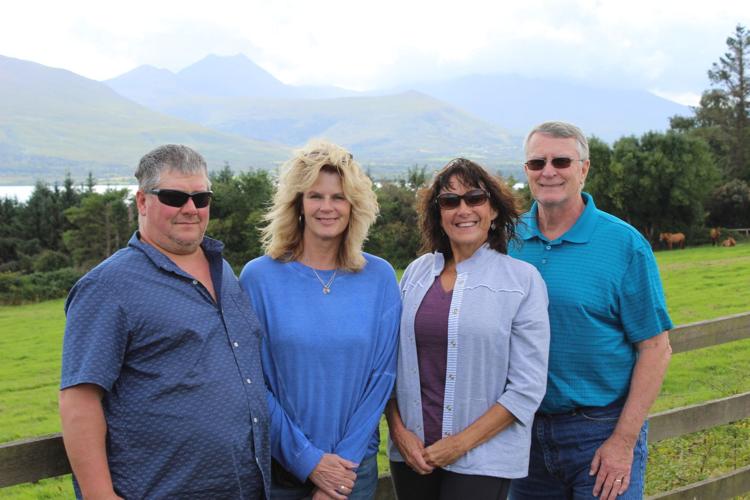 Who and where • Ross and Dana Cantrall of Springfield, Ill., and Dana's parents, Becky and Frank Smith of Manchester, near Killarney in Ireland.
The trip • The vacation included stays in Dublin, including Guinness Storehouse, then off to Blarney Castle to kiss the Blarney Stone. They also visited Kinsale, an old fishing town and journeyed along the western coastline of Cork then to Killarney, which included a horse-drawn jaunting carriage ride through Killarney National Park.
Travel tip • "If you are traveling to Ireland for the first time, do a tour.  There are many travel packages to choose from. Best times to go are the summer months."
Rachel and Ron O'Shia, Denise Kung and David Murphy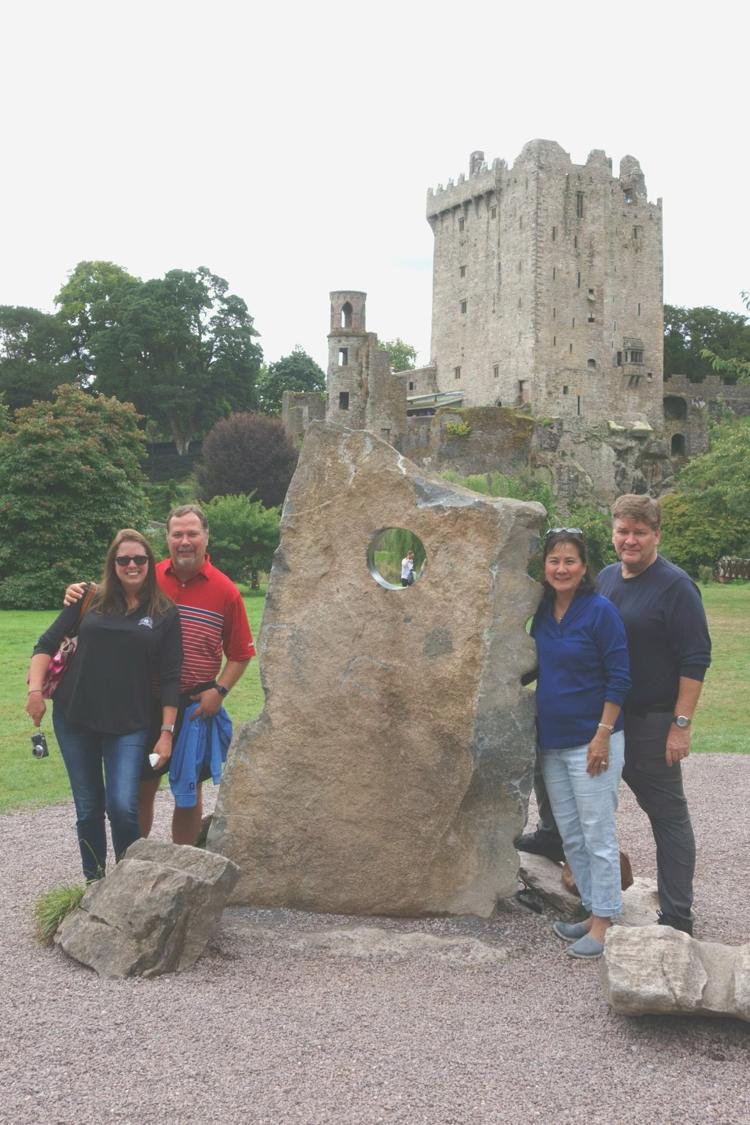 Who and where •  Rachel and Ron O'Shia of Belleville, and Denise Kung and David Murphy of Town and Country along the Cherry Walk on the grounds of Blarney Castle and Gardens, County Cork, Ireland.  
The trip  • They took a tour through Scotland and Ireland in late August. They saw the the Royal Edinburgh Military Tattoo and visited some golf courses.
Travel tip •  Don't bring golf clubs to Scotland or Ireland. The courses rent out  "far nicer clubs than I would ever own," says Denise.  "Also, climbing to the top of Blarney Castle to lie down, lean over backward and kiss the Blarney Stone is overrated, she says. If the line is long, skip it and spend your time visiting the 60 acres that make up the breathtaking grounds. There is a Poison Garden, a waterfall, the Rock Close (an ancient druid settlement), arboretums and rivers (one of which passes over another)." 
Randy and Jane Cosby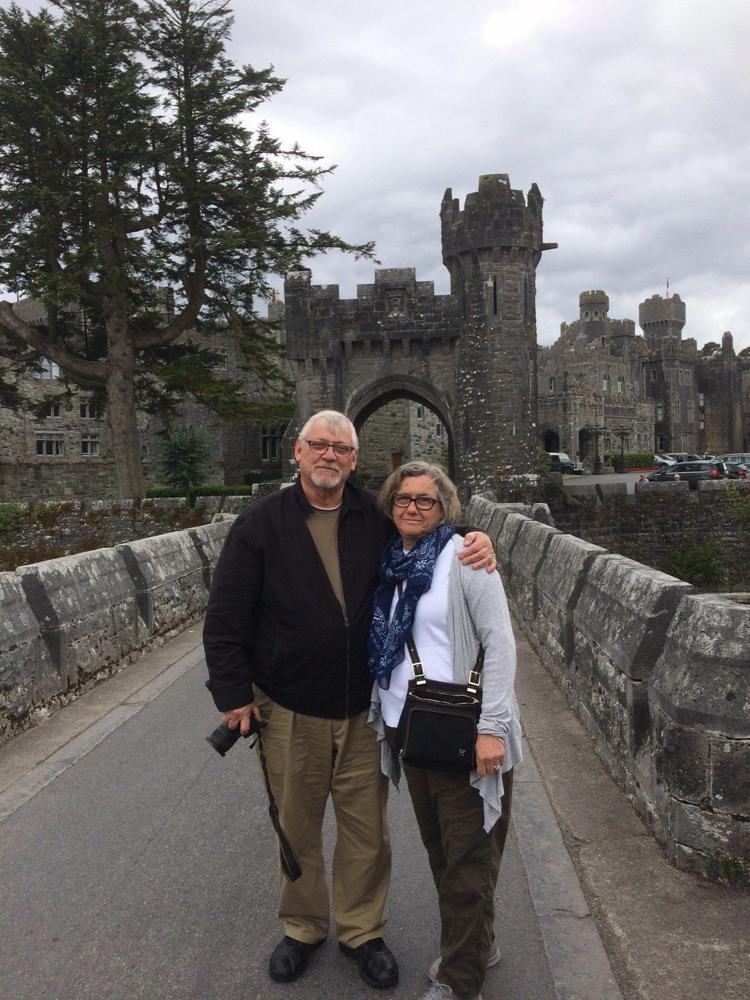 Who and where • Randy and Jane Cosby of Bel-Nor at the entrance to the grounds of Ashford Castle, County Mayo, Ireland.
The trip • They spent 18 days in Ireland, wrapping a road trip around their daughter's wedding at Cloonacauneen Castle in Galway. Stops and overnights included Cashel, Caher, Cobh, Limerick, Bunratty, Ballyshannon, Omagh, Derry, numerous castles and visits to the Cliffs of Moher and the much higher Slieve League cliffs.
Travel tip • "Talk to a local whenever you can. There's always a great story if you open the door with a question, and the accents are splendid. This is made easier if you stay in bed-and-breakfasts because they generally come with plenty of helpful directions from your host and a pleasant breakfast filled with more conversation and an Irish breakfast."
The Cody clan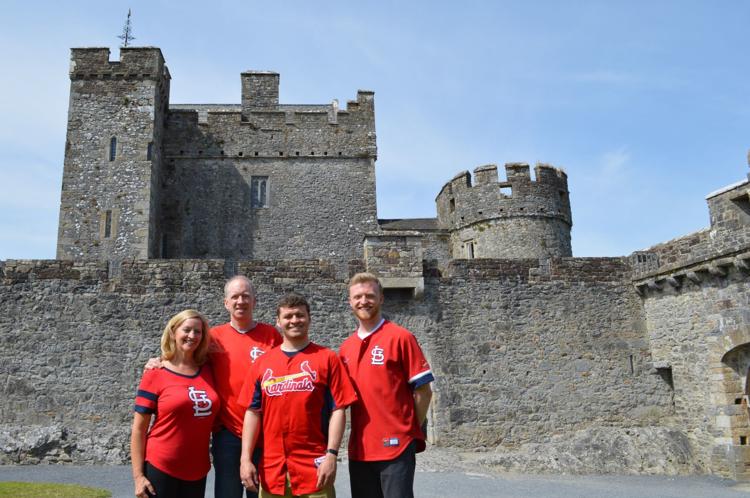 Who and where • From left: Michelle Cody, William Michael Cody, Chris Cody and Edward Cody, all from Clayton, in the inner courtyard of Cahir Castle in County Tipperary, Ireland.  The castle is one of the largest castles in Ireland, with initial construction starting in the 13th century.
The trip • The Cody Clan took a driving tour through the southern part of Ireland, which included visits to County Kerry, County Tipperary and County Killkenny.  Many Irish pubs were inspected as they searched for distant relatives from the Emerald Isle.
Travel tip • "Consider hiring a tour guide if you have a large group. They can provide transport to various sites and help avoid wasting time finding places to eat, where to park and where to stay.  Also, they are familiar with driving on the left side of the road."