Clownvis Presley has several identities — he's a circus clown, Elvis Presley impersonator, singer, magician and comedian, to name a few.
This alter ego of St. Louisan Mike Leahy has made notable impressions in entertainment while amassing a loyal following. After his stint on "America's Got Talent," Clownvis Presley has appeared on Comedy Central, Sirius XM and popular FM stations nationwide.
The unique character serves as an outlet for Leahy to release his creative energy. He found that acting as an Elvis clown proved to resonate with his audience.
"Anything that I find funny, any way that I view the world, I can kind of weave it into the character to be a standup routine or a point of view that people can digest," Leahy said. "Being the character takes the ego out of it and makes people play along more than seeing some guy with an opinion."
Clownvis Presley came to light in 2006, after Leahy had the idea to utilize his background in clowning and magic mixed with his love for singing.
"I really only wanted to be an Elvis impersonator, because I thought I could sing that way," Leahy said. "I love Elvis, but overall I think Elvis impersonators are pretty hokey and they're definitely limited in what they can do. I also always loved circus clowns. I figured if I could do some kind of clown routine, I could do the same thing."
Leahy, 39, grew up in St. Louis and graduated from South Tech and Parkway South high schools in 1999, doing half days at both. Leahy now lives in west St. Louis County with his wife and two young children.
Initially, he hired himself out on Craigslist, performing at wedding showers, birthday parties and store openings. After realizing he could operate on a more creative level, he began touring and booking shows. Robert McClimans, talent buyer for the Pageant, Delmar Hall and Blueberry Hill, has booked Clownvis Presley several times after working with Leahy on previous occasions.
"When Mike started doing Clownvis, he was very committed to it," McClimans said. "He took this really absurd thing super seriously. With my long history with him, it was pretty much a no-brainer when he was like 'Hey I want to book a show,' and I was like 'All right, cool, let's do it.'"
The subject matter of the performances is meant to keep audiences guessing — and more importantly — laughing.
Leahy describes the performances as "'The Late Show With David Letterman' on acid, without the celebrity guests." The show operates in the format of a talk show, with Clownvis Presley as the star and a few characters that he voices and produces himself. These additional characters are puppets, robots or prerecorded videos of Leahy as an alternative character.
In these shows, Clownvis Presley could be interacting with the audience on his live feed, giving commentary on various subjects, performing his music and much more. One of his singles, titled "Trafficula," is centered around a vampire who appears solely in traffic jams.
"It's very, very random and arbitrary," Leahy said. "It's all much more from a place of imagination and fun. The only agenda is to have fun, to tickle parts of the brain that just aren't being tickled by other forms of entertainment now."
Given that the shows are so imaginative, new patrons tend to be caught off guard when watching for the first time. This is what McClimans enjoyed most about booking the infamous "Elvis clown."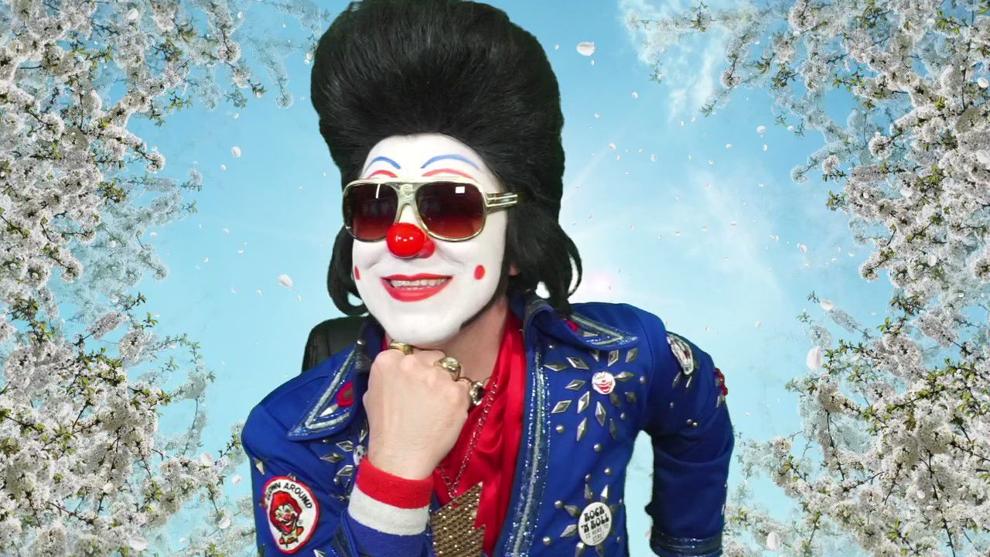 "My favorite is when he plays in front of people that don't really know what he is," McClimans said. "They're like, 'What the hell is this?' And at the end of the show they're like, 'This is awesome.' That's so cool that people can look at something and be like 'What on Earth?' and then watch it for a half-hour and be like 'OK, this is great.'"
Due to the pandemic, Leahy has taken the show off the road and into his home studio. Three shows, coined "Clownvis to the Rescue," are livestreamed each week on YouTube, Facebook, Twitter and Twitch. After introducing the livestreamed performances in March 2020, Leahy found that the online format made way for a plethora of new opportunities.
"I've been touring for so long, doing so many shows a year," Leahy said. "I've found doing the show online over the last year, I've been able to generate money in a lot of different ways with a lot less overhead than it takes to be on the road. I will certainly start performing live again ASAP. But with the success of the Internet show, I don't think I'll be going on as many extended tours as I have in the past. Every time I go live I feel so lucky and I have so much fun. It's such a loyal fanbase."
Leahy has found several ways to make Clownvis his sole occupation, even in the pandemic. He has seen the most steady revenue from performing "shout outs" on his "Clownvis to the Rescue" show. In these segments, the audience can make donations to the show and leave messages for Clownvis Presley to read live on air. In addition to these shout outs, Leahy sells video telegrams through Cameo, along with selling merchandise.
Though the character may be difficult to digest at first, Clownvis Presley has become more than an Elvis clown to many.
"An Elvis clown in and of itself is a pretty silly idea," Leahy said. "I could see why a lot of people would not give it the time of day, but what it's grown into over the years has become something far beyond Elvis or a clown. It's its own personality that I think touches on a lot of things that everybody can relate to. While the face value of it might confuse some people and be kind of polarizing, people that pay attention for a minute really end up buying into it and enjoying it."
You can watch "Clownvis to the Rescue" live at the Clownvis YouTube page at 9 p.m. Friday, Saturday and Sunday nights. Catch up on past episodes at youtube.com/ClownvisPresley.
'I really only wanted to be an Elvis impersonator, because I thought I could sing that way. I love Elvis, but overall I think Elvis impersonators are pretty hokey ... I also always loved circus clowns. I figured if I could do some kind of clown routine, I could do the same thing.'

Mike Leahy