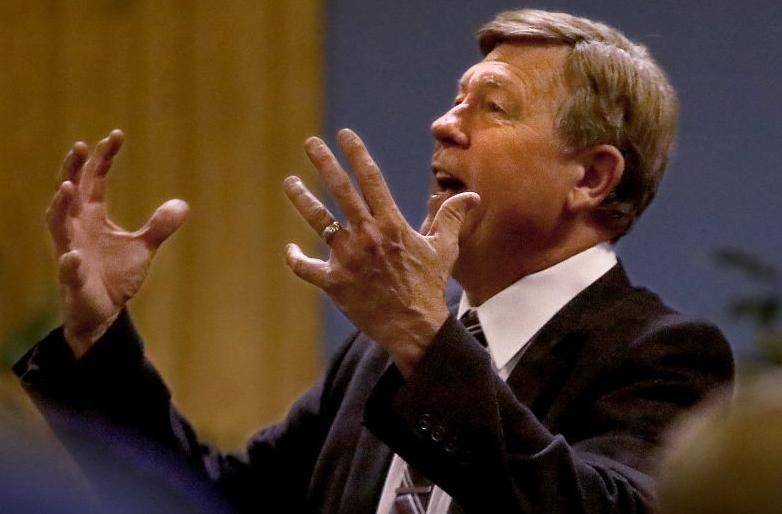 After 35 years operating as a locally owned television station, the Rev. Larry Rice's KNLC (Channel 24) is being sold to a Wisconsin company.
The station has broadcast secular programming, liberally interspersed with Rice's religious sermons and calls to social activism, since it first hit the airwaves on Sept. 12, 1982.
The shelter stood as a source of contention between Rice and his followers on one side and city officials and downtown property owners on the other.
Rice said the sale, which consists mainly of the frequency bandwidth and tower and transmission equipment in House Springs, was sparked by the shelter's closing and his need to raise more money to help the needy.
"Given the drastic cutbacks in state funding, if we didn't make this move at this time, there would be tremendous human suffering on the streets," Rice said in a telephone interview.
"With the shelter closed, we have to find (homeless) people housing, and that costs more money" than having them stay at the Locust shelter, he said.
Rice said TV-49 Inc. is associated with Weigel Broadcasting Inc., which owns independent stations in Illinois, Wisconsin and Indiana. The sale should be finalized within 90 days, Rice said.
"They are a family-owned business and they've specialized in wholesome, family-style programming for years, the same type of programs we've been running," Rice said.
The sale does not involve three small stations Rice owns in southwest Missouri.
As to his future St. Louis broadcasting plans, Rice said he is looking at starting an internet station to offer family programming as well as his religious messages.
"We're finding that younger people get their news and information in different ways, especially from the internet. So combined with the need (for money) caused by the cutbacks, we figured now was a good time to make the transition" to online broadcasting, he said.
In April, city officials shut down Rice's shelter after a long legal battle.
The city alleged that the shelter was chronically filled beyond its legal capacity, was in violation of numerous city building codes and was causing crime and disruption in the neighborhood.
Rice alleged the city wanted him out of the location to placate loft-dwellers who had gentrified the area in recent years.
On Tuesday, Rice said he still plans to fight the shelter's closing in the courts.