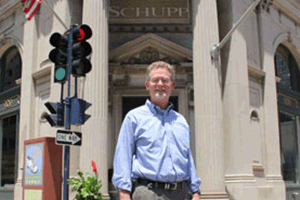 For his latest project, STL ad man Mark Schupp embraces a cheerier pursuit than making anti-heroin ads for the Super Bowl.
He's playing golf around Missouri.
Schupp has started a website, MoGolfTour.com, which will feature reviews and rankings, eventually, of every golf course in the state.
"There are 400-plus courses in Missouri, and I've now played 250," said Schupp, who is married to state Sen. Jill Schupp, D-Creve Coeur. He hopes to finish off the last course by the end of 2017.
For the last two Super Bowls, Schupp has created 60-second spots that have drawn attention because of their stark, no-holds-barred message about the U.S. heroin epidemic.