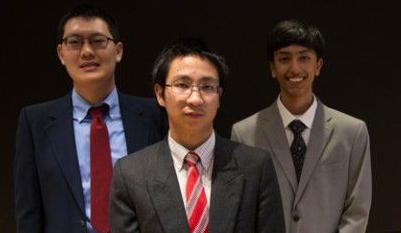 Zhang's project involved experimental physics and a little something scientists like to call "quantum entanglements."
(Full title: "Geant4 Monte Carlo Simulation of a Quantum Entanglement Experiment of the Decay of Spin-Singlet State Positronium: Computer Replication and Multiple Scattering Mitgation." So there.)
Neil Tomala, a junior at Parkway West High, finished in second place with his project: "Data-Analytics Modeling to Detect Peripheral Neuropathy: Augmenting Big Data with Google Trends."
The third-place finisher was Alan Peng, a senior at Rockwood Summit High, who also will get a $2,000 scholarship.
Other finalists, who each pick up $1,000 scholarships, were: Lauren Gallagher, St. Joseph's; Owen Kathriner, Kirkwood; Vishnu Kumar, Marquette; Margie Lodes, St. Joseph's; Nikhil Mitra, Rockwood Summit; Amadi Muse Morris, Maplewood-Richmond Heights; Divya Srihari, John Burroughs.