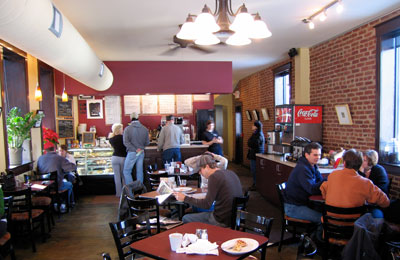 The Murdoch Perk, a popular Southampton neighborhood cafe that closed unexpectedly last month, should be back open for business by the first of 2013, which means it will be running at top form for the June race sponsored by Big River Running.
Russell and Emily Ping, owners of Russell's Cafe & Bakery in Fenton and residents of SoHa (hip Southside hood lingo for Southampton) have bought the bricks at the corner of Macklind and Murdoch and are now in the process of getting needed inspections.
"We just got done signing the contracts. We hadn't planned on expanding our (Fenton) business so fast, but this was such a great opportunity," Russell Ping said. "We still have things to take care of, but we're certainly aiming to be open by January."
The cafe was opened in 2006 by brother-and-sister owners Ed Gartner and Stephanie Seemiller, in a space that formerly housed a dry cleaners.