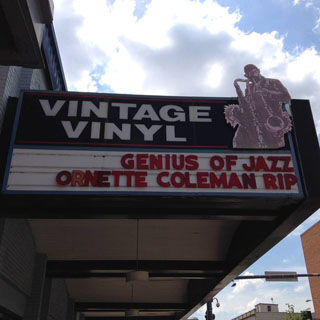 The longtime partnership at Vintage Vinyl — one that began in 1979 with two guys selling albums out of crates at a stand in Soulard Market — has come to and end.
On Monday, store co-founder Lew Prince turned over his interest in the Delmar Loop record store to his partner, Tom "Papa" Ray.
Ray said the split was in no way a sign of a dispute, and described it as "not a falling out, but a falling forward."
"We were friends before we opened the store, and I imagine we'll be friends long after," Ray said, noting that the two first met at Webster College in 1971.
The pair moved their business in the early 1980s from Soulard to University City and have done business out of several locations. In 1991, they moved to their present spot at 6610 Delmar Boulevard, in the old Varsity Theater building. Last year, USA Today named it as one of the best record stores in the United States.
"And we are still the musical ministry for the Delmar Loop," Ray said.
Prince, 64, said he has no plans of retiring, but also has no specific plans. "I've never been a career-builder, but more of a life-liver."
The idea to leave the partnership at some point came to Prince years ago, he said.
"I think I was 50 when I told Tom that I should probably start doing something else at some point," Prince said, adding that he wished his mother was still living. "She would look around the store and wonder when I was going to get a real job."
In 2012, Prince gained national recognition when he was honored at the White House for his advocacy of health care for all workers.
Prince said he was not necessarily focusing on a career in that area.
"You're kind of helping me write my job-wanted ad," Prince said, and concluded that he had at least one major skill.
"When you can organize musicians into an effective work force, you can do just about anything."