Did a stinky, pumpkin-headed, furry beast creep through the woods around Louisiana, Mo.? What about a mysterious, giant bird seen soaring above Alton and Glendale and even by police in St. Louis? Did that piercing scream in the woods come from an Ozark Howler or something else?
Cryptozoology is the study of possible or unknown animals, known as cryptids. Think Big Foot or the Loch Ness Monster, the Yeti or the Mothman. Missouri and Illinois have their own cryptids, and plenty of people claim they've seen one or know someone who has.
"People love a good ghost story. People love a good monster story," says Ron Turner, who teaches a continuing education class at St. Charles Community College on cryptozoology. "That's why horror stories are so popular now. People like to be scared. Why do people ride roller coasters?"
Turner is the founder of the Paranormal Free Agents, a group of about 24 members and one dog named Juno whose mission statement is "to explore, educate and examine the paranormal." Cryptozoologists deal with the physical.
While Turner is a bit of a skeptic (if they existed, why hasn't anyone found a well-preserved body by now?) he's still curious and open to possibilities. In September, he attended Cryptid Con in Frankfort, Ky. Sponsors included groups like the She-Squatchers (an all-female bigfoot search team) and Monster Outfitters, which makes monster-themed clothing and bandanas.
"It's a strange avenue of science, I guess. That's why some people don't understand it," said Jeff Waldridge, a Kentucky sheriff's deputy who helped organize the convention, which attracted 1,500 people. "They think it's somebody chasing something that isn't there. Which is not the case. They're trying to prove that this thing people thought was extinct or thought never existed actually exists."
He points out that until the early 1900s scientists had not actually seen mountain gorillas or okapis. Could Bigfoot or other strange creatures become known to us, too?
From his work in law enforcement, Waldridge knows people embellish facts or think they saw something they did not. But he's open to possibilities.
Some conventioneers went on an organized Bigfoot hunt. They knocked on trees with clubs and pieces of wood, and heard knocks back. Was it Bigfoot? They'll always wonder.
"This is more of a primal thing for humans," said Waldridge. "We're always thinking of the unknown, whether it be Bigfoot, aliens, UFOs, ghosts. We live in the world of fantasy sometimes. I'm not saying it's not real. We want to think there's something out there that we don't know about."
Adam Davis is a professor of English and linguistics at Truman State University, and studies and teaches folklore. Folklorists aren't interested in proving something exists, he says. They want to know why people want to believe. "We can scare ourselves. We can think there might be things out there that wonder what we taste like," he said. "There's a flipside to that. In this hyper-civilized time, we want to believe there is wildness out there. We want to believe there are things that are not completely explored, not completely well-known. That's why we get tickled when we see the headlines about UFOs."
So it's easy to fall down a rabbit hole (or Sasquatch hovel) of cryptid websites and message boards. Such stories make for good cable television. "Finding Bigfoot" follows around a team of investigators, and actor Rob Lowe claimed he encountered a "wood ape" somewhere in the Oklahoma Ozarks, on an episode of "The Lowe Files" that aired last month.
Whether or not you believe these stories, take them as they are now: stories. When and if there's proof, hang tight: we're sure you'll read about it in the newspaper.
Nixa Hellhound
The Nixa Hellhound, aka the "Booger Dog," is a dog-like creature that gained a bit of notoriety a few years ago when somebody called a Springfield, Mo., radio station claiming to have seen it wandering around nearby Nixa. The deejays named it "Paul" and Paul now has his own Facebook page (Personal interests: Creeping, Disappearing, Golfing, "Jersey Shore").
One commenter on a blog about the Nixa Hellound claimed to have seen it, writing: "It looked like a deer and a dog had had a one-night stand to be honest."
Ozark folklorist Vance Randolph has recalled in his books several tales of ghost dogs and monster-like dogs, further blurring the lines between supernatural and actual, fact and fiction. Waldridge says every state usually has a couple of tales about dog creatures.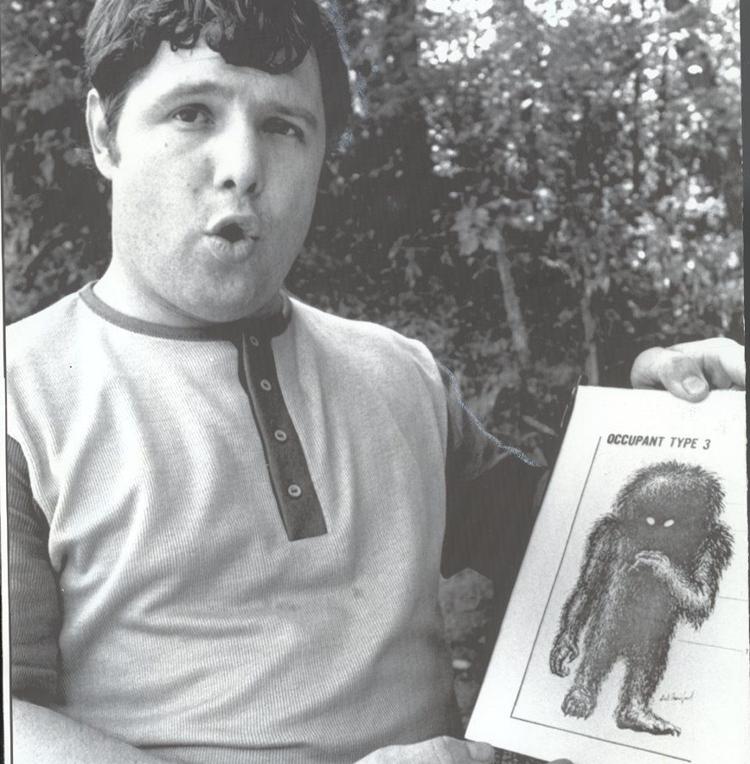 Momo
Momo, short for Missouri monster, was reportedly seen near Louisiana, Mo., in the 1970s. He was supposedly extremely violent, smelled awful, and had a large, pumpkin-shaped head, a furry body and hair covering its orange eyes. One man said a creature chased him off his porch. A teenage girl reported it outside her home. Another told police it "picked up the back end of his small, foreign car" and then ran off, according to one newspaper report. The police chief led a team of researchers through the area but came up with nothing.
The monster inspired a song by Bill Whyte ("Some said it was a monster, some said it was a bear, but most of us could tell by that horrible smell that Momo had just been there") and a spinning black octopus ride at Six Flags, replaced more than 20 years ago.
The book "Weird Missouri" by James Strait reports other anonymous sightings near Festus, Fort Leonard Wood and St. Louis Water Department facilities.
Ozark Howler
The Ozark Howler, according to "Weird Missouri," is an "overgrown wildcat," who is nocturnal and stealthy. Many have not seen him but heard its scream. It's typically described as the size of a bear with a thick body, stocky legs, black, shaggy hair, and it sometimes has horns, said Turner. Some anthropologists think it might be a large cat that's been misidentified, and some cryptozoologists think it's related to the dark dogs of death found in British folklore, he says. The Missouri Department of Conservation gets reports every year of people spotting black panthers, but there is no such species, they say. What people are likely seeing is a darker bobcat or a typical black house cat, says spokesman Lucas Bond. "Everyone swears up and down that they see them, but there's no such thing as a black panther."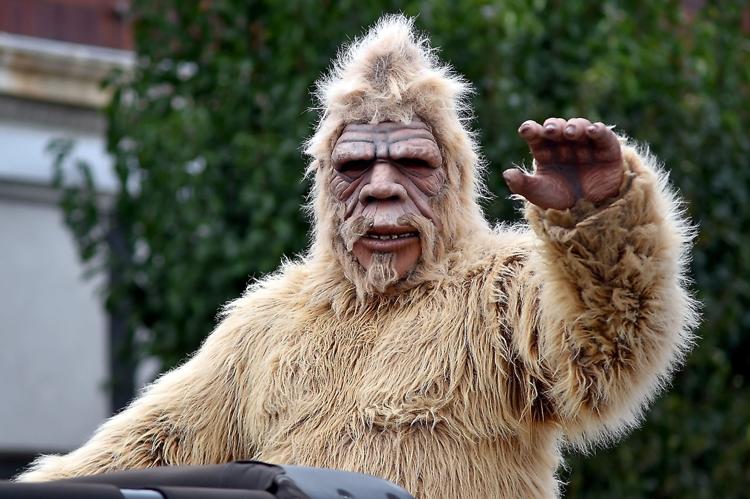 The Big Muddy Monster
The creature was tall, white-haired, and he stunk. And he was also caked with mud, screamed occasionally and was first spotted on the outskirts of Murphysboro, Ill., near the Big Muddy River. Hence, the Big Muddy Monster. A series of sightings in 1973 set off a media frenzy, and several more people reported sightings in the following years. "A lot of things in life are unexplained," Toby Berger, then the police chief, said at the time. "And this is another one. We don't know what the creature is. But we do believe what these people saw was real. We have tracked it. And the dogs got a definite scent."
The Big Muddy Monster (or, we think, somebody dressed up like him) makes appearances in Murphysboro parades and festivals, including the Big Muddy Monster Brewfest held in October. It's held in the city's Riverside Park, near where a couple in a parked car first spotted the monster.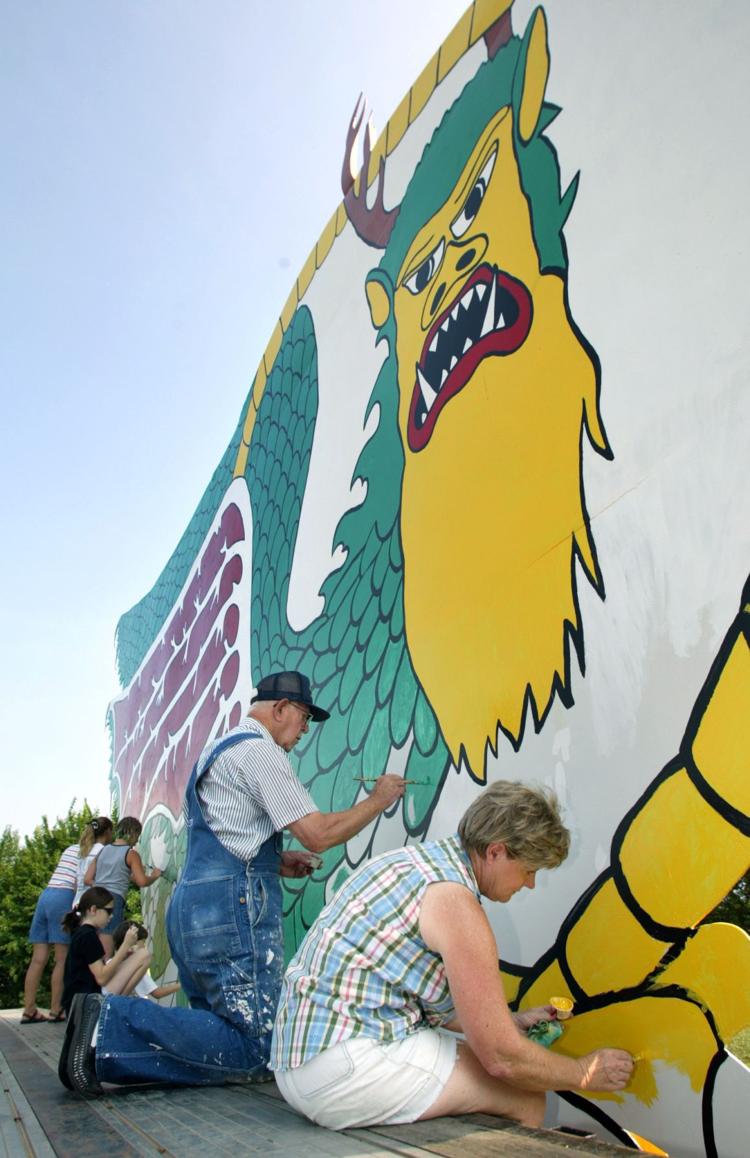 The Piasa and other giant, flying things
According to Native American legend, a man-eating monster bird swooped down to carry off hunters, and in 1673, French explorers Jacques Marquette and Louis Joliet spotted a drawing of it on the bluffs above the Mississippi River near Alton. Marquette wrote in his diary that the bird had a beard like a tiger's and a face like a man. The Illini named the creature the Piasa (pronounced PIE-a-saw), which means a bird that devours men. Legend says the bird ate dozens of tribe members, first swooping down and snagging them with its talons, before warriors killed it. A replica of the drawing is painted on the Alton bluffs today.
Was it the Piasa bird that was spotted above the St. Louis area in 1948? Not likely, though at least 13 people spotted a giant, grayish-black bird, small plane or both soaring above them in Richmond Heights, Overland, south St. Louis, Alton and Glendale. One St. Louis police patrolman spotted it with a corporal as they left the Penrose Street police station one night. "The thing was as big as a small airplane," said Officer Francis Hennelly. "Its wings were flapping, and it was headed southwest, flying at an altitude of several hundred feet. I thought it was a large eagle, but I've never seen one that big before."
"It looked like a witch flying through the sky," reported Cpl. Clarence Johnson. "It wasn't Halloween, either."
Be the first to know
Get local news delivered to your inbox!