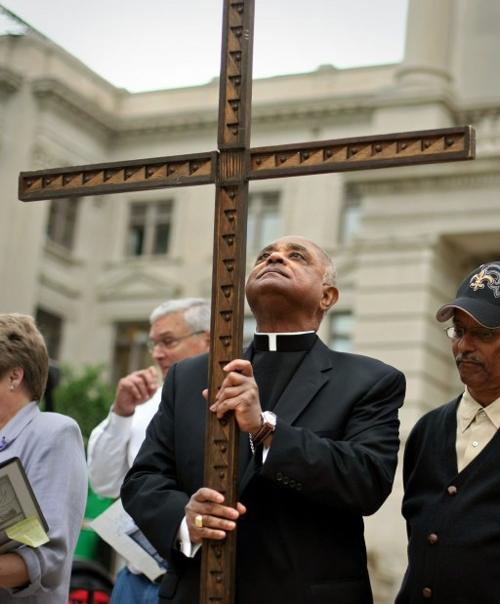 ATLANTA • In 2002, when the U.S. Catholic bishops were deep in crisis mode over an explosion of accusations against priests who had sexually abused minors, Belleville's Bishop Wilton Gregory was the president of their conference.
Gregory had been elected just seven weeks before the first of the Boston Globe's Pulitzer Prize-winning stories on a priest who raped children and the archbishop who moved him from parish to parish.
Those stories rippled out across the country and by June, when the bishops met in Dallas, the first African-American to lead them did just that.
Gregory is often credited (and sometimes criticized) for steering the church through the most turbulent years of the sexual abuse crisis. Gregory took flak from some Catholics for championing the Dallas Charter's "zero tolerance policy," which requires the permanent suspension of a priest found to have abused a minor.
Even at the meeting this week in Atlanta, during an abuse crisis progress report on the last 10 years, Oakland Bishop Salvatore Cordileone said from the floor of the convention that the bishops had to be "very careful about how we go about this so as not to compromise the identity of a priest."
In December 2004, Pope John Paul II sent Gregory from Belleville — where he had been since 1994 — to Atlanta, where this week he hosted his brother bishops at their annual spring meeting.
It was appropriate that as the bishops marked the 10-year anniversary of their Dallas meeting, that they would do so in Gregory's diocese.
It was during his time as Belleville's bishop that Gregory accumulated experience dealing with sexual abuse issues that would help him lead the larger Catholic Church through the crisis. But the archbishop's memories of his time in Southern Illinois are much happier.
He counts many from Belleville as friends and gets requests from couples he married to baptize their children.
"The memories they have of me are nowhere near as fond as the memories I have of them," Gregory said in an interview. "Those 11 years were such a blessing to me."
Gregory was born and raised in Chicago, and knew very little about rural life when he arrived in Belleville.
"I'm a city kid by nature, and in Southern Illinois I came to respect and value and appreciate the gifts of rural life in ways that would have been unimaginable to me as a kid," he said.
Those years of visiting small parishes across the farmland of the Midwest stuck with Gregory.
"It comes to harvest time, and my heart goes back to the farms of Southern Illinois," he said. "I think, 'They're planting now,' and I pray that they do so with success. I think, 'They're about to harvest,' and I ask God to bless their efforts."
Gregory was a youthful 54 years old when he led the church through the early years of the abuse crisis. He's now one of the senior leaders of American Catholicism, and he carries that bearing among his brother bishops. As comfortable with reporters as Cardinal Timothy Dolan, and with the same arm-around-the-shoulder style among his fellow bishops, Gregory is a natural for a high-visibility diocese, and that's what some think he's headed for.
In January, Cardinal Francis George, the archbishop of Chicago, turned 75. Church law mandates that bishops offer the pope their resignation at that age, though the pope often allows them to stay in office another couple of years. That's especially true of cardinals, who are eligible to vote in papal elections until they're 80. The Chicago Tribune reported in January that George planned to discuss his retirement with Pope Benedict XVI during a trip to Rome in February.
Gregory converted to Catholicism as a kid while he was in a Chicago Catholic grade school. He was ordained a priest of the Chicago archdiocese at 25, and was an associate pastor at Our Lady of Perpetual Help Parish in Glenview, Ill., just north of Chicago. He taught in the archdiocese's seminary and served as an aide to two Chicago archbishops — Cardinal John Cody and Cardinal Joseph Bernardin. In 1983, at the age of 35, Gregory was named an auxiliary bishop of Chicago.
Few believe that when George retires in a couple of years, the pope will choose anyone other than Gregory to lead Chicago's Catholics for the next decade. One of those few, is Wilton Gregory.
"Those decisions are never made by an individual, they're made in Rome and ratified by the pope," Gregory said, smiling. "I'm very happy in Atlanta. I love my people in Atlanta. They received me with love, they put up with my mistakes."
All the things a good bishop would say about his people.
"I'm not looking over my shoulder," Gregory said. "I'm just trying to be a good archbishop right here in Atlanta."