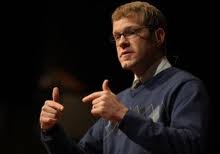 Talking about failure isn't fun.
Clergy, for instance, rarely talk about the sermon that fell short of its homiletical target, the youth event that attracted zero kids, or the membership campaign that imploded before its launch. At conferences, pastors and church leaders yuck it up about how many new members they've had, how successful the stewardship campaign was, or how everyone got on board with the new worship service.
Meanwhile, those who have yet to experience that sort of phenomenal success slink away, filled with guilt. Scratching their heads, they wonder what they're doing wrong.
Shouldn't someone tell them they're human?
A conference near Philadelphia next week hopes to correct that experience. Blogger and pastor J.R. Briggs has organized the Epic Failure Pastors Conference April 14-16 not as a celebration of failure, but as a source of encouragement. The no-frills conference (cost is just $79) is aimed at reminding pastors and lay leaders that its ok to let go of the burden of perfection. It's being held at - where else - a bar that used to be a church. The church closed and the bar moved in.
Briggs posted the idea on his blog last summer. Almost immediately, replies started streaming in from across the world. Epic Failure might well be a success.
But that isn't really the point. The leaders know the idea of sponsoring a conference to talk about failure is a risk.  But they know a lot is at stake. They have refused to announce the names of speakers-some of whom they say will be nationally known. There won't be any goody bags filled with promo items. Instead, according to the event's web site, the event will provide a place where stories can be shared with the hope of realizing that God works through failures.
On his blog, Briggs talks about the numerous characters God has used through history who were less than perfect. You might remember some of them: Moses (a murderer, who had a speech disability); Rahab (a prostitute); Jacob (lied to his blind father); David (the list is too long). The point is God works through broken, imperfect people. To me, that is good news.
As a culture, we have watched many of our cherished institutions fail. The anxiety of those failures can be overwhelming. It's not fun to fail. But it seems to me that Briggs and his colleagues are to be commended for reminding pastors and church leaders that success in ministry is measured by faithfulness to a calling. Mission matters. Ministry is messy-but it is what the church is called to do.
And as my own denomination's veritable constitution puts it: "The Church is called to undertake (its) mission even at the risk of losing its life, trusting in God alone as the author and giver of life, sharing the gospel, and doing those deeds in the world that point beyond themselves to the new reality in Christ."