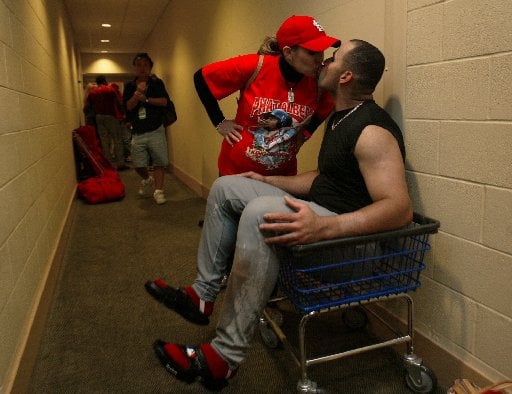 Albert Pujols's wife responded to a front-page story in the St. Louis Post-Dispatch about a St. Louis church that is collecting unwanted Pujols gear for an L.A. homeless shelter.
Speaking on St. Louis Christian radio station JOY-FM, Deidre Pujols said, "the devil has overplayed his hand because I have Christian folk trying to throw the Word in my face."
Last Thursday, the Los Angeles Angels of Anaheim landed Albert Pujols with a 10-year, $254 million bid free of deferred money and packed with enough milestone incentives to make the deal worth upwards of $280 million, according to the Post-Dispatch.
"I've heard of pastors who want to burn Albert's jersey and all these things. If I'm in that congregation, I'm running," Pujols told JOY-FM general manager and on-air personality Sandi Brown. "I don't know how to take it when I hear of churches who want to gather Albert's donation jerseys and want to hand them out to the poor folks in L.A., well I don't know what that means. I'm just here to share the truth."
The truth contained moments of raw emotion about what Pujols perceives as an unfair skepticism from Cardinals fans about why her husband took the L.A. deal instead of staying in St. Louis. Fan reaction has leaned toward blaming greed.
Pujols said that at the unveiling of a 10-foot, 1,100-pound bronze sculpture of her husband last month in a St. Louis suburb, "the Holy Spirit prompted me to tell people not to be deceived by what they were reading and listening to [about an impending deal.] Don't read the newspapers." In the last several days, she said, "the city of St. Louis has absolutely been deceived. I've never seen hatred spread so fast."
"When it all came down, I was mad. I was mad at God...We had no reason to want to leave," Pujols continued, adding later:
The reason I say I was angry with the Lord is because I felt like when we were at our weakest - both the Cardinals and our family - making this decision, and it just couldn't get finished and done, I was like, 'this is when God is going to step in.' And it didn't happen. And then when the news broke on Thursday morning after we had made our decision, I don't think we anticipated the tsunami that came our way.
JOY-FM, with a studio in Des Peres,went on the air in July 2010, after the Federal Communications Commission approved its $18 million purchase of the signal at 99.1 FM from the Lutheran Church-Missouri Synod, which had broadcast classical music there as KFUO-FM since 1975.
The switch from classical to contemporary Christian music irked many St. Louisans, but the Pujols family supported JOY-FM, contributing to a down payment for the signal. Neither the station nor the Pujolses have ever said how much the family contributed.
In Monday's interview, Brown and co-host Greg Cassidy commiserated with Pujols about the rough treatment she said had come their way from "the newspaper" and reassured her that the JOY-FM studio was free of reporters and therefore "a safe place" for her. Asking her listeners for words of encouragement for Pujols, Brown said, she "felt it important that she receive the encouragement that their family may not be getting in some other public media."
Evil can come on the backs of fallen angels. Angels are messengers, and evil angels - most famously Satan - can be bearers of temptation. Pujols said "God put us on a team called the Angels."
"In your walk of life you better who is the author of persuasion and who is the author of grace," Pujols said. "Because if the devil can persuade, which he has done here by misinforming and lack of information, he knows that then he can kill...or try to destroy us."
Pujols said in recent days she'd had to deal with her own feelings of hatred toward Cardinals fans who had expressed their "negativity" about her husband's decision.
After Deidre and Albert wrote an open letter to Cardinals fans in the Post-Dispatch, she "broke my own rule" and began reading the online comments attached to the letter on the newspaper's website.
"I hated them when I was done," Pujols said in the JOY-FM interview. "I [didn't] want to be like John going to Jesus and 'should we call fire down on these people because they rejected you?'" Albert had to calm her down, she said.
Pujols said the decision they made to go to Los Angeles "was not decision intended to hurt anybody."
"People felt like he belongs to them, but he belongs to Jesus," she said. "It was a prayerful decision. Him and I were on our knees at our sofa...and we asked for clarity." Pujols said she may use her experience as a teenager involved in gang activity in Kansas City to begin a ministry in Los Angeles to pull young girls out from the influence of gangs.
"If people get to know the privilege of coming to Jesus through all this, I would do it all over again because ultimately that's what it's about," she said.