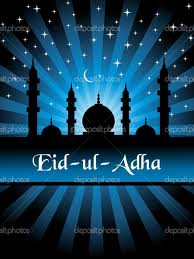 Next Tuesday most of the Muslims in the world including USA will be celebrating Eid Ul Adha (festival of sacrifice). Some places will observe this holiday on Wednesday based on sighting of the moon. This festival is celebration of Prophet Ibrahim's (Abraham, Peace be upon him) unquestionable submission to the will of God and willingness to sacrifice his son. This is celebrated a day after Hajj; pilgrimage in Mecca, which is the fifth pillar of Islam. According to the Islamic calendar the Eid is celebrated on 10th Dhul Hajj; the commemoration lasts for three days.
Muslims, who can afford, will be sacrificing animals during these three days of observance to honor the obedience of Prophet Ibrahim (PBUH). One family can sacrifice one or more lamb or seven families join to sacrifice one cow or camel. The meat is divided into three portions; one for the family, one for the friends and families and the third for the needy. Muslims will go to the prayers in the morning, have feasts and give thanks for all the gifts bestowed on them by God.
According to our faith about four thousand years ago Prophet Ibrahim (PBUH) had a son Ismael (PBUH) by Bibi Hajra (Hagar). When Ismael was an infant, Prophet Ibrahim took them from Canaan and left in valley of Mecca. He intimated to Hajra that this was the will of God and she submitted to Him. Later on Ismael and she endured many hardships. We believe that God provided the water from the ever producing spring ZamZam.
During Ismael's adolescent years Prophet Ibrahim returned to Mecca as he was commanded by God to build a house of worship. Prophet Ibrahim and Ismael built the original structure of Kaaba madeof stone and mortar. Later on Ismael was sanctified with prophet hood. He spread the message of God and centuries later millions of people continue to gather yearly to fulfill their religious obligations at Mecca.
One of the main trials of Prophet Ibrahim was the recurring dream asking him to sacrifice his only son, whom he had in his late years of life. He submitted to the will of God; he also asked Ismael about his dream and he accepted it as command of God without any hesitation. When Prophet Ibrahim was on his way to carryout directive of God he was dissuaded by Satan. Prophet Ibrahim threw stones at him three times. Each year all the Muslims gathered for Hajj throw stones on three walls symbolic of Satan to free themselves from temptations of Satan.
Prophet Ibrahim laid Ismael face down and when tried to cut his throat, he found a dead ram slaughtered; Ismael was unharmed. This account is mentioned in Quran; "O my Lord! Grant me a righteous (son)!" So We gave him the good news of a boy, possessing forbearance. And when (his son) was old enough to walk and work with him, (Abraham) said: O my dear son, I see in vision that I offer you in sacrifice: Now see what is your view!" (The son) said: "O my father! Do what you are commanded; if Allah wills, you will find me one practicing patience and steadfastness!" So when they both submitted and he threw him down upon his forehead, We called out to him saying: O Ibrahim! You have indeed fulfilled the vision; surely thus do We reward those who do good. Most surely this was a manifest trial. And We ransomed him with a momentous sacrifice. And We perpetuated (praise) to him among the later generations. "Peace and salutation to Abraham!" Thus indeed do We reward those who do right. Surely he was one of Our believing servant.(37: 102-107)
In ancient faiths animals were sacrificed to make their gods pleased with them. Islam as other monotheistic faiths rejected this idea. The sacrifice is to symbolize submission to the will of God. It is clearly stated in Quran;To every people did We appoint rites (of sacrifice) that they might celebrate the name of Allah over the sustenance He gave them from animals (fit for food). But your God is One God: Submit then your wills to Him (In Islam): and give thou the good news to those who humble themselves.(22: 34)
Also it is not the slaughtering of the animals which is pleasing to God, it is our intention to submit to our God. It is not their meat nor their blood, that reaches Allah: it is your piety that reaches Him: He has thus made them subject to you, that ye may glorify Allah for His guidance to you: And proclaim the Good News to all who do right.(Quran; 22:37). It is also a means of providing charity, helping the poor and fostering relationships.
According to Jewish and Christian faiths Prophet Ibrahim was going to sacrifice Ishaq (Isaac), and God was pleased with Prophet Ibrahim's full submission to His will. Many references are given by the three faiths to support their views. I believe the most important meaning of this story is our willingness to fully and unconditionally submit to the will of God, be charitable and helpful to our fellow human beings.