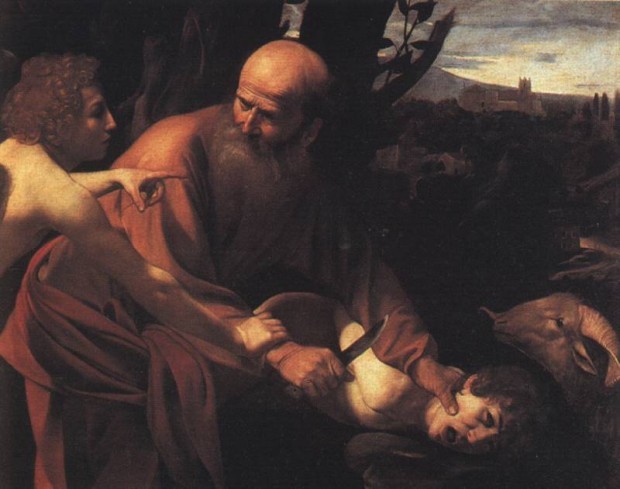 Jewish houses of worship around the world read through the entire Five Books of Moses or Torah, the Hebrew Bible, each year from the torah scroll.  Now that the New Year has begun and with it reading the book of Genesis we come to a very well known but perplexing biblical story.  Abraham, the patriarch of the Jewish People is told by God that God plans to destroy the wicked city of Sodom and instead of being happy that God is removing wickedness from the world Abraham argues to save the city in the merit of any righteous people that might live there: "Will the judge of the whole world not do justice?"  Yet just a chapter or so latter God commands Abraham to take his son and bring him as a burnt offering, and Abraham dutifully obeys without a word.  This story of averted child sacrifice has become a pivotal one not only to the Jewish religion but perhaps even more so for its monotheistic cousins Islam, in which Ishmael is seen as the child offered, and Christianity, which I think sees the story as a prefiguring of the crucifixion.
Several questions must be asked on this foundational story:  What gave Abraham the right to offer his child without asking Sara, when after all Isaac is her child also?  Why did Abraham not speak up to protect the innocent as he did in the case of Sodom, indeed God made clear that he expects it of Abraham, as He says, "Abraham is the one who will teach justice and mercy to his children."  What are we to do with the seemingly unethical depiction of God at the Binding of Isaac which so contradicts the God of the rest of Bible, a God who does not want us to hurt the innocent but protect them?  Why is Abraham praised for his willingness to obey God instead of protecting the innocent and weak?   Wouldn't that be a better way of showing one's love and fear of God?  Indeed, according to the Midrash, an ancient Jewish Biblical commentary, the act Abraham commits is so shocking and abhorrent to his wife Sara that upon hearing of it she immediately dies.
Many classic answers are given but none that do not generate many more questions.   For instance, some philosophers claim Abraham somehow knew both promises would come to be, that Abraham has to offer Isaac up as a sacrifice and that Isaac also would be his seed; or that Abraham understood God did not tell him to "kill" his child, only to "bring him up" as an offering.  In either case though, such explanations render the binding of Isaac no test for Abraham, which clearly the Bible means it to be.  
For Jews, after the giving of the Torah law to people, Jewish law would always trump an individual command from God.  An observant Jew would not be permitted to sacrifice their child or commit any other sin even if they were sure the command was coming from God.  God can not tell us to violate law.  However, it does beg the question of how Abraham could try to kill his son, as he knew from the story of Cain and Abel that killing was forbidden.
I would like to suggest perhaps a new explanation.  I am led to this possibility by the abundance of questions the story leaves us with and the dearth of satisfying answers.     Perhaps the real test was for Abraham was to confront God as he did at Sodom, thus teaching his children "righteousness and justice," and ultimately to say "no" to God. Perhaps, on some level in this narrative, Abraham failed the test.   I would suggest this is why God never speaks to Abraham again after the binding of Isaac.  In the end of the story an emissary angel speaks to Abraham - but where is God?  Why doesn't God just speak directly to Abraham?  Perhaps Abraham's leadership and God's relationship with Abraham has ended.
Perhaps if we begin to see this narrative as a test in which the right answer is to protect an innocent child rather than sacrifice him in obedience to God, our world, one in which millions of religious people trace themselves theologically back to this story, might be a bit less violent.