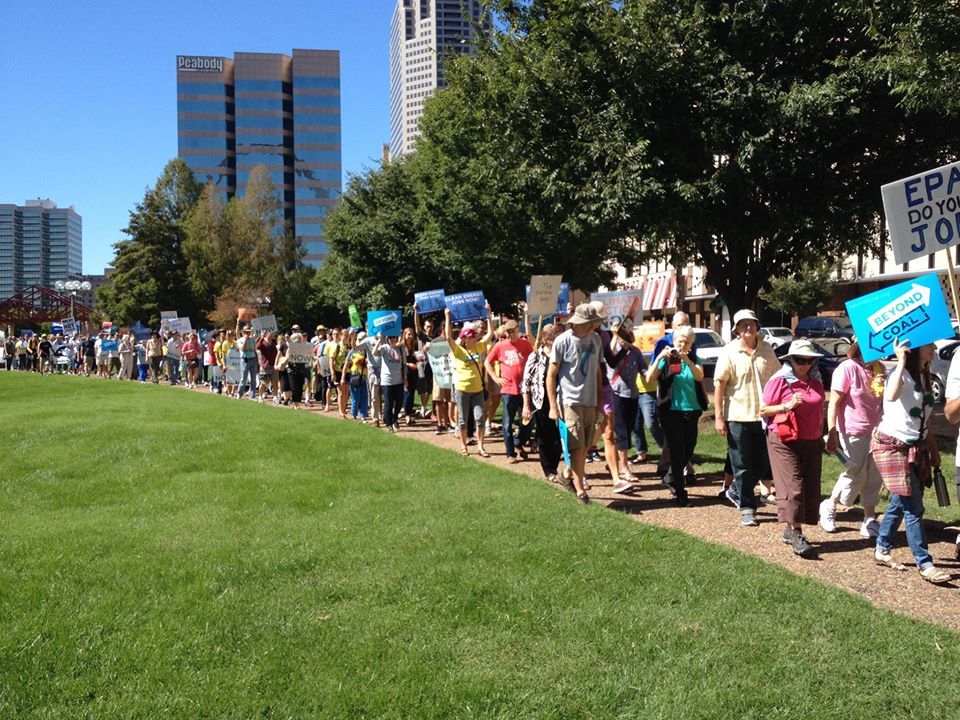 On Sunday, September 20, people of many faiths from around the region will be joining together in the Interfaith Moral March for Climate Justice. I will be one of the clergy speaking at the event, which kicks off from the steps of Christ Church Cathedral in downtown St. Louis. The purpose of the march is positive and twofold: we want to encourage and demonstrate interfaith support of Pope Francis' environmental message, leading up to his speech to Congress on September 24, and we want to show local support for a strong clean energy plan for Missouri.
Climate justice is an important term. Whether you call what is happening to our world "global warming," "climate change," or "global weirding," the reality is unmistakable. Extreme weather patterns are becoming the norm, wreaking devastation on environments that support plant, animal, and human life alike. The global economy is built on fossil fuels, with rich countries having used and continuing to use more than our share while developing countries will have to find ways to join us in these habits of over-consumption if they want to compete. Using "climate justice" as a lens reminds us that both environmental degradation and fossil-fuel dependence hurt the poor and the vulnerable sooner and more severely than they do those who are protected by wealth and privilege.
One of the most radical ideas in the Pope's recent letter on the environment, "Laudoto si," is that the category we deem "poor and vulnerable" must include non-human creatures. While it is obvious from his actions that Pope Francis has true compassion and love for vulnerable persons, including the poor, the sick or handicapped, the elderly, and children, his encyclical broadens that perspective to include "the earth" as equally deserving of our care and protection. Consider this passage from the introduction:
"The violence present in our hearts, wounded by sin, is also reflected in the symptoms of sickness evident in the soil, in the water, in the air and in all forms of life. This is why the earth herself, burdened and laid waste, is among the most abandoned and maltreated of our poor; she 'groans in travail.' We have forgotten that we ourselves are dust of the earth; our very bodies are made up of her elements, we breathe her air and we receive life and refreshment from her waters. Nothing in this world is indifferent to us."
First, Francis simply names sin as sin: not a popular move. He doesn't pull any punches when he speaks of "the violence present in our hearts." This is critical; if we can't see how we're part of the problem, we can never hope to be part of the solution. Feeling guilty is not helpful, and in fact is likely to keep us stuck in existing unhealthy patterns. It is time to move beyond anxiety, guilt, and defensiveness so that we can begin accepting a realistic level of responsibility. Figuring out what part I play in these big, seemingly intractable issues, is the first step I can take toward doing something good and useful. Accepting that I still have much work to do on what happens in my own heart is absolutely critical.
The other phrase that really strikes a chord is: "Nothing in this world is indifferent to us." In other words, whatever happens to the least of these happens to me. No one is truly free, or safe, or prospering, until everyone is truly free, and safe, and prospering. We are dependent on one another and on all creation. Whatever makes us feel separate or cocooned from the violence done to other people and to the environment is a lie. The God who made us and sustains us is wounded again every time one of his beloved creatures is the victim of violence, whether the cause of that violence is racism, poverty, misogyny, environmental degradation, or some other system that elevates a few at the expense of the many.
To my fellow believers, of whatever faith, I must ask: if God's beloved creation is wounded, who are we to stand aloof? It doesn't matter whether the crisis we are discussing is manifesting itself as a drought and wildfires in California or in the melting of the polar ice caps or in the dramatic and irreversible rise in species extinction. Nothing in this world is indifferent to us. Ultimately, we cannot be indifferent to these crises without doing violence to our own souls.
So, on Sunday, I will march. I hope that I will be marching alongside other Christians of many denominations. Even more I hope there will be representatives of other faith traditions, virtually all of which have made statements on the environment and the need to care for Creation. I will march because I believe that clean energy is a critical step we can take to secure a more just and sustainable future. I will march because I have children, and because there are generations yet unborn whose lives depend on decisions we make today.