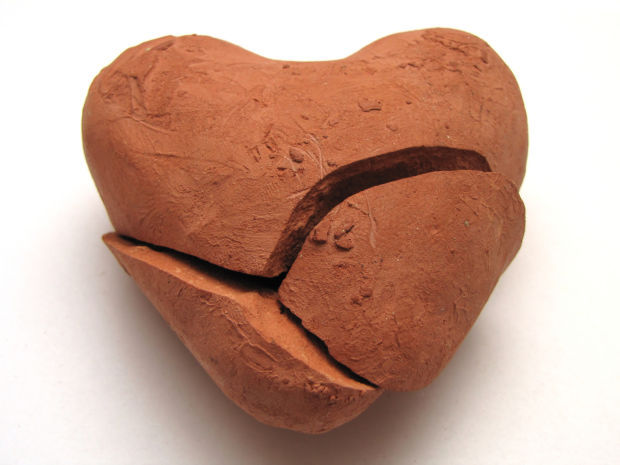 There's a photo of me that pops up on my computer's screen saver now and then. It was taken on a beautiful spring day in 2009, as I sat on a couch next to my dear sister, holding a plate of party food to celebrate both the blessing of my baby son and the baptism of my oldest daughter. By every account, it should have been a day of grace and abundance.
The photo breaks my heart.
When I peer at the photo, I recognize a haunted, panicky gleam in my eye. Every day of my infant son's life had been for me a battle against a severe post-partum depression, a darkness that would not lift for nine months after his birth. Anxiety sucked the pleasure from my days and robbed me of hope for the future. I was broken and sinking.
For the poor in spirit, faith should be a solace and a support through the valley of depression. But occasionally the Christian message of faith, hope and charity devolves into trivializing mantras -- "think positive!" --- that leave the wounded soul more alone and hopeless than ever. Like Mary at the foot of the cross, like Peter floundering in deep water, we find ourselves alone in our extremity.
It was to every weeping Mary and sinking Peter that LDS apostle Jeffrey R. Holland directed his message at this month's General Conference of The Church of Jesus Christ of Latter-day Saints. Acknowledging that "we are living—and chose to live—in a fallen world where for divine purposes our pursuit of godliness will be tested and tried again and again," Elder Holland promised that, even in the midst of depression, our experiential encounter with God's love "will make our own lesser suffering first bearable, then understandable, and finally redemptive."
Trust in God. Hold on in His love. Know that one day the dawn will break brightly and all shadows of mortality will flee. Though we may feel we are "like a broken vessel," as the Psalmist says, we must remember, that vessel is in the hands of the divine potter. Broken minds can be healed just the way broken bones and broken hearts are healed. While God is at work making those repairs, the rest of us can help by being merciful, nonjudgmental, and kind.
Elder Holland, as is he known to LDS members, did much to erase the stigma that still hangs around mental illness, the unspoken implication that the afflicted brought their own troubles upon themselves through sin or weakness. Depression and mental illness, he said, "are some of the realities of mortal life, and there should be no more shame in acknowledging them than in acknowledging a battle with high blood pressure or the sudden appearance of a malignant tumor."
Because there is no shame in suffering from depression, there should be no resistance to seeking medical care when necessary. To seek help from trained professionals is not to doubt the healing power of God's love, but only to faithfully seek out the best knowledge he has made available to us. "If you had appendicitis," Elder Holland explains, "God would expect you to seek a priesthood blessing and get the best medical care available. So too with emotional disorders. Our Father in Heaven expects us to use all of the marvelous gifts He has provided in this glorious dispensation."
Elder Holland's address did not answer every question that hovers around the experience of mental illness. How do we make sense of illnesses like depression that hinder our ability to perceive reality and choose the good? If mortal life is a time to "test and try" our pursuit of godliness, mental illness, which limits our ability to learn from experience and choose freely, seems to strike at the very heart of life's central purpose.
Questions linger, but God's great love for the world remains. Perhaps the truest test of faith is our willingness to trust a Father whose purposes remain inscrutable for the time. When we call to him in faith, Elder Holland promises, he will respond. In the security of that love, we find the strength to endure and, in time, to reach back in love.
In the words of the old hymn:
Is there anybody here like Mary a-weeping?

Call to my Jesus and he'll draw nigh.

Is there anybody here like Peter a-sinking?

Is there anybody here like jailers a-trembling?

Call to my Jesus and he'll draw nigh.

Glory, glory, glory be to God on high.