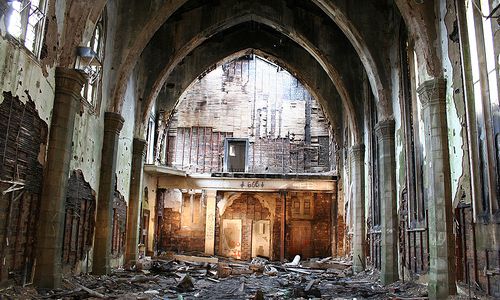 If you are part of the "institutional" church, as I am, it's hard not to feel defensive these days. The church seems to be under constant criticism, if not outright assault. This is nothing new, I suppose, but what once seemed a steady stream is starting to look more like a flood.
For convenience sake, I'll date the recent trend to Jefferson Bethke's spoken word poem "Why I Hate Religion, But Love Jesus." Uploaded to YouTube in January, the poem now has over 20 million hits and has launched a thousand blog responses. It's hard to hear the poem and not think that the target is not really religion — an amorphous concept — but the modern church. And so those of us on Team Church wrote blog posts shooting holes in Bethke's poem, and we were mystified by the number of people with whom it seemed to resonate.
Mind you, this is not a discussion between believers and unbelievers. It's a widening gap between churched Christians and unchurched Christians. And if you think "unchurched Christian" is an oxymoron, I hear you. I tend to agree. Being adopted into the Body of Christ is one of the gifts of salvation. Why would you intentionally cut yourself off from the richness that is the church?
Well, that's my reaction at this point in my life. But I do know what it's like to want to leave. A decade or so ago, I had plenty of reasons to leave the church. I was hurt in ways I thought would never heal, I dreaded going to church week to week, and I fantasized about leaving it all behind. That's an old story, and not a very interesting one, because ultimately I decided to stay. Over time the anger subsided, hope returned, and — surprise! — I ended up responding to a call to vocational ministry.
So now I'm the ultimate church insider, and it makes perfect sense that I defend the system. I take attacks on the church personally in a way that is hard to deny. I'm building my future around the church: I have a vested interest in its survival.
I have started several blog posts on this subject, and they've all been very defensive. In one way or another, they've all reminded Christians that Christ loves the church and we should be a bit more circumspect about bashing it; that not everyone in the church is miserable, or blind, or a power-mad leader trying to hold onto control.
And then yesterday happened. My two youngest daughters were talking to me about a friend who hasn't been to our church lately. One of them said, "I know why she stopped coming. No one ever talked to her mom." Shields up, I immediately went into self-protection mode. "Well, really," I muttered, "If she wanted people to talk to her, why didn't she just talk to people." But I didn't get the shields up fast enough, I guess, because I also knew that what my daughter said was true. This young mother — very reserved — have I ever said more than "Hello" to her? I don't think so.
As soon as I unwittingly allowed that thought in, I remembered a young man who was attending the adult Sunday school class I teach. He's smart, and outspoken, and always livens up the discussions in class. I like him very much, and I miss him when he's not in class. But he's been missing for several weeks and I've done ... nothing. Not a call, not a card, just nothing.
That launched a deluge of memories; of sympathy cards never sent, and calls never made, and church dinners at which I sat with the same group of friends every time. I don't mean to be thoughtless and self-absorbed. In my own head it's always about being too busy to chat as I zip from task to task at church; too forgetful to follow up with people who are hurting; too hungry for time with my own friends to divert attention to others.
Wow. That's not good. Even when I'm trying to put the best possible spin on it, I still sound thoughtless and self-absorbed.
I'm not suggesting that I'm the reason for the decline of the American church. Or maybe that is what I'm suggesting, in a way. In 1910 the London Times asked a number of authors to write on the topic "What's wrong with the world?" G.K. Chesteron submitted the shortest response: "I am."
Christians leave the church for a variety of reasons — doctrinal, structural, emotional and more. Those of us who stay are often so hurt by their leaving, or so threatened by what we think it says about those who stay, that we can't hear what they are telling us. We stop our ears, invalidate their experiences, and tell ourselves that everything is fine. I keep standing up and telling our church what a loving, supportive, inclusive community we are, when the reality is that I don't even exemplify those qualities myself.
The church in America is not fine. I am not fine. The situation is not hopeless by any means, but we must remember how the gospel works: you can't get to the good news without the bad news coming first. Nothing gets better until I confess my own failure.
What's wrong with the church? I am.