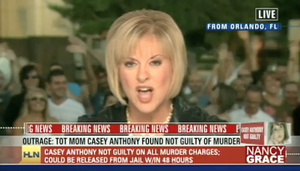 I'll confess: I really couldn't have cared less about the Casey Anthony trial. Until they announced the verdict. And then I didn't so much care about the verdict—I couldn't for the life of me tell you whether she's guilty or not-guilty—as much as I have been gawking at the reaction. Especially when I saw on TV a woman in Orlando pass out while watching the verdict on TV. Talk about a feedback loop coming full circle. Who's watching who?
It reminded me of when I was in college during the O.J. Simpson trial. On the day the verdict was read, large groups of students gathered around the TVs in our student union. In one lounge, white students watched and bawled. In another lounge, black students watched and cheered. It was surreal.
And then it occurred to me that what I was watching taught me a whole lot more about "us" than about justice.
I once heard star theologian Stanley Hauerwas say that there was really no such thing as "social justice" because all justice is social. And if this really is the "trial of the century" (as the Today show has been touting all week), then what does it say about "us," about the society in which this justice is found?
For one thing, justice—or at least the courtrooms in which it is acted out—is now spectacle. And this isn't jolly old Judge Wapner on The People's Court. This is life-and-death justice as reality TV. And when talking heads begin to wring their hands over the wellbeing of the jurors should their names be "leaked" to the public, when we all know full well that they'd love to have their exclusive interview in primetime, then I begin to wonder if we're inching ever too close to lynch mobs and the Wild West.
If you don't believe me, check out Facebook or Twitter for the past couple days.
I am old enough to remember the time when cameras were strictly forbidden in courtrooms, and the only depictions of trials on the evening news where the line drawings of court illustrators. And I can remember, as a kid, craving for real, live footage, to be able to "see" the criminal in the flesh, to "hear" the verdict handed out.
But back then, grown-ups had reasons for thinking I shouldn't have access to that guilty pleasure. Forgive me if I can't remember what they are now.