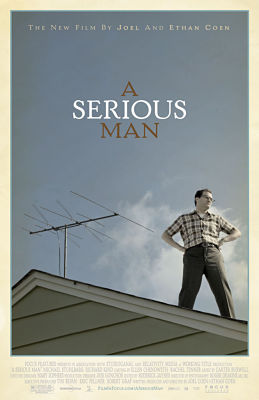 I recently saw A Serious Man, the Coen brothers new film, at the Tivoli. In between an opening prologue of a Yiddish folk tale and a truly stunning ending is the story of Larry Gopnik, a middle-class Jew living with his family in 1967 middle America. Larry Gopnik is the Coen brothers' version of Job, and we watch as his life inexplicably unravels.
As only the Coens can tell it, watching Larry unravel is simultaneously horrifying and riotously funny. And it is in this sense that they have gotten the Job story right. They have picked up on the startingly comic vision of the Book of Job. Darkly comic, of course, but nonetheless by the end Job is restored. Many find this seemingly "happy ending" of Job to be deeply unsatisfying. But the end of Job isn't really the end of the story. The end of Job finds its meaning in that just as everything Job lost has been regained, it can be lost again. Time in Job is cyclical, and there's nothing to keep him from entering back into the cycle of suffering. And then recovering from it again. It is that cyclical movement of time, and this impermanence of things, that gives the Book of Job its comic vision.
Which brings me to the ending of A Serious Man. Without spoiling it, the ending defies our typically linear expectations of story resolution. And left me walking out onto the Delmar Loop knowing my brain would be chewing on it for awhile. Still is.