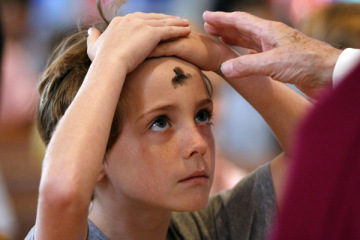 As I'm writing this, it is Fat Tuesday afternoon. And it's crunch time. Nearly every year, often at the last minute, I rack my brain to decide what I will give up for the forty-day season of Lent, and every year, I come up with something.
One year I gave up hitting the snooze bar on my alarm clock. Won't do that again. One year I gave up Lion's Choice. It was harder than I thought. One year I gave up listening to the radio or any audio in the car. Once I got used to it, it was exhilarating, and I didn't turn the radio back on until a couple weeks after Easter. One year I gave up Seinfeld reruns. One year I gave up Facebook, and I wrote about it in this very space.
I have given up something for Lent for nearly my whole life, a yearly ritual. And I don't think I'm alone. A couple years ago, I preached for the Ash Wednesday chapel service at Lutheran High School South, in Affton. And I began by asking the students to say out loud, all at once, what they were giving up for Lent. I expected a couple dozen voices. The boisterous, loud cacophony nearly overwhelmed me.
But, this year, I haven't found what I'm giving up for Lent. Yet.
Of course, there are many Christians who don't believe in giving up anything for Lent. Many Christians feel it places too much emphasis of what we do, and not enough on the grace that is a gift from outside ourselves. So, some will add something to their season of Lent, rather than take something away.
And to be perfectly honest, I can see their point. I see it both ways. And I wouldn't find fault either way.
So, the same year I gave up Facebook, I added something in Lent. I walked the labyrinth at a neighborhood church everyday. I wrote about it in this very space. Then I wrote the forty-day journey into a book due out this fall.
(Sorry for the shameless self-promotion. It is still Fat Tuesday after all.)
But what do they do, all these forty-day sacrifices? When I was little, I was told it was to remind us of the sacrifice Christ made on our behalf. Nice sentiment, but it doesn't really convince me anymore. I guess I do it because of the way it keens my senses, the way it catches me in mid-stride, to what is happening right in front of my face. I give up something for Lent because of the way it strips away all my pretenses to be able to see and hear and smell and touch and taste the gift of grace waiting in every moment. It is a paradox, to take something away so that you can see all that you've been missing.
Of course, by the time you're reading this, I likely will have decided what I will give up once the clock strikes midnight, Wednesday, March 5, 2014. And in its absence, my eyes will begin opening again to see all that I am—even now—still blind to.