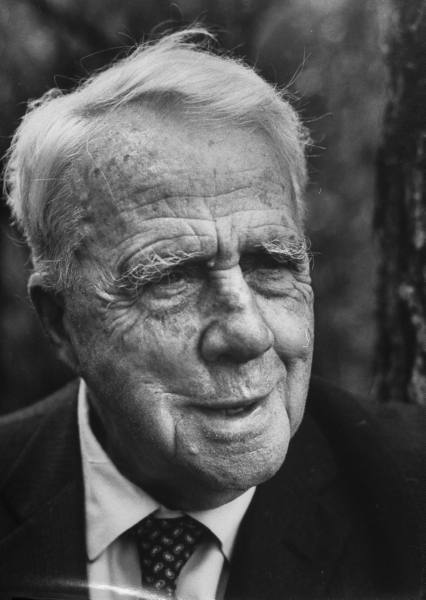 Recently, my three-and-a-half year old son walked up to me and handed me a sheet of paper rolled up like a scroll. As I unrolled it, I saw the sublime jumble of his scribbles and doodles on the page.
"It's a story," he told me.
I asked him if he would tell it to me.
"Once upon a time," (yes, he began the story exactly that way), "there was a cat named Sparkles and a dog named Jingles...."
From there, he related their adventure in a couple short sentences, and then ended the story the way every story ends:
"The end," he said. Then he rolled up the scroll and walked on his merry way.
We've been telling stories to my son for years. But this was the first time he told a story back to me.
The episode couldn't help but remind me of an episode from my own early childhood. It happened when I discovered the typewriter in my dad's home office. In response to my eager pleading, he filled it with a sheet of paper and allowed me to type away.
I typed a raucous jumble of completely random letters, filling the page.
After pulling the scroll out of the typewriter, I handed it to my dad. And this is what I remember: I asked him to tell me what I had written. And he responded by making up a story. As I recall, it was something about a bear.
And this is what else I remember: that, strangely, I welled up with childlike joy that this was, indeed, my story, exactly what I had written.
All of this reminds the fatherly version of me of at least two important facts about the power of story.
Story is how we make meaning of the world. This is how we make innate sense of reality: We don't rationalize it. We don't conjure logical proofs about it. We narrate it.
And by "story," I don't necessarily mean the fairy-tale "once upon a times" of our childhood. Although, if we're honest with ourselves, many of those stories still bear deep meaning for us well into adulthood. But what I do mean is any thread of consciousness that has a beginning, a middle, and an end. In that sense, almost any piece of knowledge or information we gain about the world only has meaning if we can place it within a larger narrative that makes sense to us. Even if that piece of knowledge changes the narrative in some way, it must still find traction there. This is how we grow in our understanding of the world, and this is how we gain wisdom.
Story is how we sustain relationship with one another. In my son's story, this worked on at least two levels. First, within the story, it spoke to his relationship with one of his friends. She was the one who has a toy cat named Sparkles and a toy dog named Jingles. So, as he was telling me his story, he was also telling me something about his friendship with her.
Secondly, the storytelling itself, regardless of what story it told, sparks a relationship between the storyteller and the story-hearer. In this case, between a father and a son. The same goes for my own childhood memory. Indeed, how many nostalgic family gatherings are enlivened by the one who, after everyone's eaten their fill, begins to spin the old family tales? This is how relationship is created. We narrate it, parents and children, brothers and sisters, neighbors and friends.
Now, what is "sacred" about any of this?
Allow me to answer that with a story told by the poet Robert Frost. Frost frequently talked about poetry by talking about an idea he originated called "sentence sounds." Sentence sounds, he said, were those natural rhythms of speech that gave language a beat, a pulse.
Frost used an image to illustrate sentence sounds. Imagine yourself in a room. On the other side of the closed door, you hear a conversation in the hallway. Even though the wall deafens you from hearing the actual words of the conversation, you can hear the pitch and tone of it, the rhythm of it. You can make sense of what they're saying simply by the music of their voices.
What you're hearing, Frost would say, are the sentence sounds.
What's sacred about story is, if you will, its sentence sounds. In every story that attempts to make some kind of meaning of the world, and in every story that brings us into relationship with another, we can hear the pitch and tone of something sacred.
We can hear, if you will, the sentence sounds of God.
Hearing, or overhearing, these sacred sounds is exactly why, every summer, my close friend, Peter Mead, and I lead a faith and writing workshop. It is a chance to listen for the sentence sounds that permeate every narrative we draw out of the world and our own experience of it. We listen for the rhythm and pulse of something divine threading its beginning, its middle, and its end.
We'll be leading and listening once again July 24-26 at Concordia Seminary, in Clayton. Feel free to contact me at schollt@csl.edu if you want to join in the conversation. Or feel free to register online or by pdf.
The surprise of it is that even though we are always listening for the same thing, for that something sacred, it always speaks to us in a new way. Or as the story Jesus of Nazareth told about it, it is like pouring new wine into new wineskins.
Even when it is simply scribbles on a scroll about a dog named Jingles.