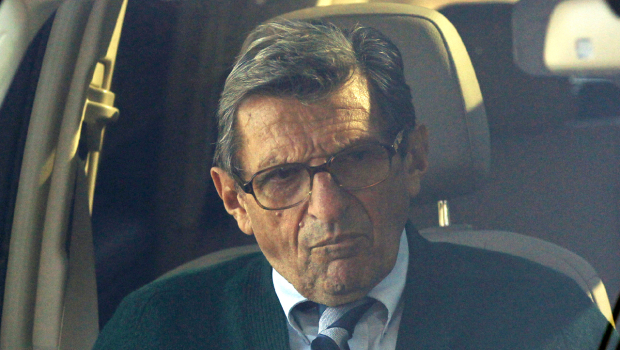 Minute by minute, the details of the sexual abuse scandal at Penn State University involving the alleged crimes of Jerry Sandusky and the subsequent lack of action by legendary football coach Joe Paterno and university administration are becoming more appalling, despicable, and sad.
And we know we are only at the beginning of the story, the tip of the iceberg.
Last night, I heard someone on sports radio ask whose action was worse: Jerry Sandusky's or those who covered for him? If we forget for a moment that nobody has yet been convicted of anything in a court of law, it is a striking ethical question. Could one person's non-action in the face of another's evil action be worse than the one doing the wrong?
Considering that Joe Paterno is supposedly a devout Catholic, and many are already comparing this to the Catholic clergy abuse scandal, the question brings to light the classic theological distinction between sins of commission and sins of omission. At the risk of oversimplification: sins of commission are the wrong actions we take. Sins of omission are the right actions we fail to take.
Or as is often said in one form of the Christian liturgy of confession and forgiveness: "We have sinned...by what we have done and by what we have left undone."
In which case, Joe Paterno gives us a textbook definition of the sin of omission, with devastating consequences. He hasn't necessarily done anything "wrong," particularly in the legal sense of the term. It's just that he didn't do enough "right."
Now I'm not really interested in trying to ethically discern whose action is the "worst" in this or any scandal, whether it makes national headlines or stays in one's backyard. What a scandal like this does point out is the tragic complexity, and complex tragedy, of any wrongdoing or evil action. And I mean "tragedy" in every sense of the word, especially the Greek.
At the heart of social life is the reality that for any wrongdoing to persist for any length of time requires the inaction of others. In which case, perhaps the harder ethical question to ask is this: Is it ever possible for wrong things to happen without right things not happening? Does wrongdoing simply exist in the void of right not-doing?
This can really be the most devastating question of all. Because if we answer "no" to first question, or "yes" to the second, it can begin to implicate us all.
Because, if I make it personal, I can never really be absolutely certain if I've done all the "right" things that could be done in any given situation. Only hindsight is 20/20. And so we spend a good part of our lives doing the best we can with what we know, hoping for the best to prevail.
Of course, this isn't to make any excuses for Joe Paterno. It is next to impossible to understand why he didn't do more than what he did when he had the opportunity to do the right thing.
Which would seem reminiscent of the old cliché about evil and good people doing nothing. But if one sin of omission is enough to undo 60 years of a life spent trying to do good, it is perhaps enough to make one wonder what makes any of us "good" to begin with.