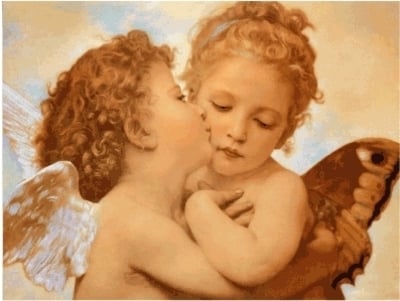 Among what scholars have traditionally thought of as the strangest passages in the Hebrew Bible are four verses toward the beginning of Genesis about evil angels.
It's a short story, written 2,500 years ago, with roots that go back even further to Hurrian and Canaanite mythology. In these verses, angels that the author calls 'sons of God" came to earth and mated with human women, producing a race of demi-god giants called the Nephilim who roamed the earth until they were wiped out with the rest of humanity in The Flood.
In the 2nd century, theologian Clement of Alexandria wrote that the sons of God were "angels who forsook the beauty of God for perishable beauty and fell as far as heaven is from the earth." Nemesius, the Bishop of Emesa, wrote in the fourth century that the sons of God were angels who "fell away," who 'set their desire on things of earth, withdrawing themselves from their relations with things above, even from God."
Biblical scholar Donald Gowan has written that early Jewish authors considered these four verses to be the true story of the fall of man, a more important depiction of evil's origins than the Garden of Eden. Evil came, these writers believed, on the backs of fallen angels.
The word "angels" comes from "aggelos," a Greek translation from the ancient Hebrew word, "malak," or messenger — the original function of angels in the Bible. Ancient authors depicted heaven as a divine version of a royal court, with God as king. Angels were members of God's household who had the ability to move between heaven and earth to deliver God's news to humanity.
As centuries passed, angels' biblical roles moved beyond their responsibilities as messengers, and angels of judgment and angels of death began to appear. Later authors of ancient texts that are not part of the canon began to expand on the idea of the fallen angels introduced in Genesis.
The author of The Book of Enoch, written in the third century B.C., amplified the Nephilim story, and the angels not only mate with human women, but share with them secrets about warfare and other "knowledge they would have been better off not knowing," said Susan Garrett, professor of New Testament at Louisville Presbyterian Theological Seminary, and author of "No Ordinary Angel." In the Book of Jubilees, written in about 150 B.C., evil spirits rise from the bodies of the dead Nephilim and invade the earth.
"By the time you get to the New Testament, there's a notion that there are angels out there serving evil purposes," Garrett said.
Those purposes are tied to the idea of rebellion, of a servant of God attempting to determine its own fate by bucking a system subserviant to divine authority.
"How can it be that an angel, who is pure intelligence, can react against God?" asked Lawrence Cunningham, theology professor at the University of Notre Dame. "One theory is that angels had a vision of the coming incarnation and refused to acknowledge any figure superior to them with a body, namely Jesus."
Of course, the most famous evil angel of all is Satan.
"'Satan' means one who tempts. That's one of the names, or titles, for the prince of angels, an evil spirit that tempts," said Cunningham. "'Satan' is used in a broad sense in the New Testament. When Jesus says to Peter, 'Get thee behind me, Satan,' he's saying 'don't tempt me.'"
Satan is introduced in the book of Job as "an adversary in the heavenly court with God," said Kevin Sullivan, religion professor at Illinois Wesleyan University and author of "Wrestling with Angels."
Satan, as a member of God's court, one of the 'sons of God," acts as a kind of prosecuting attorney in Job, working for God by collecting evidence against Job's loyalty, going so far as to try and tempt Job to condemn God.
As centuries passed, Satan's job description broadened as a tempter of the entire human race. By the New Testament Satan became a full-time adversary of God, tempting Jesus in the desert and leading an army of evil angels, more akin now to demons. These demons could enter people and Jesus could cast them out. Such stories are the foundation for one of the most vexing of theological puzzles: If God is all good and all powerful, why does evil exist in the world?
"Satan and demons became a good explanation," said Sullivan. "They started in heaven, and transgressed."
One thing biblical scholars agree on is the absence of stories in biblical or ancient extra-biblical literature about angels coming to earth and stealing something valuable and beloved from human beings.
Angels, even evil ones, don't take what's not theirs. Evil angels do what they're good at, what Satan taught them to do: They deliver messages and use temptation to get what they want.
They dangle massive treasure to draw souls from the light, where towering silver arches straddle mighty rivers of beer, to a dark, soulless New Babylon where performing is prized over being and Lucifer is costumed in tinsel.
The verse about the corruption of angels in Genesis is immediately followed by one of the most famous stories in the Bible: "The Lord saw that the wickedness of humankind was great in the earth, and that every inclination of the thoughts of their hearts was only evil continually." Then comes the near-total destruction of God's creation in a flood that covered the earth for 40 days and 40 nights.
Though, to paraphrase the song, it never rains in Anaheim.