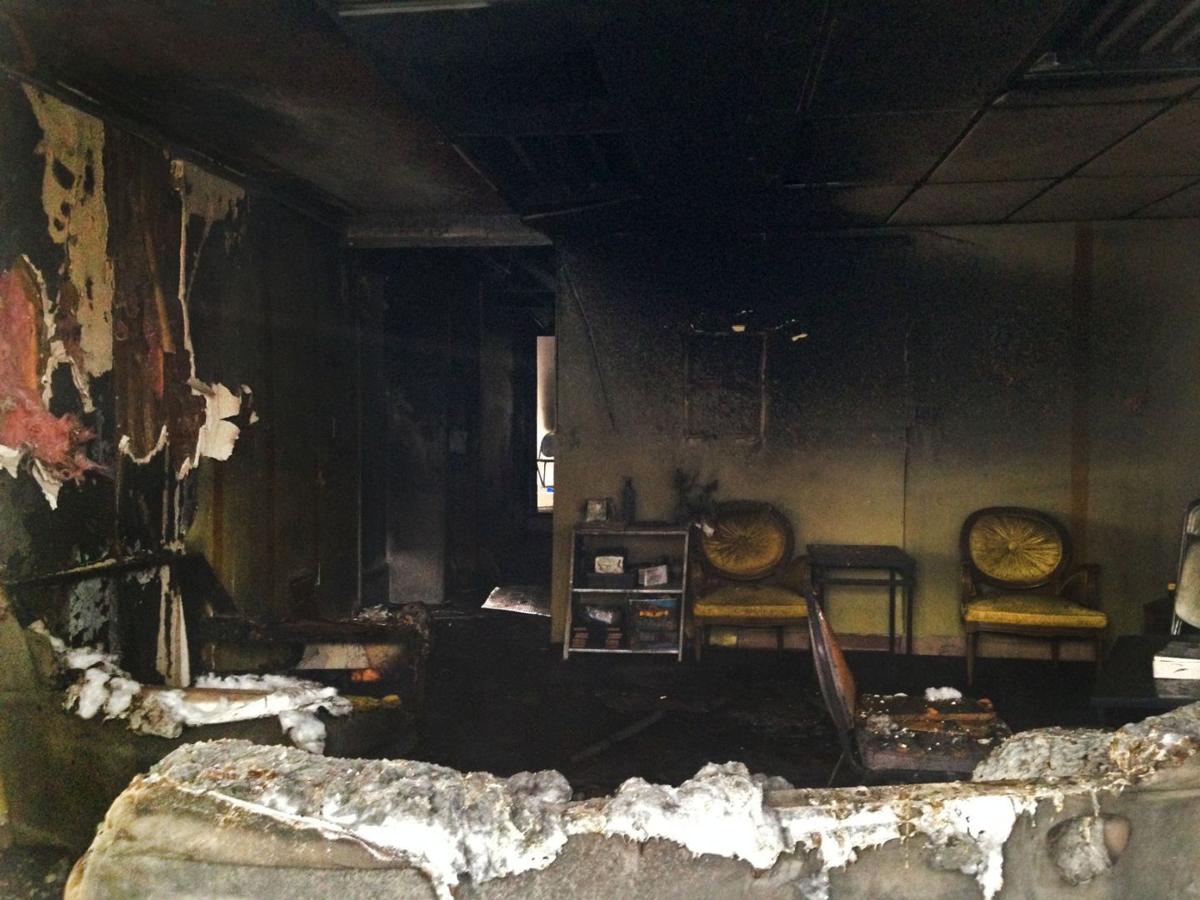 Count the church Michael Brown's father regularly attends among the many buildings that were torched in the wake of the grand jury announcement.
Carlton Lee, senior pastor of The Flood Christian Church, said he was busy trying to help put out a fire and prevent looting in the region when police called him close to midnight on Monday to break the news.
"Your church is on fire," a police officer from the Country Club Hills Police Department is said to have told Lee.
Lee rushed to the church, arriving at about the same time as the fire department. Lee said he saw smoke and fire erupting from the building after firefighters broke a window open.
"It almost crippled me to see my baby on fire," Lee said. He founded the church, at a former auto repair shop built of cinder block, in 2013. About 75 faithful attend the nondenominational house of worship.
Lee called members of the church, including Michael Brown Sr., to let them know what had happened. Brown, Lee said, was devastated.
"I told him, 'Mike, it's not your fault, man,' " Lee said.
Lee, a local representative for Al Sharpton's National Action Network, has been at the forefront of the protests surrounding the death of Michael Brown, the African-American teenager shot by Officer Darren Wilson on Aug. 9.
Because of his involvement in the demonstrations and his connection to Brown, Lee has received more than 80 death threats in the form of emails, phone calls and letters.
Some of the threats contain detailed information about his family, and one in particular warned of setting the church on fire. Lee also said his dog had recently been poisoned.
Lee has been in touch with FBI officials about the incidents. The FBI would not confirm the existence of an investigation.
Meanwhile, the Bureau of Alcohol, Tobacco, Firearms and Explosives has launched an investigation into the blaze at the church. John Ham, a public information officer for the agency, says federal law mandates that officials investigate fires at houses of worship.
Responding to a sharp increase in arson cases involving churches, then-President Bill Clinton formed the National Church Arson Task Force in 1996.
Ham says officials are currently investigating more than a dozen fires related to Ferguson. But the church fire is unique, Ham said. The Flood Christian Church is set off from the main protest area, and no adjacent buildings were damaged.
Still, Ham said, it's too soon to tell whether the church was specifically targeted or whether it was just one of many structures destroyed Monday night. Ham did say, however, that there was evidence of a forced entry.
On Wednesday, the Washington-based Council on American-Islamic Relations, the nation's largest Muslim civil rights and advocacy organization, called for a federal hate crime investigation into what they described as "an apparent arson attack."
"Just as we call for a hate crime investigation whenever an American mosque is harmed in suspicious circumstances, we urge state and federal authorities to examine the possibility of a bias motive for the alleged attack on this house of worship," said Ibrahim Hooper, the organization's national communications director.
The Rev. Welton Gaddy, president of Washington-based Interfaith Alliance, which champions religious freedom, said the fire echoed dark moments in American history.
"Throughout the 20th century black churches were burned and brutalized as a means of silencing the prophetic voice of African American religious communities who demanded civil rights and equality."
Ham said it's too early to attach labels such as "hate crime" to the incident. But Tasha Davis, executive pastor at The Flood, says distressing messages continue to arrive at their doorstep. Some of them taunt the congregants, telling them they got what they deserved.
"It's a constant battle," Davis said.
The Flood Christian Church plans to soldier on and celebrate its regular Sunday service in the parking lot this week. The congregation is determined to remain in the area.
Lee says he doesn't blame protesters for what occurred but instead those who are angered by civil rights advocacy.
"I'm bothered by it. I see it as a scare tactic."