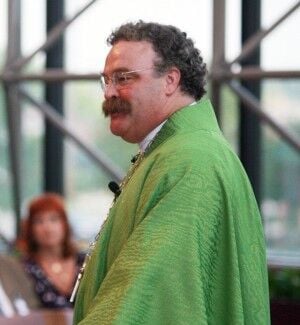 ST. LOUIS • A decision by the Lutheran Church-Missouri Synod to sever any official relationship with the Boy Scouts appears to have had a limited effect on the number of church-linked Scouting organizations — at least so far.
On Dec. 1, the synod announced the end to a 2013 memorandum of understanding with the Boy Scouts, citing legal concerns and Scouting's decision in July to allow openly gay Scout leaders.
In the announcement, synod President Matthew Harrison and Office of National Mission Executive Director Bart Day said that the leadership change was something that they had been promised in 2013 was not "on the table."
"We are now being told that the LGBT agenda, even with the most recent change, won't affect the content of Scouting or the BSA experience, but we do not believe that will be the case," the statement says.
They also warned that "it appears that the law is growing stronger for those who might be in a position to file suit for discrimination against the BSA and, by extension, against chartered organizations, including LCMS congregations."
The pair said that the decision followed months of "conversation and correspondence" with the Boy Scouts.
The synod's statement estimated that over half of the synod's Scouts are not members of troops chartered in a congregation. Of the troops in a congregation charter, only about 20 percent are Lutheran children, they say.
Asked about the announcement's effect on chartering, an official responded with a statement that said the synod was not "devoting resources to tracking BSA participation."
Local Boy Scout Council officials said they had seen few effects.
"We only lost one Cub Scout pack out of our 250 units," said Doug Callahan, executive director of the Great Rivers Council, in Columbia, Mo., which covers 33 counties in northeastern and central Missouri.
The units include Cub Scout packs, Boy Scout troops, Venturing crews and Explorer posts, he said.
That pack was sponsored by a synod church in Columbia, he said.
A church in Jefferson City that sponsored a Boy Scout troop and a Cub Scout pack decided to opt out, but both were picked up by another synod church in that city, Callahan said.
Dan O'Brien, Scouting executive and CEO of the Abraham Lincoln Council, which covers all or part of nine counties in central Illinois, said he had not heard of any Lutheran churches there leaving Scouting.
But the council has only one synod church, and it may be too early to tell. Though the re-chartering deadline has passed, units have two more months of a "grace period," O'Brien said.
Alicia Lifrak, Scouting executive and CEO of the Lewis & Clark Council, which is headquartered in Belleville and covers 15 counties, said, "At this point we have no losses."
"We are certainly hopeful that we can maintain our local partnerships and relationships and keep Scouting alive within the Lutheran church, but if that changes, we'll find out when they tell us."
Lifrak said that her council did not do a grace period, and already had collected the re-chartering paperwork from a majority of its units.
Heart of America Council Scout Executive Kendrick Miller wrote in an email that his council had 17 packs and troops chartered to synod groups, and had seen no "change in support for these Scouting units."
Miller's council serves 19 counties in eastern Kansas and western Missouri and has 1,100 units.
The Boy Scouts released a statement in response to questions about the synod's decision that said the organization valued and appreciated the synod's "support of Scouting over the years. We believe religious organizations must have the right to use religious beliefs as criteria for making decisions and we have a deep respect for the Missouri synod's perspective."
The group said it continued to share many ideals and principles and would "look forward to continuing to work together."
Harrison and Day said that they had hoped to replace Scouting with Trail Life USA, a "Christ-centered" alternative to Boy Scouts in which troops are "church-owned and operated."
But the pair said that discussions were ongoing and that there were concerns that replacing a "consistently 'nonsectarian'" group with a religious organization could "be just as problematic for any confessional Lutheran" because of potential doctrinal differences. They called for a task force to consider "Scouting alternatives."
Asked whether he'd seen groups moving over from the Boy Scouts since the Synod announcement, Mark Hancock, CEO of Trail Life USA, said the chartering process in his organization was year-round and totally different than for Scouting. "I don't know that we can compare apples to apples," he said.
"All we know is we're seeing hundreds of boys join Trail Life USA every day," he added.
Hancock said that adults were required to sign a "statement of values" but that the group welcomed all youth.
Some congregations mulled leaving Scouting in 2013, when the Boy Scouts voted to allow gays as Scouts but not as leaders.
Harrison had opposed that change, which triggered months of discussion and the memorandum in October that said congregations could remove boys from a church troop who were "advocating for a moral view that is inconsistent with the church."
It also essentially left it up to the congregations to decide whether to participate.