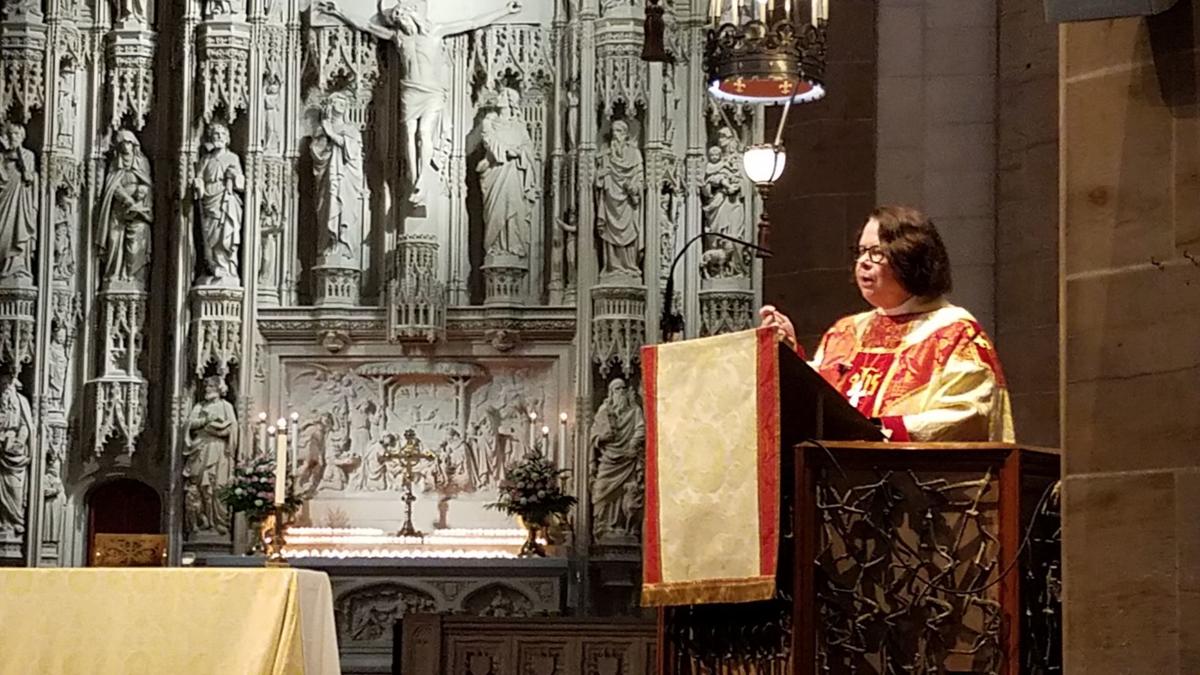 ST. LOUIS — Delegates who gathered this weekend downtown for an annual convocation at Christ Church Cathedral overwhelmingly elected a gay, immigrant, married black man with two children to be the next leader of the Episcopal Diocese of Missouri.
Appearing by video with his husband shortly after the results were announced, the Rev. Deon K. Johnson was momentarily speechless from the applause. While Christian denominations have struggled on the issue of homosexuality for years, many Episcopalian churches are among those that believe the traditional definition of marriage needs to expand.
"Thank you so very much for this awesome responsibility," said Johnson, of Brighton, Michigan, after he regained his composure. "We are so looking forward to continuing this adventure that God has called us to with you and the amazing people that make up the diocese."
The Episcopal Diocese of Missouri has a flock of about 11,500 active members who live in the eastern half of the state. Among a field of three candidates for bishop, Johnson garnered 113 votes out of a total of 164 cast by clergy and lay delegates. He will replace Bishop George Wayne Smith upon Smith's retirement this spring. Smith has led the diocese since 2002.
Johnson is rector of St. Paul's Episcopal Church in Brighton, near Detroit. He and his husband, Jhovanny Osorio, originally from Mexico, have two children.
"Our house is often filled with the joyful sounds of our dogs, kids, godchildren, cousins and neighbors," Johnson said in election materials. "Together we continue the tradition of inviting everyone to the table."
Johnson emigrated from Barbados to New York when he was 14. He went on to graduate from the General Theological Seminary of the Episcopal Church. He first served as associate rector of Christ Church in Shaker Heights, Ohio, near Cleveland.
"This vibrant, multicultural and multiethnic community ignited my passion for social justice and inclusion for those on the margins of the church and society," Johnson said. "Their steadfast reaching out to the community, giving voice to community needs and incorporating different cultures into worship, was an important part of my formation for the priest that I am today."
Preaching at the 10 a.m. Sunday service at Christ Church Cathedral, the Rev. Kathie Adams-Shepherd said the Episcopal Church "has not always been a safe space" for all.
"A new season is ahead," said Adams-Shepherd, dean of the cathedral. "It won't be easy, nor will it be without its pains and its heartaches and its challenges. However, we will set out together with a young, energetic, wise and faithful shepherd. It is full of hope for all of God's people."
"The holy spirit," she added, "is at work. Let us breathe the spirit in, then let us breathe it out in all that we do."