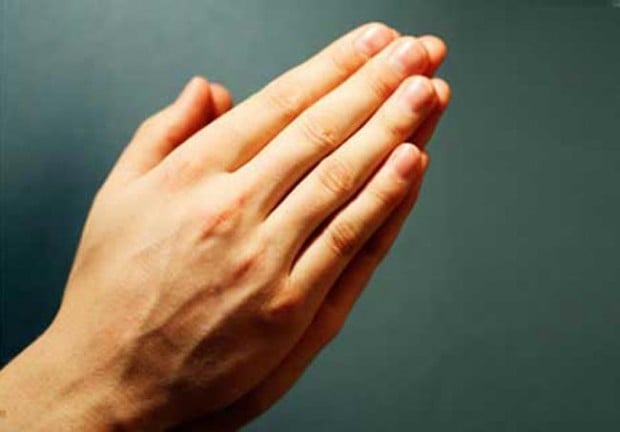 A proposed amendment to the state Constitution that supporters say would protect Missourians' right to pray in public will pass by a mammoth margin if numbers from a Post-Dispatch poll hold until Aug. 7.
That's when the so-called "right to pray" ballot measure — known as Amendment 2 — will go before voters.
The measure's champions say it better defines Missourians' First Amendment rights and will help to protect the state's Christians, about 80 percent of the population, who they say are under siege in the public square.
Its opponents say that the religious protections Amendment 2 would offer are already guaranteed by the Bill of Rights and the U.S. Constitution, and that it will open the door to all manner of unintended and costly consequences including endless taxpayer-funded lawsuits.
Rep. Chris Kelly, D-Columbia, who opposed the original legislation, called Amendment 2 "a jobs bill for lawyers."
The measure has already provoked lawsuits over its ballot wording, which plaintiffs argue is a Trojan Horse — 50 benign words shielding a Christian attack on the state's 200-year-old protections for religious minorities, public education and church-state separation. Those lawsuits failed in Missouri's courts, and the measure's ballot wording will stand as written.
A Post-Dispatch poll of 625 registered Missouri voters found that if the primary had been held last week, 82 percent would have voted in favor of Amendment 2, while just 14 percent would have voted "no," with 4 percent undecided.
Rep. Mike McGhee, R-Odessa, unsuccessfully sponsored the legislation that led to Amendment 2 for years before seeing it pass in the 2011 legislative session — the House on a vote of 126-30 and the Senate on a 34-0 vote.
McGhee did not return a call from the Post-Dispatch, but told the newspaper in May that if the measure passes it would 'send a message" that "it's OK to read a Bible in study hall" or "to pray briefly before a City Council meeting."
The measure's opponents have pointed out that both of those things are already protected by the Missouri and U.S. Constitutions.
McGhee's pastor, the Rev. Terry Hodges of First Baptist Church in Odessa, said he had spoken with McGhee through the years about the legislation. He said that if Amendment 2 passes, it will "level the playing field."
"For first 150 years in this country Christianity enjoyed home-field advantage," said Hodges. "That's changed and now there's a hostility toward Christians."
Karen Aroesty of the Anti-Defamation League of Missouri and Southern Illinois said the 4 percent of Missouri believers who are non-Christian would find that hard to believe. "That the majority is claiming to be persecuted is simply absurd," Aroesty said. "It boggles the mind that they say they are under attack."
Opponents of the Missouri ballot measure say wording in the amendment that would "ensure that any person shall have the right to pray individually or corporately in a private or public setting" without disturbing the peace or disrupting a public meeting, opens the door to sectarian prayers at governmental meetings.
Groups such as the American Civil Liberties Union and Americans United for the Separation of Church and State have questioned how disturbance or disruption would later be defined. They've asked what happens if one person's "right to pray" intrudes on another's right to abstain from prayer, or to pray according to the tenets of his or her own faith. nd they point out that if the measure passes, Missouri taxpayers could be on the hook for related lawsuits that will play out over the years in court.
Rep. Kurt Bahr, R-O'Fallon, a co-sponsor of the amendment legislation, said he supported the wording because "it expands upon the core idea of the protection of religion."
But Charles Haynes, a senior scholar with the nonpartisan First Amendment Center in Washington, said while the proposed amendment "reaffirms legislative prayers for government bodies, it doesn't make clear that if those prayers are regularly of one particular faith, the practice would likely be struck down as unconstitutional."
He said the amendment 'sets up a conflict between this language of the Missouri Constitution and how the U.S. Supreme Court has interpreted the federal Constitution to allow legislative prayer."
Some of the most discussed pieces of the proposed amendment deal with education and students' rights. A section says that "no student shall be compelled to perform or participate in academic assignments or educational presentations that violate his or her religious beliefs."
Bahr said that because the Catholic church teaches that contraception is immoral, a Catholic student in public school might opt out of a class "to avoid putting condoms on bananas."
But amendment opponents see something more serious.
Michael McKay, president of the nonprofit Skeptical Society of St. Louis, said he was worried that "if the amendment passes, students could graduate from school without having taken an important science class, avoid learning about evolution."
In 1987, a federal appellate court ruled against parents in Hawkins County, Tenn., saying public schools have the right to control their own curriculum and force students to engage in critical thought, even if it challenges their religious views.
Josh Rosenau, programs and policy director for the National Center for Science Education, said allowing students to opt out of assignments would be problematic. "What if a student says that long division is against his religion? Would he be accommodated by his math teacher? How?" he asked. "It's clearly a frivolous objection, but do we want the state deciding whose religion is frivolous and whose sincere?"
The state's religious leaders are split on the amendment.
Missouri's four Catholic bishops issued a statement of support for Amendment 2 on July 20. Mike Hoey, executive director of the Missouri Catholic Conference, the bishops' lobbying arm, said that "it ought to be that the First Amendment is sufficient, but problems have cropped up here and there."
John Yeats, executive director of the Missouri Baptist Convention, wrote in the church's newspaper this month that the vote on Amendment 2 was about "democratic clarity."
"The courts have muddied the water," he wrote. "Therefore, the state Legislature believed that a state Constitutional amendment was the best way to clear things."
But in the Episcopal Diocese of Missouri, Bishop Wayne Smith said in a statement last week that prayer in public schools "becomes the vehicle for a sectarian agenda, typically Christian and typically Protestant, in violation of the no-establishment clause of the U.S. Constitution's First Amendment."
Leaders of non-Christian faith groups such as the Anti-Defamation League — along with some labor and teachers groups — recently began to organize under the name Missouri Coalition to Keep Politics Out of Religion.
Les Sterman, domestic issues advocacy chair for the Jewish Community Relations Council, said the amendment 'sanctioned religious activity in public places" and would have "the net effect of sanctioning certain religions that tend to dominate in certain areas, and we find that alarming."
Ghazala Hayat of the Islamic Foundation of St. Louis called the amendment "redundant" and said that if it passed it would mean that "the majority faith is sending a message to Americans of minority faiths that 'you're not part of us.'"
Hoey said that if officials at the Missouri Catholic Conference "had read in the proposed amendment any reference to Christianity, for example, we would have opposed it because that's not religious liberty."
Interfaith Partnership/Faith Beyond Walls has not taken a position on Amendment 2 because cabinet members are on opposing sides of the issue, said Leigh Greenhaw, the organization's board president. But Greenhaw, a senior lecturer at Washington University Law School, testified against the same bill two years ago in Missouri Senate committee hearings and wrote a lengthy brief against Amendment 2 for her fellow Interfaith Partnership cabinet members.
Most outside experts say Amendment 2 is bound for the courtroom.
"It takes away ambiguity on one hand, but opens up practices that have already been struck down as unconstitutional on the other, said the First Amendment Center's Charles Haynes. "The result will be a mess. This is the beginning of what will be endless litigation going over the same ground we've been over before."
"If this were to pass, and it probably will, it will surely be challenged in federal court," said David Kimball, a political science professor at the University of Missouri-St. Louis. "And the language seems to me so hackneyed that federal courts will strike this down pretty quickly."
For language that will be enshrined in the Constitution, the most cherished document in a democracy, even Amendment 2's supporters are less than enthusiastic about its wording.
"Every constitutional amendment drafted is drafted by people," said Bahr. "We're dealing with imperfect people who do everything they can to make the best language possible."
Hoey, of the Missouri Catholic Conference, made it clear that "we didn't write the amendment."
"It was presented to us as something to consider, so we looked over the language and didn't see anything that would create a problem," he said, adding, "I would have written it differently."