ST. LOUIS • Halfway up and inside the 300-foot steeple, wind swirling, the fourth-generation bell mechanic held deep respect for the ledge.
"Safety is paramount," James Androuais, 29, said from a brute steel platform. "It's not the fall that will kill you, it's the immediate stop."
Sure-footed and on deadline, he focused on a broken assembly of four bells, ranging from 400 to 3,000 pounds each.
The bells haven't formally rung in years.
In 2005, clergy and congregants at St. Francis de Sales Oratory started breathing new life into the old Roman Catholic church. The group had longed early on for the bells, cast in St. Louis more than a century ago, to be restored to their former glory. But bids for the work were too expensive.
So they shoveled uncounted pounds of pigeon droppings out of the belfry and did other tasks on their own. Then they sought a new estimate for the technical bell and clock work and were pleased with a $25,000 bid.
Tuesday became the first realistic deadline to get the bells to peal once again.
For observant Catholics in the United States, such as those at St. Francis de Sales, Dec. 8 is a holy day of obligation in honor of the Immaculate Conception, the belief that the Virgin Mary was conceived in her mother's womb without original sin.
Mary is also the patroness of the Institute of Christ the King Sovereign Priest, a religious order founded in 1990 in Gabon, Africa, that runs St. Francis de Sales, which attracts about 600 faithful each Sunday for its traditional style. The special Mass will be celebrated at 6:30 p.m. Tuesday at the church, which worships in Latin, accompanied by Gregorian chant.
"The bells will be ringing," the Rev. Canon Andrew Todd, 28, said last week, "God willing."
And willing Androuais' handiwork.
His great-grandfather, who started the family business in Normandy, France, was Catholic. Androuais is a different kind of servant.
"I worship the work schedule," he said. "If you do what you love, it's not work."
He said he had eight cities to go to by Christmas. He often works on Sundays because the phone isn't as distracting.
He's done custom jobs anywhere from Patagonia to Dubai. He said he serviced a 56-bell carillon and built clocks up to 50 feet in diameter. Sometimes he rappels to his station.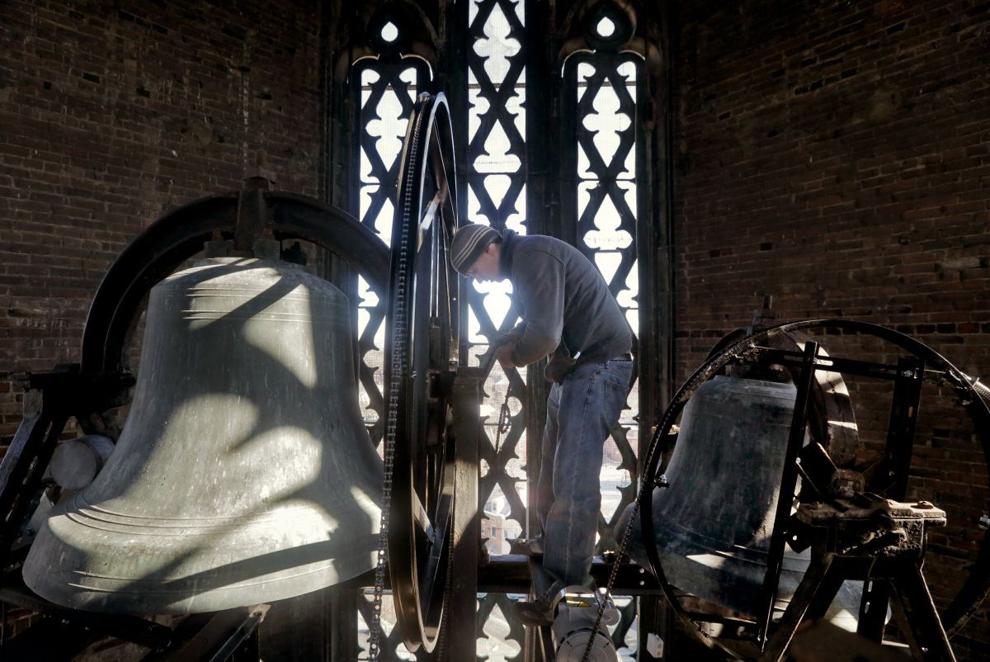 "Every job is different," Androuais said. "If you do the same thing over and over, then it's not fun anymore."
The project at St. Francis de Sales is rare because it's in his backyard. His company, Americlock, is based in Ballwin.
Todd, the priest, has been in near-constant contact with Androuais since the project began. Almost the same age, both are serious about their occupations, though Todd's labor is grounded in the daily repetition of celebrating Mass. And instead of wearing worn-out gloves and jeans to work, he dons a long black cassock, even up in the soaring bell tower.
"There's something about bells," Todd said. "There's something about that tone. It's a pitch, but also a vibration that hits the body."
Todd studied theology, art and music during seven years of seminary. Just two years ordained, he has learned a lot about the physical restoration of old buildings that are costly to repair. He's the general manager of the Gothic Revival-style church, and accompaning campus, at Gravois and Ohio avenues.
Yellow caution tape surrounds a group of pews under a leak in the yawning ceiling.
"It's beautiful, but it needs a lot of upkeep," he said of the church, which used to be called the "cathedral of south St. Louis."
A sign of life
"There is no danger of falling, but there has been a shift in the tower," he said, comparing it to small, seasonal shifts of homes.
But the old bricks need new mortar. He said one estimate just for scaffolding around the steeple was about $400,000. In the context of that kind of money, the $25,000 tab to fix four bells and 10-foot-tall gold-relief clocks was appealing.
The gong of the bells will signal that the church building, once slated for demolition, is fully functioning again, despite other needed repairs.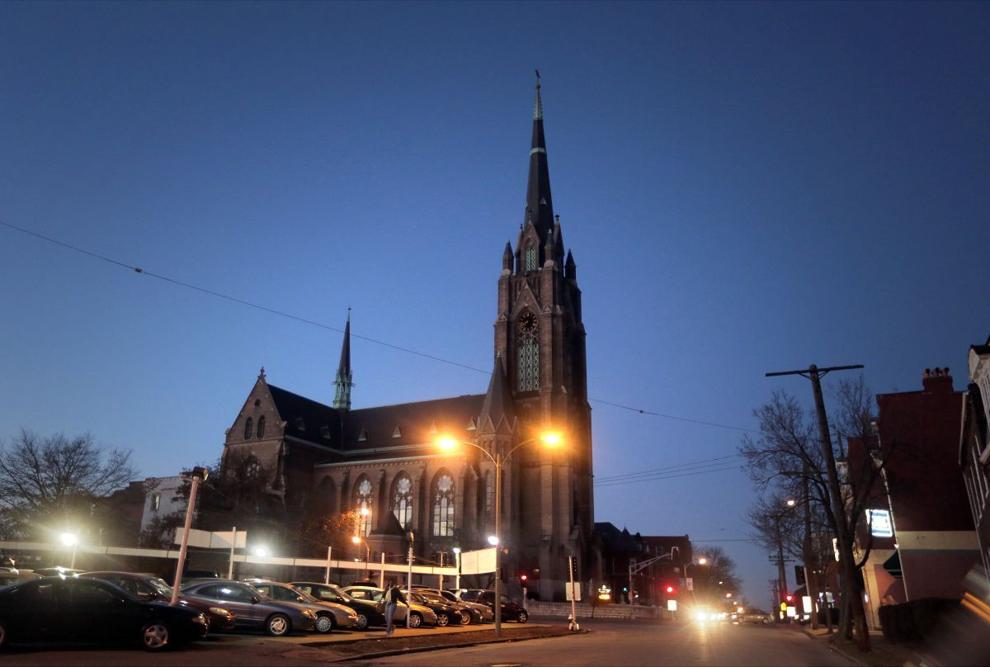 "With the bells pealing, with the bells tolling, it's a sign of life," Todd said.
The huge church will be not only seen but heard.
Facing the deadline for the special Mass on Tuesday, Androuais made considerable progress in the belfry last week. He installed new motors that turn new chains that drive new metal wheels that swing the old bells.
"I am going to be able to program them to swing at the proper height and degree, so they always sound the same every time," he said of automated settings.
Sunday, on his way out of town to install new clocks in Tennessee, Louisiana and Texas, he stopped by St. Francis de Sales to test and program the restored assembly.
The gold clocks work for the first time in decades. Three of the four bells function on command. Androuais will come back after Christmas to finish the fourth bell and dress up the whole project with a small remote control to run it.