On March 7, 1965, Alabama state troopers and local police — some on horseback — used billy clubs, bullwhips and tear gas to bludgeon and bloody about 600 civil rights activists who had started a march of 50 miles from Selma to the state capital of Montgomery.
News of that "Bloody Sunday" attack at the Edmund Pettus Bridge was broadcast into homes across the country and would be a turning point in the civil rights struggle.
After the attack, the Rev. Dr. Martin Luther King Jr. issued a call for church leaders around the country to come to Selma.
Sister Antona Ebo was working at St. Mary's Infirmary, then a hospital for African-Americans in St. Louis, when news of the brutality in Selma reached her.
"If I didn't have this habit on, if I wasn't working," she told her co-workers at the infirmary, "I'd be in Selma."
"God called my bluff," Ebo would later tell a reporter.
Archbishop Joseph E. Ritter had asked the human rights commission under the Archdiocese of St. Louis to answer King's plea and on March 10 send representatives to Selma.
Ebo's supervisor, Sister Eugene Smith, asked her whether, as an African-American nun, she would be part of a 50-member delegation — made up of laymen, Protestant ministers, rabbis, priests and five white nuns.
The night before she was scheduled to leave, Ebo heard about James Reeb, a white minister who had traveled to Selma to take part in the marches. Reeb had been brutally attacked after leaving a restaurant.
"If they would beat a white minister to death on the streets of Selma, what are they going to do when I show up?" Ebo wondered.
On the morning of Wednesday, March 10, the group flew to Selma. They were promptly taken to Brown Chapel African Methodist Episcopal Church — a civil rights landmark.
Ebo later realized that inside the chapel, politician and civil rights leader the Rev. Andrew Young had referred to her when he asked "the people to stand and acknowledge that one of the great moral forces of the world was now entering the church."
"I didn't even know that that was me," Ebo says now with a chuckle.
The young protesters sitting in the front pews who had participated in Sunday's march made Ebo nervous.
"They had bandages on their heads, teeth were knocked out, crutches, casts on their arms. You could tell that they were freshly injured."
"They had already been through the battle ground, and they were still wanting to go back and go back and finish the job."
"We're going to come on through like we always do!" she said they shouted.
With Ebo out in front, protesters began to march to the courthouse. Lines of state troopers in full riot gear stood a half-block away, ready to greet them.
That day, she told a Post-Dispatch reporter of her determination to join the protest: "I feel I am privileged to be here. On Tuesday, I, a Negro, voted. Every Negro citizen has the right to vote, and that is why I am here."
Ebo and others knelt on the street to recite the Our Father, a Christian prayer, before agreeing to turn around.
Ebo, 90, was born in Bloomington, Ill., the fourth child of Daniel and Louise Teal Ebo, and was named Elizabeth Louise but called Betty Lou. Her family worshipped in the local Baptist church. In fact, her grandfather was a Baptist minister.
Shortly after that, her mother died and Betty Lou, her older brother, Walter Ralph, and her older sister, Mary Jeanette, went to live in the McLean County Home for Colored Children in Bloomington.
Another little boy in the home was Roman Catholic, but the home barred him from attending a Catholic church. Ebo was with him one day when he sneaked into an empty Catholic church. She listened with fascination as he explained the Catholic belief that "Jesus was in the bread."
"I became a Catholic because of the Eucharist," she later told a reporter.
At age 18, Ebo converted to Catholicism. She took her vows in 1950 to be a member of the Sisters of St. Mary, now known as the Franciscan Sisters of Mary.
Today, Ebo spends her time championing African-American rights. On Tuesday, she will lead a prayer vigil in Ferguson at Our Lady of Guadalupe Catholic Church.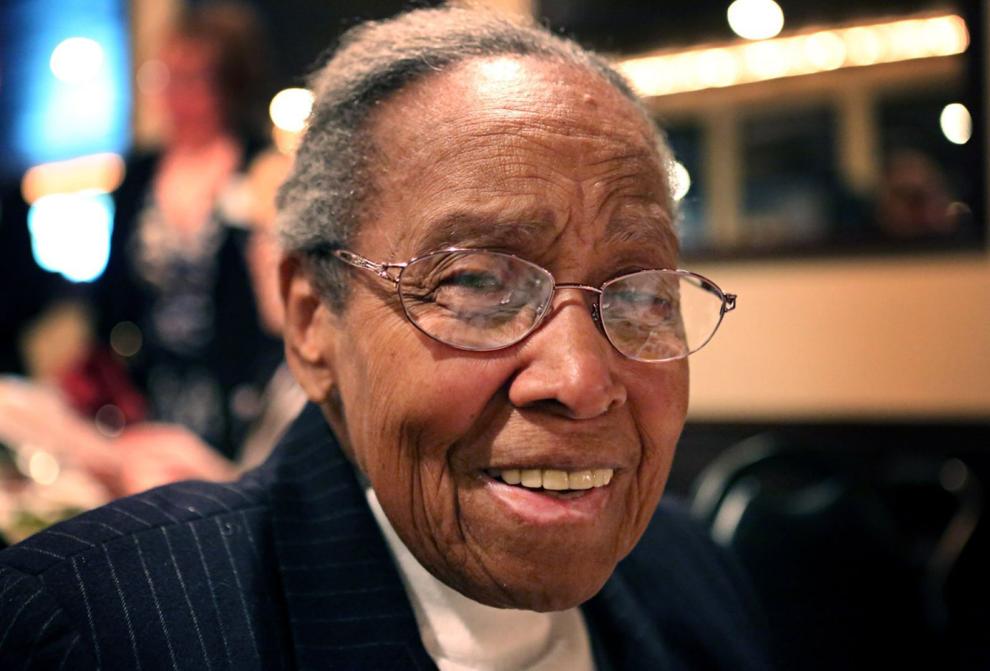 Ebo says the protests in Ferguson today are not unlike the marches held in Selma 50 years ago.
When asked whether conditions for African-Americans had improved since the civil rights era, Ebo asked, "Like better than what?"
Police no longer arrest blacks for having conversations about voting rights, Ebo said.
"Nobody does that today because they couldn't get away with it," Ebo said. "But that hasn't changed the environment. That has just changed because it's the convenient and easy thing to do."
"I mean, after all, if Mike Brown really did swipe the box of cigars, it's not the policeman's place to shoot him dead."
"I think they think that when things quiet down that we are happy."
But "why do we have these disturbances every 10 or 15 years?"
"People take the easy route out," Ebo said. "They don't talk."
Ebo urges those looking to make a difference today to heed the words of the Old Testament prophet Jeremiah, who though in anguish over the sins of a people, cried that he could no longer remain silent.