In the eyes of the Rev. Marek Bozek, St. Stanislaus Kostka Polish Catholic Parish is like a princess, who is courted by many suitors.
For months, the parish — which had a highly publicized breakup with the Roman Catholic Church in 2005 — has been flirting with affiliations that could define the congregation's identity.
First on the list of potential partners is the Episcopal Church. There's also the Ecumenical Catholic Church, which describes itself as part of the universal Christian church.
In addition, St. Stanislaus is in talks with what some deem as more marginal groups, like Roman Catholic Womenpriests, made up of women who argue they have taken back their God-given right to minister.
And the Rev. Stanley M. Bilinski, bishop ordinary of the Western Diocese of the Polish National Catholic Church, which was founded by Polish-Americans who were once Roman Catholic, is in the midst of planning a visit to St. Stanislaus.
"We do want to have options. We don't want to put all our eggs in one basket," said Bozek, in a recent interview in his office at St. Stanislaus. "We don't want to say this is the only way we can imagine our future."
Having said that, Bozek is favoring arrangements that would allow St. Stanislaus to maintain its Catholic ties.
He said he is partial to the Episcopal Church, but only because it is in full communion with the Old Catholic Church of Utrecht. The European body separated from Rome in the 19th century over the doctrine of papal infallibility but is recognized by the Vatican as having valid sacraments, as well as apostolic succession, the uninterrupted line of bishops said to stretch back to the apostles of Jesus Christ.
"We don't want to become Episcopalian. We would be happy to work with them in communion with them to obtain our goal of being an Old Catholic parish," Bozek said.
"We have grown up believing we are Catholics, and we will die believing we are Catholics. The adjective before — Roman Catholic, or Polish Catholic, or Old Catholic — the adjectives are secondary. Our Catholic identity is at the core of how we identify ourselves."
But among some parish members, hard feelings remain over the split of St. Stanislaus from Rome. A year ago — as a means to end a longstanding legal dispute with the Archdiocese of St. Louis — St. Stanislaus agreed to no longer describe itself as Roman Catholic.
John Baras sells life insurance for the Polish National Alliance. He still makes the 32-mile trek to St. Stanislaus from Eureka as often as he can. But he's nervous about the future of the church.
"Personally I don't feel he is going in the right direction," Baras said, adding that too many parishioners are under the influence of Bozek's charm. "He doesn't let them think for themselves."
Others, however, believe St. Stanislaus is still very much a family. And that like a family, it will make the decision about which affiliation to choose together.
"This is something that will affect us down the road, so we want to make it a good decision," said Janice Merzweiler, 75, a parishioner who serves on the church's board of directors as secretary.
As St. Stanislaus wrestles over its future, it is among a fragile yet growing community of Catholic parishes independent of the Roman Catholic Church.
Julie Byrne, associate professor of religion at Hofstra University in Hempstead, N.Y., whose book "The Other Catholics" is due out next year, estimates that there are about 250 U.S. Catholic communities independent of Rome.
These communities, which Byrne figures encompass about 1 million parishioners, are hugely diverse. Some, such as the Society of St. Pius X, clamor for an ultra-traditional church where the priest, with his back to the congregation, still recites the Mass in Latin, like in the days before the Second Vatican Council.
Others, such as St. Stanislaus, aim to be a more welcoming place than, what in their view, is an overly stringent Roman Catholic Church, though Pope Francis, with his talk of not judging others, has tempered that stance.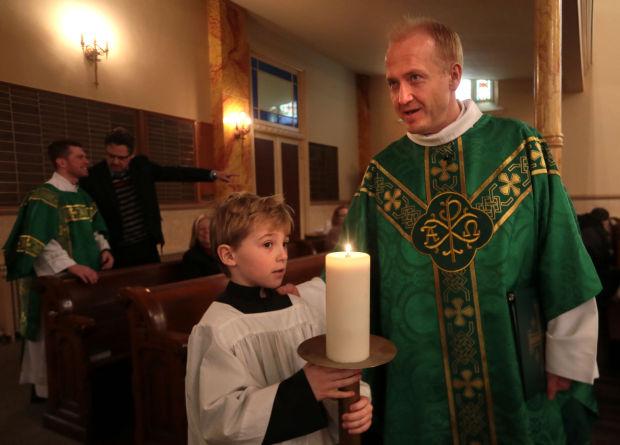 "A bit of steam has gone out of the sails of independent Catholics," said Byrne, noting some Catholics may choose to wait around and see what the new pope does, rather than jump ship.
Here in St. Louis, in addition to St. Stanislaus, other independent Catholic communities exist, such as St. Catherine of Siena, which bills itself as a home for contemporary Catholics. Women are allowed to be priests. Priests can marry. Communion is offered to anyone.
But going independent is far from a guarantee of a thriving tomorrow.
"Most of these communities are really small, and they're really fragile," said Kathleen Kautzer, an associate professor of sociology at Regis College in Weston, Mass., and an author on Catholicism.
One of the most successful independent churches is Spiritus Christi Church in Rochester, N.Y., which boasts 1,500 members. The Rev. Mary Ramerman, a pastor at the church, says it welcomes all and supports those with mental and physical challenges, as well as those who are transitioning from prison back to society.
But Kautzer said most autonomous congregations do not fare as well.
St. Stanislaus, just north of downtown, with about 300 members, has fought for its survival and autonomy since the archdiocese first asked the parish in 2003 to hand over control of its property and assets.
Since the 19th century, the church has governed its own finances. Its bylaws stated that a lay board controlled the church's property and assets while the archbishop could appoint the board and pastor.
When St. Stanislaus refused to consent to the archdiocese's request, then Archbishop Raymond L. Burke responded by pulling the parish priests. Board members were also excommunicated, or placed outside the communion of the church, though reconciliation remained a possibility.
For about 16 months, St. Stanislaus went without a parish priest. On Christmas Eve of 2005, Bozek, who had just been hired by the board, prepared to say his first Mass. He was promptly excommunicated by Burke, and later laicized by Pope Benedict XVI. On Dec. 29, 2005, the archdiocese announced the church was no longer part of the Roman Catholic Church.
By 2008, the archdiocese had sued for control of the church, only to lose four years later, when a St. Louis Circuit Court ruled in 2012 in favor of St. Stanislaus. After St. Stanislaus agreed not to affiliate itself with the Vatican, the archdiocese agreed last year to dismiss its appeal.
Since then, St. Stanislaus has sought to stake out new affiliations.
Yet Bozek maintains he does not have a high opinion of the vast majority of independent Catholic organizations.
Many individuals in the movement, he said, show a "lack of maturity, both theologically and personally. Many times they focus on fancy sounding titles and vestments, while their ministry is virtually nonexistent, or web-based."
Bozek also says he is disappointed by the low standards many of the groups have for ordination.
Experts say independent Catholic movements have struggled for other reasons, as well: Catholics are accustomed to being part of something bigger.
"Catholics don't split into a million little pieces. That's something different. That's Protestant. That's not Catholic," Byrne said.
Some worry that the rise of self-governing Catholic communities has also confused parishioners, leaving them unsure of what exactly it means to be Catholic.
Bozek, for his part, is hopeful that with the advent of Pope Francis, the Catholic Church will have the opportunity to once again come together. Until then, Bozek believes his parish is an attractive prospect for any bishop.
"I don't want to sound prideful, but we are mindful that whomever we joined, they will benefit as much as we would," he said.
But "it might be the case if Francis moves forward, there would be no need to seek a different place," he continued. "We seriously believe we are the victims, unjustly punished for nothing. We would love to be vindicated. We would love to be welcomed back."