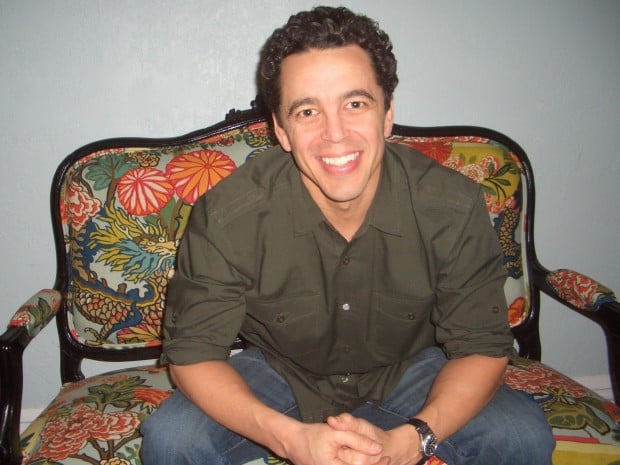 Brent Roam, 40, of University City, an actor, musician, Rhodes scholar, lawyer with Bryan Cave and founder of the U-City Family Church.
FAMILY • Married to Rebecca Roam, a teacher who conducts a summer art camp and runs the Sunday school at the Family Church. Two sons: Jameson Eli, 3; and Lincoln Philip, 1. Brent is the middle child of three born to Sharon and the late James Roam. His father was pastor of the New Life Christian Church in Bridgeton in the 1980s and pastored a number of other non-denominational churches around the country before he died in 2004. His mother lives in Phoenix, where his father's last church was located. She is active in the church. His older sister, Sharenda Roam, 42, is a college professor in Phoenix; his younger sister, Christie Wright, 38, lives in Twin Falls, Idaho, where she is beginning a master's degree program. Brent has two nieces and one nephew.
EDUCATION • Pattonville High School, 1989; Arizona State University, B.A. religious studies, 1994; Oxford University, Rhodes scholar in philosophy, politics and economics, 1996; Arizona State University, J.D., 2008.
I don't know where to start — actor, lawyer, minister, musician, scholar ... is there anything you haven't done?
I know. It sounds like a lot, huh? I'm just interested in a lot of things.
Was it all always leading up to your ministry?
I don't know. I think when I was younger, people always expected me to become a pastor — my father and grandfather were both pastors. But I took a long way of getting there.
Like becoming an actor? And a musician?
Yes, like those things. I went to LA after I got back from Oxford, thinking I wanted to try to become an actor. When I was in England I started getting involved in live theater and went to India with a company that performed "King Lear," and Noel Coward's "Fallen Angels."
I started out doing TV pilots and then I got cast in some commercials — for Kent cigarettes, Mustang cars and McDonald's — and then I was in some movies. I was in two seasons of "The Shield," playing Tomas Motyashik, and I was one of the leads in "Tremors 4," which has a sci-fi cult following. I also played in a band, Slydell, while I was out there. I played guitar, sang and wrote lyrics for our songs. I think I was the weak link, though, because after we disbanded, the backup singers went on to become The Watson Twins, and the other members joined Beck and Everest.
That sounds pretty successful compared to some of the stories I hear about people trying to make it in LA. Why did you give it up?
When my dad died in 2004 of a rare blood disease, I started re-examining what I thought my life was about. I didn't feel like the life I was leading in LA was right for me. My faith was restored during this time, and one day my mom and my sister asked me if I was ever going to settle down and get married. I told them that if I could meet a girl like Rebecca — who was this girl who used to come see my band play but who was nine years younger than me and who I never dated — I would. About a year later, my sister called me and said, 'You know that girl, Rebecca? Well I found her and she's teaching in Nashville.' A year later we were married and we moved here in 2008.
So when did you start your church and where is it?
We had our first service on Sept. 18, so we've been open for a little more than four months. And we meet every Sunday at 10 at the Tivoli Theatre in the Loop, which has been a great venue for us. I'm also working flex time at Bryan Cave — which means I bill 80 percent — so I can devote 20 percent of my time to the church.
Are you finding an audience for your church?
Yes, it's been great. We're drawing a diverse group in terms of age, race and economics. We have about 100 or more people coming every week, and it's been growing. We're involved in community outreach with Kingdom House (a community service organization) and we're getting a lot of positive feedback.
I do adventure racing. I'm in a four-man group and we do 8-hour adventure races where we cycle, trek — which involves orienteering — and canoe. I do training for this and I run three times a week. I did my first marathon last year and my wife did her first half marathon. I also spend a lot of time with my family. We take the kids camping and we're involved with music.
What's your favorite book?
I was a huge Salinger fan, and I'm a huge Dostoevsky fan, so I've read everything those guys have written. I'm also a big fan of C.S. Lewis and N.T. Wright for their theology.
This is actually hilarious. I had a 2000 Camaro with 130,000 miles on it. My wife was mortified and embarrassed by the car. Then one day we were at an estate sale and we heard this huge crash and someone had hit the Camaro. So with the insurance money we got — actually $300 less than we got — we got a 2002 silver Jaguar. My wife is happy. She thinks we look much more respectable.