Artist Rocky Pardo knew from an early age she wanted to work with jewelry. "As a little girl, I'd go with my mom into James Durbin, the jewelry store our family liked, and I'd be in there with all the beautiful things and thought: This is what I want to do," she says.
She credits her mother's love of unique fine jewelry, and her father's encouragement of their love of jewelry, as the spark for her career success. She earned a bachelor of fine arts degree in metalsmithing from Southern Illinois University Edwardsville.
"As soon as I graduated, I walked into James Durbin Jewelers. I wasn't looking for a job, but I asked if I could help out, and soon had a job," she said. She worked there with Roger Rimel, whom she also credits with advancing her skills with metal, until she married Michael Heliman in 2016. When she returned from her honeymoon in Spain, she set up her home studio to concentrate on her original work.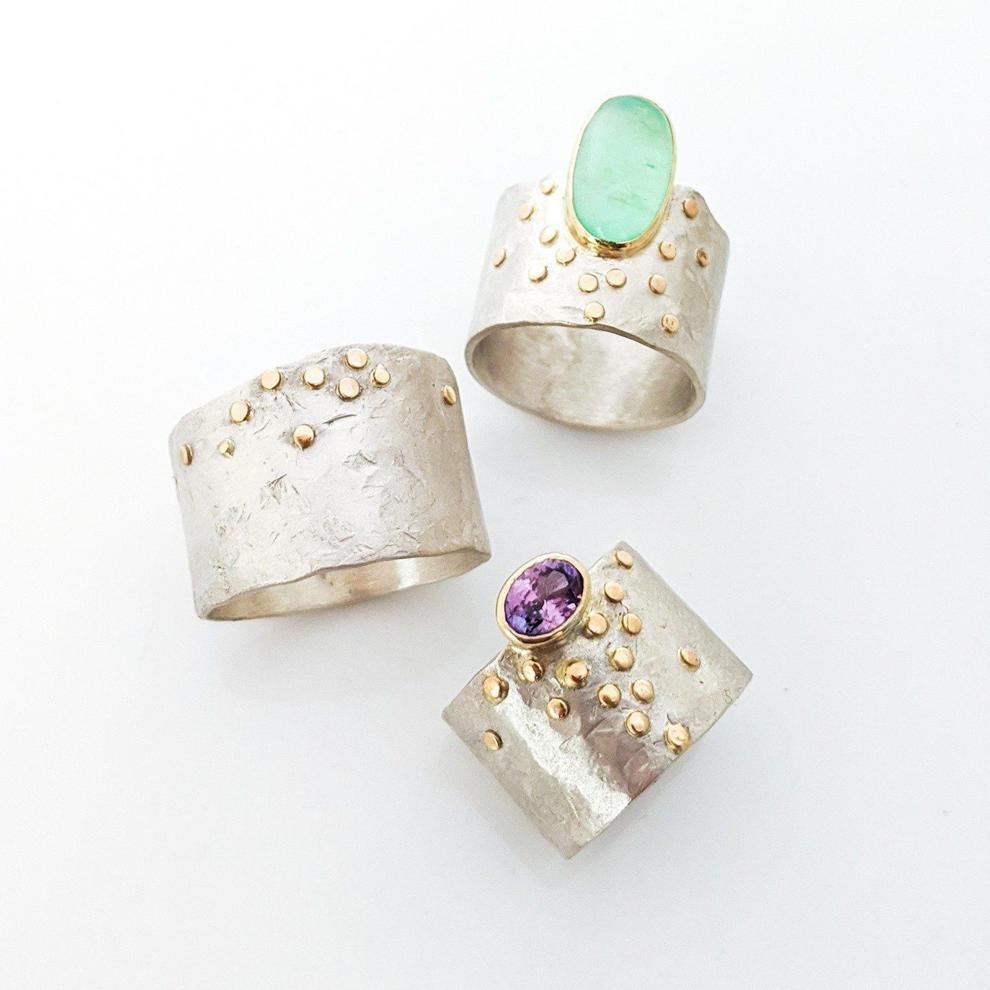 Silver and gold • The unique pieces Pardo creates now in gold, in silver and set with precious gemstones brings a raw new energy to her jewelry that's worth a second, then a third look. While her pieces speak of the moment, they also signal the past in the deliberate working of the metals that shows the maker's hand in each piece.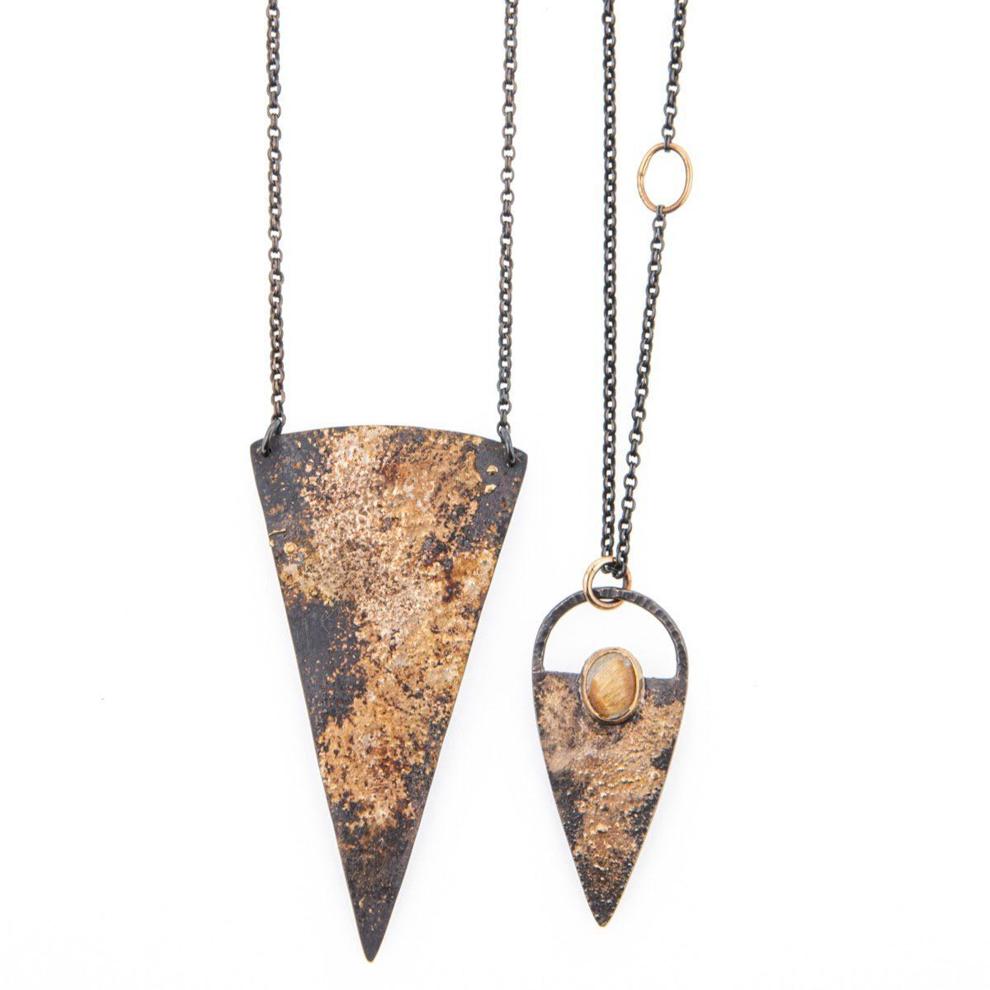 "I'm always interested in the balance in dualities, of rough and refined for example," she says. "These are materials come from the earth. When they come from the earth they're not shiny. I think of my pieces as little celebrations of the materials."
Dualities in life and in art • Carlos Pardo Martinez of Spain met his future wife, Debbie Pfeiffer, on campus at St. Louis University during his year of study abroad. The following year, Pfeiffer studied abroad in Spain, and the two have been together ever since. Today, their daughter, Rocky, moves between both cultures, culling the best from each.
"I give my collections Spanish names as a recognition of my heritage," she says. The Raya collection features rays of gold fused on sterling silver, while the Estrella collection features small gold studs and occasional bright stones that wink like stars.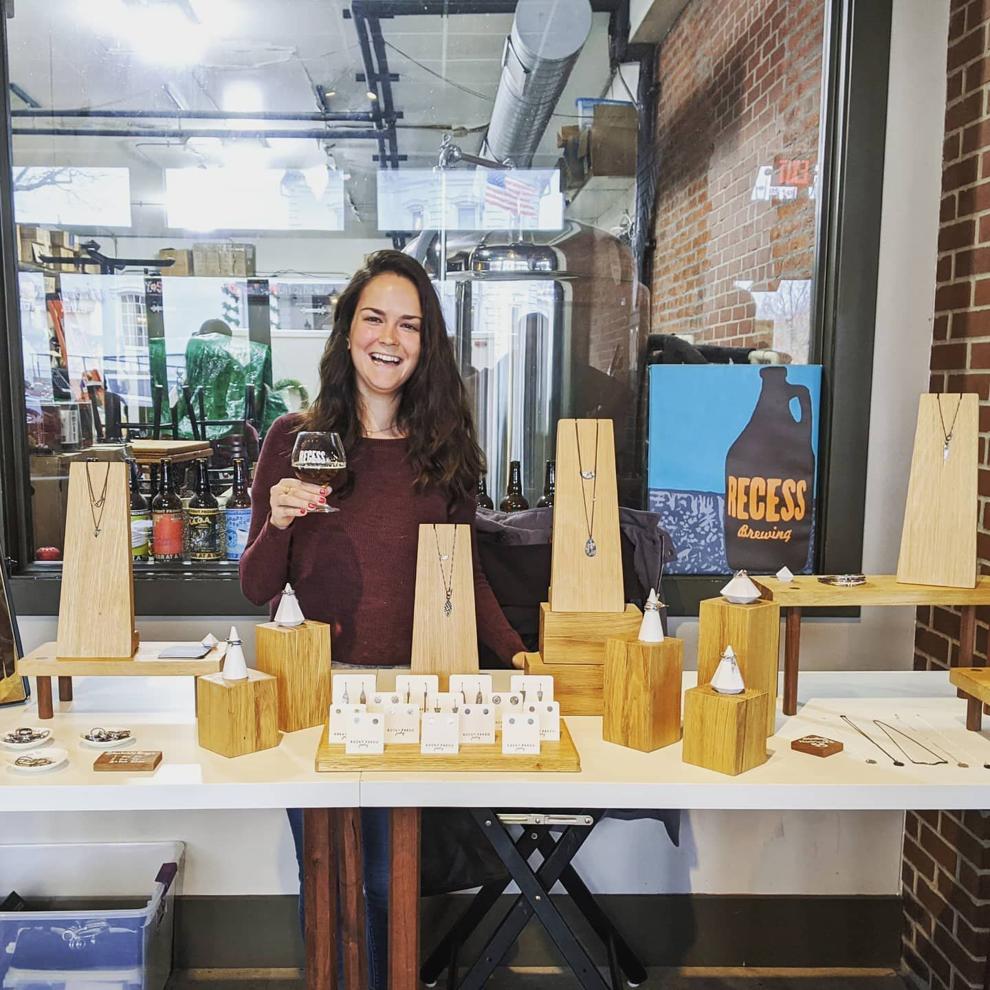 Held in the balance • Pardo's careful placement of elements and gemstones reflects her love of informal design. "I've always been a fan of asymmetrical balance," she says. "Symmetry unnerves me in some ways; I like things to have a lot of energy. Sometimes I'll do a stone on one earring, and then place another stone, of a different color, on the other." The divergences doesn't make designing simpler; it's often more difficult to keep disparate elements in balance.
Stone soul picnic • When it comes to selecting gemstones, Pardo's characteristic design independence shines through. "I love diamonds because they can have so much character," she says. "I'm not talking flawless stones, but salt and pepper diamonds, or diamonds with inclusions of color. I also love garnets and sapphires, which come in all different colors. I love surprises, like the tsavorite bright green garnets. I like the unexpected."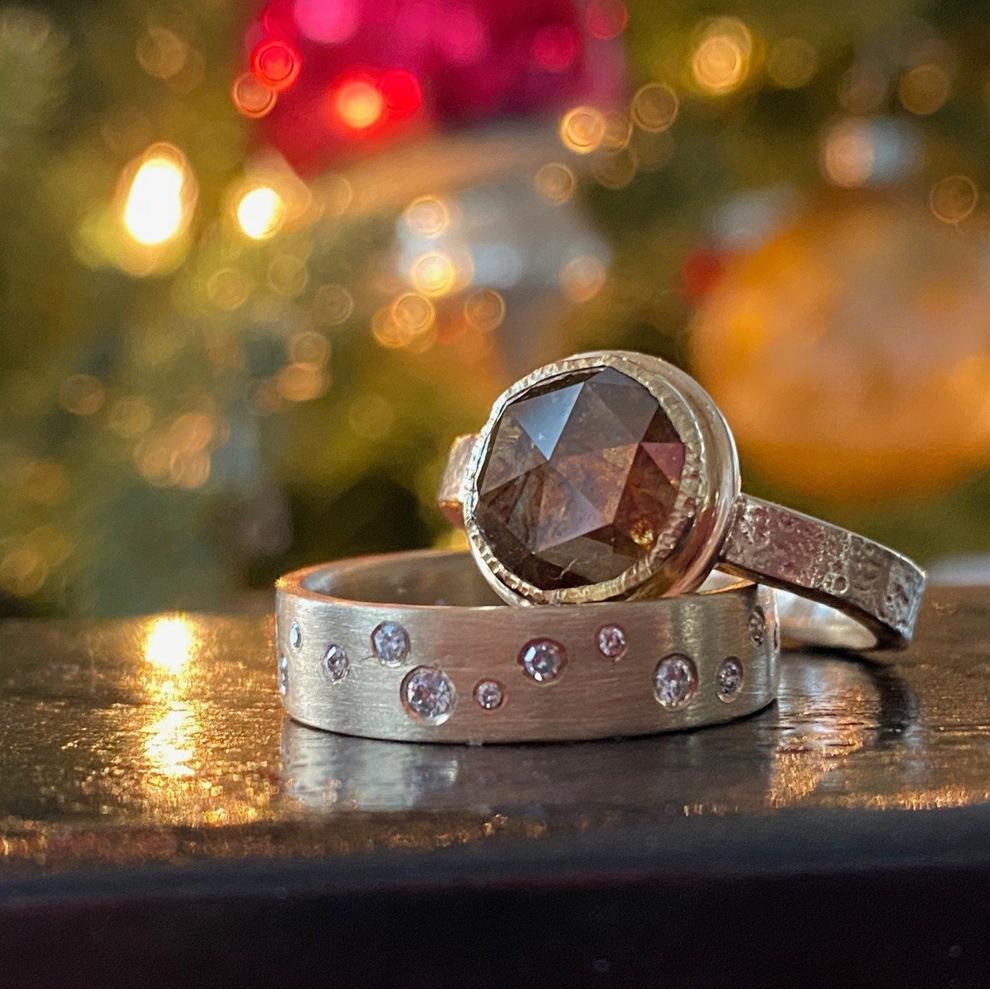 Heirlooms • Making custom pieces and reworking heirloom jewelry into modern wearables became a bigger part of Pardo's business during the pandemic. "People had time. Sometimes they have great pieces sitting in a jewelry box that just aren't their style, and that's not what grandmother would have wanted. When they jewelry is reworked, it still hits a sentimental note, plus it's recycled."
The union of inspiration, art and cultures • Pardo's Christmas with her family this year in the United States will be a cozy, tight-knit affair. She and her husband will dress up their dogs for their annual holiday photos, but that's about it.
When Pardo and her family visit Spain for the holidays, however, they go to the town of El Escorial for the Día de los Reyes Magos, or Three Kings Day, to celebrate the arrival of the Three Wise Men. "Unlike Santa, they don't come in secret, but with big, dazzling celebrations and a big parade, a cabalgata. They're energetic, loud and boisterous. One of the wise men brings, gold, which is right up my alley," she says.
Family • Pardo and her husband of four years, Michael Hileman, live with two mixed breed dogs, Lola and Maybe.
Where to buy • Pardo sells her work at Craft Alliance Gallery, Union Studio, the Edwardsville Arts Center, the Macoupin Art Collective and online at rockypardo.com.
How much • Pardo's precious metal and gemstone jewelry varies by design, materials and complexity, but there are many items in the $75 to $450 range to choose from. Large projects and custom commissions can range in the thousands of dollars.