What if instead of going to the barbershop, the barbershop came to you?
Cousins Jess Goins and Frankie Petrillo asked each other that question back in 2013 — and decided to find the answer.
So two years ago they bought a 1977 Airstream Land Yacht and began the difficult job of transforming an aluminum travel trailer into a business on wheels.
The result of that labor is Dapper Den Grooming, the first, and so far only, mobile barbershop in Missouri. It's a blend of hipster chic, offering a selection of organic beard oils and other tonsorial products, and old school tradition, with a design including vintage barber chairs and a custom-made wooden floor and walls.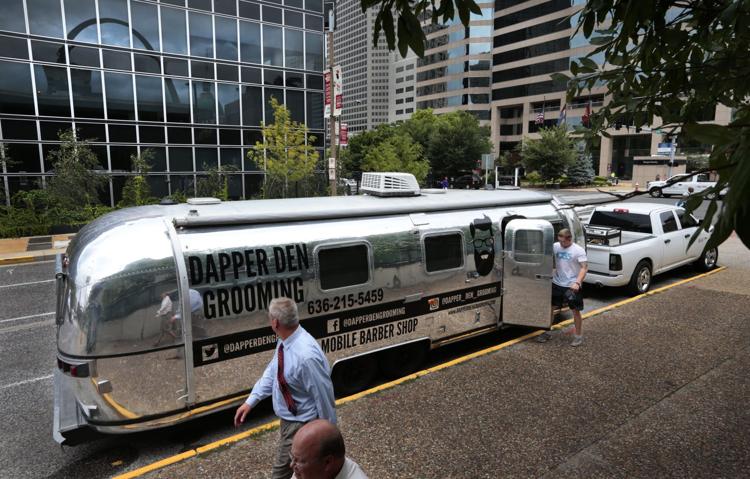 Dapper Den's location varies by day and depends on the appointments made in a specific area. The business primarily uses Facebook and Instagram for marketing, but the unusual vehicle is also its own form of advertising.
"At least 20 people a day take pictures of our Airstream," says Cali Spencer, a Dapper Den barber who left her job at a traditional barbershop to try out the new concept.
Clients tend to be young professionals, most between 24 and 35, who work in the downtown business district.
"It's the guys who take the extra 15 minutes to get ready and who care about their appearance," Spencer said.
Aside from offering traditional barber services, Dapper Den also offers its own line of beard oils, balms, butters and pomades. Goins runs an online shop and the product development side of the business while Petrillo and Spencer cut hair and run the everyday barbershop operations.
"We want to create a culture, something different in the industry," Petrillo said.
It didn't happen overnight. It took the cousins two years to fully renovate the Airstream, get licensed by the Missouri Board of Cosmetology and Barber Examiners and open their doors to their first customer.
"It took a lot of time, a lot of effort, a lot of trial and error," Goins said.
The Airstream had been used for camping, so Goins and Petrillo had to gut the vehicle — removing beds, a kitchenette and even the original floor. They installed wooden walls and flooring to give the vehicle the feel of an old-time barbershop. And they polished the exterior, to restore the Airstream's lustrous, factory-new look.
"I can pick up a phone right now and call three owners of the top polishing companies in the United States and they would know me. I would FaceTime with them for hours," Goins said.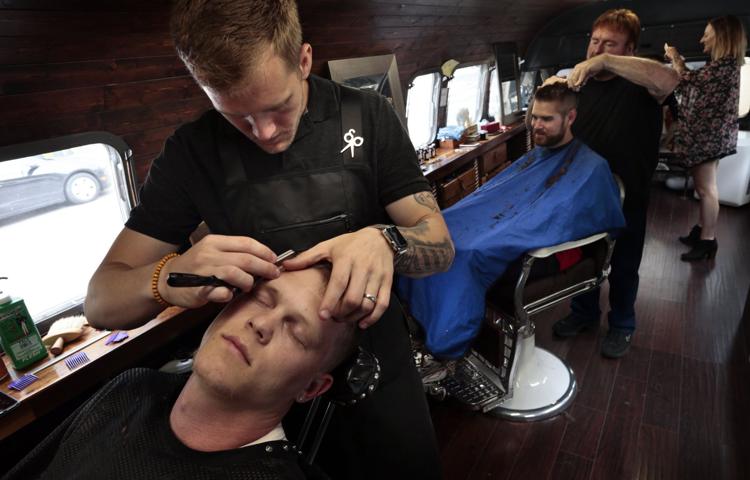 Dapper Den charges $30 for a classic haircut. The barbershop also offers services such as beard trims, beard re-shapings and cut-throat shaves. The owners declined to disclose Dapper Den's revenues or how much they've invested.
Now that Goins and Petrillo know what it takes to make a mobile barbershop, they plan to scale their business and add three more units within the next year.
While the Dapper Den concept may be new to Missouri, at least three other states — Oklahoma, California and Texas — have mobile barbershops. Texas has 17, state regulators said.
Daily updates on the latest news in the St. Louis business community.