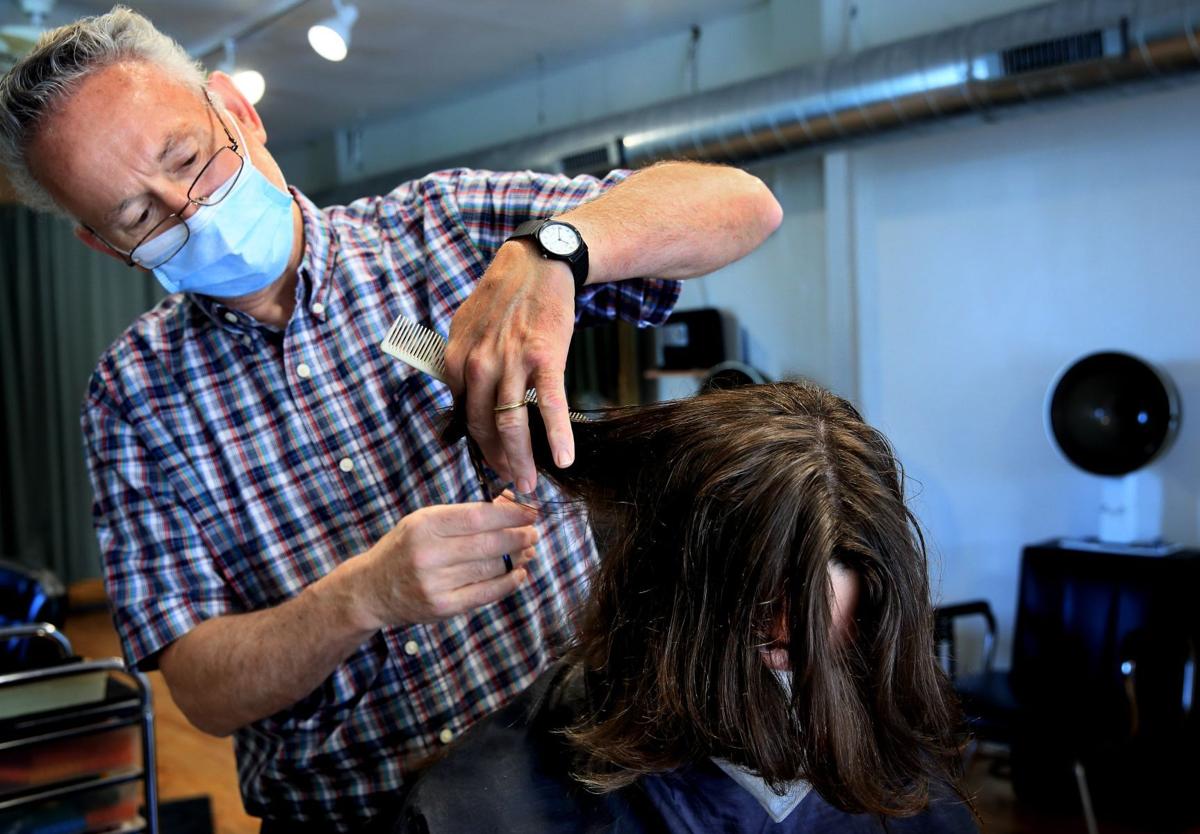 In March 2020, hairstylists put down their shears and turned off buzzing electric razors. Barbers were left without clients, and salon regulars were left unattended. Hair itself was left to its own devices.
When shops had to close due to the COVID-19 pandemic, some St. Louisans attempted follow the route of at-home trims. But others embraced changes in their hair spurred by a drastic change of times. Beards grew, and locks changed color and texture. Meanwhile, stay-at-home orders made a professionally groomed image seem less essential.
Even though many barbershops and salons have reopened, Tom Cocivera of Maplewood embraces his new curly style over his previous fade.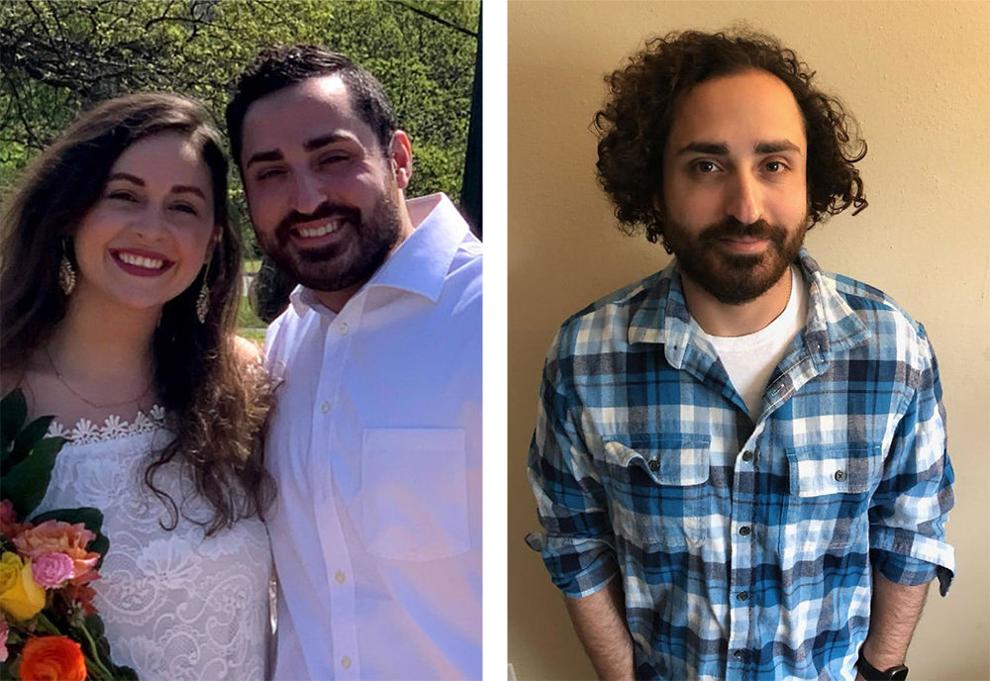 "My wife is in love with the curls," says Cocivera, a physical education teacher whose barbershop closed during the pandemic.
"I knew I had curly hair, but I've never had hair this long. "Coming back to school with long hair, (my students) were like, 'New PE teacher, who's this?' They all liked it. People were getting a kick out of it; I figured I'd keep doing it."
In theory, Heath Borders of Webster Groves could have continued with his usual look — a simple buzz cut — given that he cuts his own hair at home. But he was inspired by his two sons, who are growing out their hair.
"My oldest son has previously grown his hair out for about 18 months and then donated it to a children's cancer charity," Borders says. "My youngest son was doing the same thing, and he asked me right around the start of the pandemic, 'What would my hair look like if it were longer?'
"So I decided, well, I'll just not cut anything until (after) the pandemic. I figured that would take me through the summer. Around July, it became clear that the pandemic wasn't ending any time soon."
If some men went for long hair, at least one woman decided to go short. Haley Heitzman, a student at the University of Missouri-St. Louis, rocked long, blond hair throughout days of quarantine; now she has a black buzz cut. After months of planning, Heitzman shaved her head in April 2021.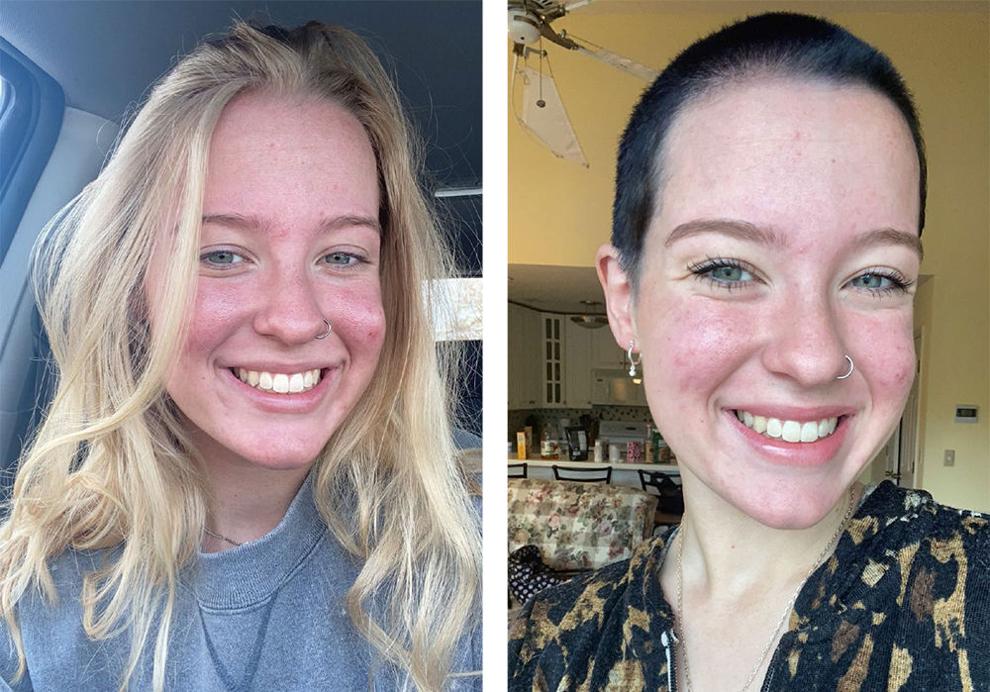 "I've wanted to shave my head for years — I always talked about it," Heitzman says. "The main reason I wanted to was for the experience, and also it's kind of a luxury not having hair. I don't have to worry about what it looks like all of the time.
"I'm a very active person, and it was just another obstacle during the day. I'm super happy about it. It's probably one of my favorite things I've done in this life so far."
Sara Hemmann, a nurse at Mercy Hospital and a nursing instructor, says she prefers her hair short and curly. But both the pandemic and her job played roles in her growing out her hair.
"For the longest time I wanted to avoid going to the salon," says Hemmann, whose hair is almost a foot longer now than it was last spring.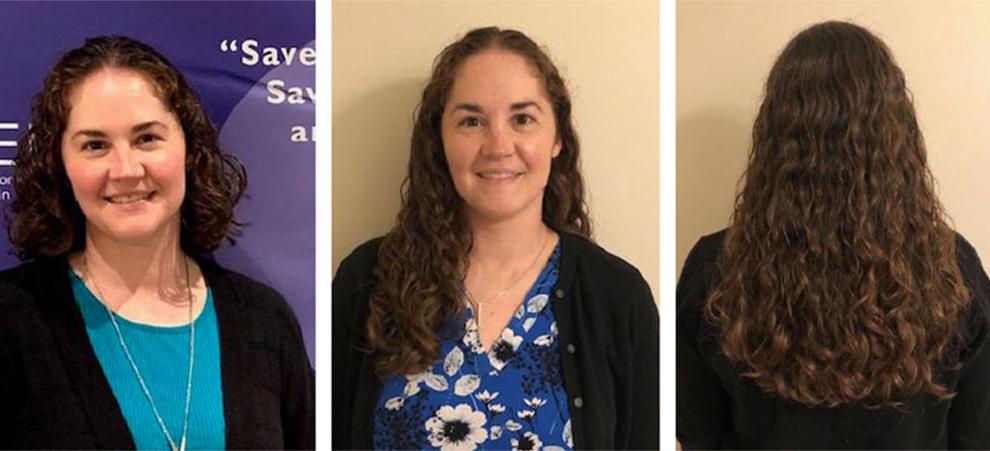 "I started considering it closer to winter, but then I got involved in a project at work, doing some filming for a virtual simulation for my students, and I was in the film. Since it was an ongoing project and my hair was a certain length, it would've looked really weird if I filmed one day with it long and filmed another day with it really short."
A change in work also affected Connor Ryan, who early last year needed a haircut and some dental work. His job sent him to New Jersey right when that state started shutting down. "I was so nervous," he says. He took a train to stay with a cousin in Philadelphia and found a flight home.
Since he would no longer be interviewing people in person for his employer, the research institute NORC of the University of Chicago, Ryan decided to let his hair grow.
"It was a chance for me in my 30s to look like I did in college," he says. It reminded him of his days at St. Louis University, among millennials ready to change the world.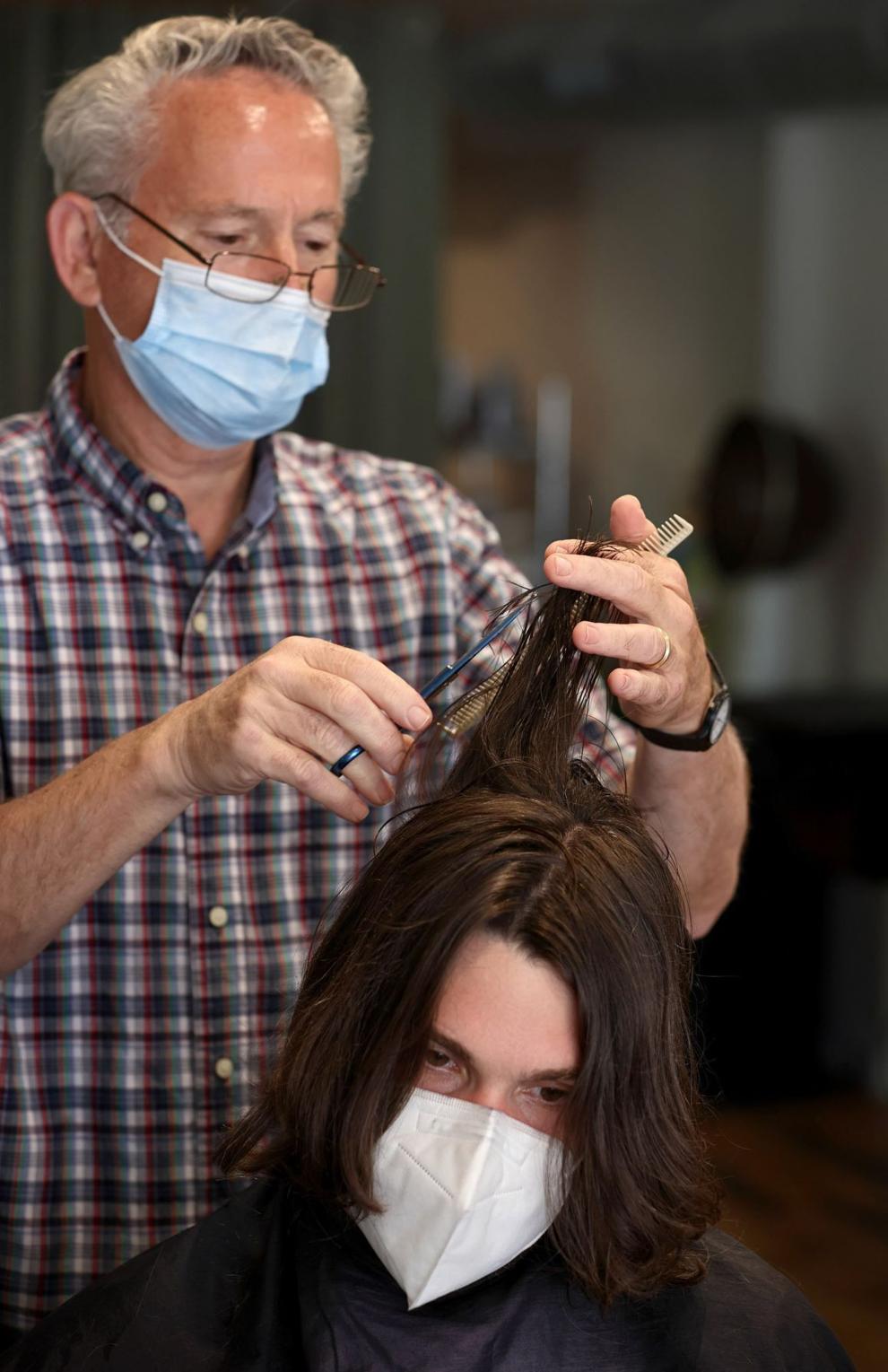 Of course the world has been difficult. Ryan, now working from home in Dogtown, was furloughed for two months. He didn't get a haircut or his crown repaired for 15 months.
He finally decided to please his mom. "Mother's Day was coming up, and she likes my hair shorter."
Taking risks
At Classics, a downtown barbershop and salon, owner Hillary Romeo sees a big difference in her clientele. She specializes in men's haircuts, beard trims and hot shaves.
"The haircuts are taking a little bit longer now," says Romeo, whose own income dropped about 30% during the pandemic.
"A lot of people did have their wives cut their hair at home, or they attempted to cut their hair, but then there were certain people who didn't feel comfortable doing that," she says. "Two days ago, I had a guy come in with longer hair than me. What's cool is that a lot of guys are trying new styles because of the pandemic. They're experimenting more with their hair and leaving it longer or doing different things."
Another salon owner, Jacquelyn Menears of A Jewel in His Crown Hair Salon, also saw a decrease in business. She believes it is due not only to the North County shop's temporary closure, but also hair trends within the Black community.
"None of us were able to do our appointments, so (clients) just made do to their own hair," Menears says. "The younger generation is now opting to get braids and weaves, things that they could maintain for a longer period of time without having professional care done."
Though trying new styles can be fun, longer styles can be a hassle when one is not used to hair being so — present.
Borders found himself wearing headbands, which he certainly didn't need when he had a buzzcut.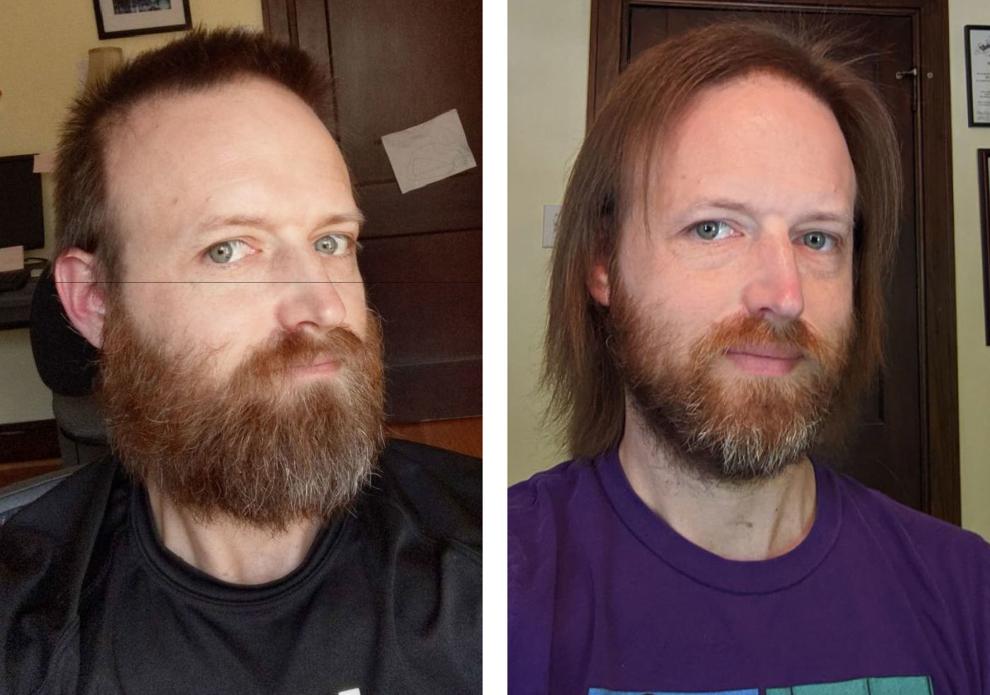 "I'm noticing my hair a lot more now," Borders says. "When I go for a jog or work out, it flops all over the place. It's getting to the point now where I have to wear a headband to keep it from going everywhere."
Longer hair often requires more maintenance.
"I'm finding out a lot about having knots in your hair," says Cocivera, the PE teacher. "Waking up in the morning has been a pain — and washing it and shampooing it and having it be so much when it's wet. I never used to do anything like that. So definitely taking care of it, the upkeep, has been a lot more than I thought it was going to be."
After wearing her hair long for most of her life, Heitzman found freedom with her newly buzzed, black hair.
"It's empowering to me because I feel like most of my life, I've really relied on my hair for making me feel beautiful," Heitzman says. "I used to think that I wouldn't feel very pretty without my hair. I've never really been that confident in myself. Getting rid of it brought about a whole other level of confidence that's not reliant on what I look like."
More people are also giving their hair a break from other treatments such as straightening and coloring.
"I did not color my hair for about six months to hold out with everyone else, just to give my hair some recovery time," Romeo says. "So I didn't color my hair or anything, but while I was at home, I did a lot of treatments on it, like deep conditioning treatments and whatnot. So I was actually just trying to revive my hair and make it healthier by not putting any chemicals on it."
For East St. Louis native Cara Anthony, going natural with her hair felt like a big risk: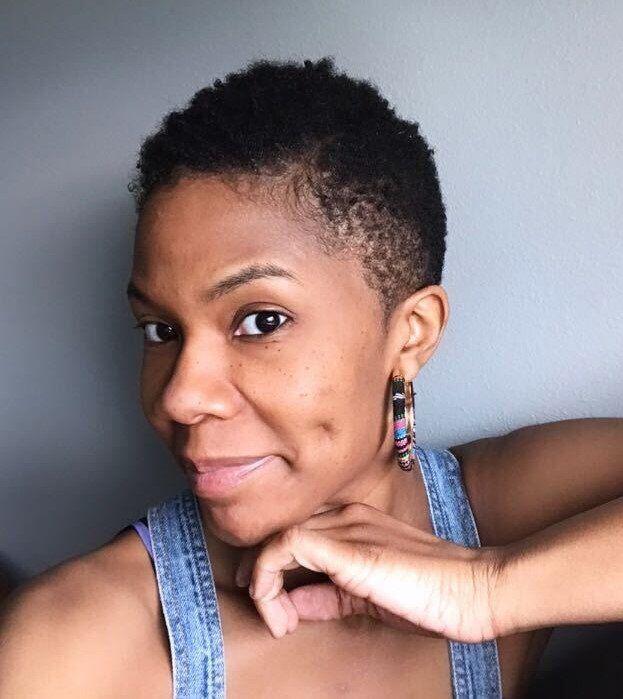 In a piece last year for Kaiser Health News, she wrote that "after three months of wearing hats and scarves in a pandemic when trips to the hairdresser felt unsafe, I walked into a salon emotionally exhausted but ready to finally see my natural hair."
Losing her chemically straightened Black hair was a relief, she said, even though her mother thought the cut was less professional. Her father feared it might be unsafe: Short hair might bring attention from police officers who thought she was a man.
The pandemic-affected cut had cultural implications, Anthony wrote: "I've listened to other Black women in my life vent about their hair and navigating racism. ... I've come to realize that my haircut wasn't just about changing my style. It was also about reclaiming my crown after years of letting society control it."
Others' two cents
Though one's own preferences should probably come first when deciding on whether to let it grow or chop it off, friends and family have made their hair opinions heard.
"My husband prefers short hair," Hemmann says. "My boys don't want me to cut it. They're very opinionated. The last time I cut my hair, it was just past my shoulders. My youngest son didn't really appreciate that. He saw me on FaceTime and he kept telling everybody, 'That's not my mom; I want to talk to my mom.'"
Heitzman doesn't consider her close family to be big fans of her new buzzed look.
"Some people love (my hair)," she says. "I've been getting quite a bit of compliments on it. But my family really likes my blond hair. I don't think they're the biggest fans, but they'll be all right."
Throughout the pandemic, some men have grown their beards along with their hair. Cocivera says his wife made her opinion on the matter clear, and she won out in the end.
"I was aiming for doing the beard, too, but my wife definitely nixed that," he says. "I grew it out during November for like a month, and then she was like, 'Absolutely not.'"
In the future, Borders plans to hand the reins to someone other than himself.
"My sister-in-law is a hairstylist," he says. "If I don't donate the hair, I will probably present myself to her as a blank canvas and let her do whatever she wants to me.
"If I don't like it, I'll go back to my normal buzz cut. I'll give her first crack."