When Libby Wolf knew that her father, Val Peistrup, was cold and uncomfortable during a hospitalization, she got to work. She repurposed a stylish resale shop sweater into a bed jacket designed not only for warmth but also with utilitarian features that allowed for nurses to do their work without removing the garment or jostling her dad.
On her website, she describes the "aha" moment that started it all. "I cut up the sides, added a little bit of Velcro here and there — and voila! My Hygge Jacket was born! It did the trick — kept Dad warm and the nurses loved it! They could get to his IV easily, he had a pocket for whatever he needed to carry and he could wear it in bed, in the chair and walking around the hospital."
Sew and sew • Wolf didn't need expert help to flesh out her ideas. She had the skills and the can-do attitude to bring My Hygge Jackets to market.
"I've always been a crafter," Wolf says. "I've been sewing since I was 12 years old. In college, I made costumes for themed parties. Later, I sewed Halloween costumes for my children, and lots of doll clothes. I was a Girl Scout leader for 19 years, and we always made things."
The hoo-ha about Hygge • Wolf knows the unusual name she chose for her company isn't easily said or understood. "Hygge, which is pronounced hoo-gah, is a Danish word that describes comfort and warmth," she says. This Danish lifestyle concept encompasses both physical and psychological coziness.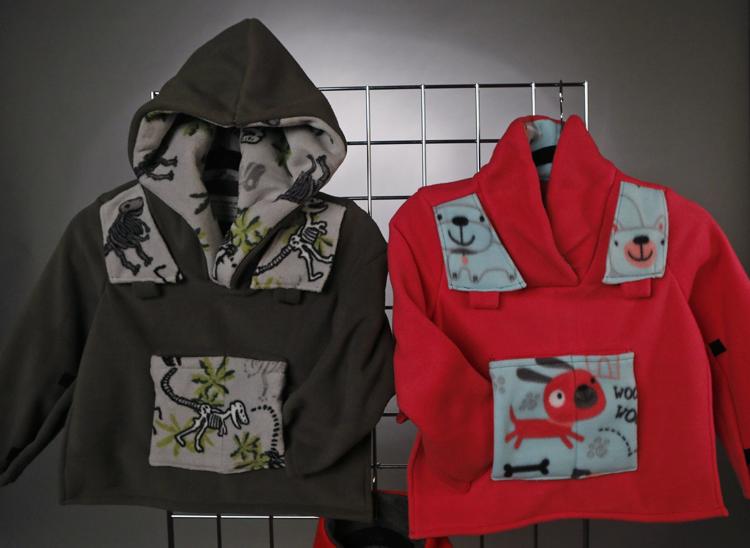 "Hugs, heart and hope — that's what Hygge jackets are about," she says. The My Hygge Jacket logo depicts two people in a hug wrapped in a heart, encompassed in rays of sunshine and hope. The fleecy bed jacket that evolved from Wolf's retrofitted sweater design became a business for Wolf.
Practical magic • Her prototype design evolved further when her father began chemotherapy sessions. "I sewed the first Hygge jackets myself," she says. "I switched to a warm, soft fleece for more comfort. I thought about what features my dad would need and what features his nurses would need."
Creature comforts for patients include a double-layered front pocket that provides an easy-to-reach spot for glasses, cellphones and more, as well as a kangaroo pouch hand warmer. A plush collar that turns up keeps cold drafts off the neck and chest. The jacket slips easily over the head. The sleeves wrap around the arms and fasten underneath so there's no pull to wrest an arm into a sleeve. The sides are open for comfort.
Nurses love the flaps on the front that open to access ports. The back of the jacket is shorter than the front to make bed-pan use easier. The open sides allow for easy access to fluid lines and for care.
Color me loved • The jackets come in multiple colors, of which burgundy is the most popular. Wolf added a bright pink for breast cancer awareness that has done well. Her favorite is the bright blue, but she's also a fan of the quiet gray. "It's the color of that well-worn sweatshirt," she says. "Comforting."
Wolf offers a children's version of My Hygge Jacket in crayon-bright colors and some patterns. "I'd like to expand to more patterns in both sizes," she says.
Home-sewn to manufactured • Wolf's road from crafty sewer to My Hygge Jacket manufacturer and marketer followed an unconventional path.
"I still work 30 hours a week at a company that supplies paper janitorial supplies, so I needed to resolve the manufacturing," she says. Wolf connected with a small manufacturer nearby. "I make the occasional jacket to try out a new fabric or idea, but my focus now is on marketing."
I want to get into hospital gift shops," she says. "Although you don't have to be sick to use one, most people buy my jackets for others. It's also a good gift for people who use wheelchairs. We ship out jackets within one or two days, but we'd like them to be immediately available in gift shops."
Peace and acceptance • Wolf lost her father in May 2018. She has friends and relatives who have found warmth with a dose of caring with her jackets. When Wolf wrote her story for her new website, she says:
"As unfortunate as it is, I have several friends also suffering from cancer and undergoing chemotherapy. So after making jackets for them and taking their input ... I've patented what I think is something that comes as close to a hug as you can get."
---
Designer and owner • Libby Wolf
Family • Married to Andy Wolf for 32 years, Wolf has four adult children. Three daughters — Carrie, Catherine, and Tricia — and one son, Michael. Bryan Wolf, a second son, is deceased but remains in family's thoughts every day. Missy, the golden doodle dog, provides canine companionship.
Be the first to know
Get local news delivered to your inbox!