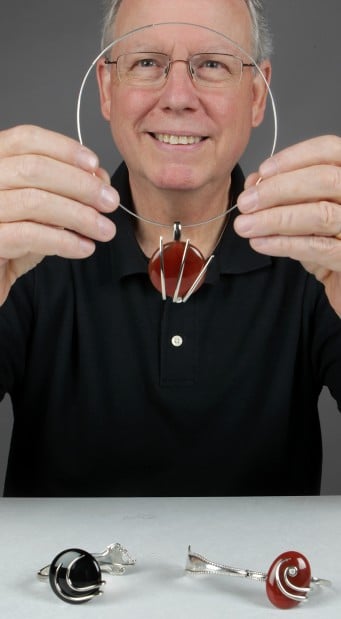 • Who would think that a fork could be transformed into jewelry? A transformation of the ordinary and discarded into repurposed art satisfies something inside of me. I can take a vintage dinner fork and transform it into an eye-catching pendant or bracelet.
• Do you use color in your jewelry designs? I use all-natural stones from Rockhounds.
• How long have you been in business? I've been a silversmith for over 20 years, and I've been making fork jewelry for about five years.
• Tell us about the process? It begins with the selection of a silver fork. Next, comes the production stage that begins with a shaping technique using standard and proprietary tools. My designs come to life through careful bending, shaping, cutting and sculpting. Some of my work incorporates a cabochon stone, a cubic zirconium or a small semiprecious stone in combination with a cabochon. My bracelets require a hinge that is carefully hand-crafted. The final stage of the process involves refining, smoothing and polishing.
• Where do you find your forks? Estate sales and flea markets.
• What's been your most rewarding moment? It's when a granddaughter gives me a fork to make a piece of jewelry for (her grandmother).
• Do you have a full-time job? Yes. I work at the Parkway School District in the IT department.