Little did Shaun Hill realize the black and white dog he adopted in April would inspire a business he and his close friend Nichelle Kelly would come to love. "You know, it was the start of the pandemic, and everything was so uncertain, I wanted to have a companion with me," Hill says.
"Shaun had recently gone through a break-up, and I had just lost a person really close to me," Kelly says. "We met years ago as co-workers and became friends pretty much right away.
"I have never had a dog. My rule is I won't have anyone in my house who won't pay me back eventually, or at least move out if there's an issue. My twins are now seniors in high school, and I may be an empty nester in the very new future. Shaun's dog has made me think I may want a dog."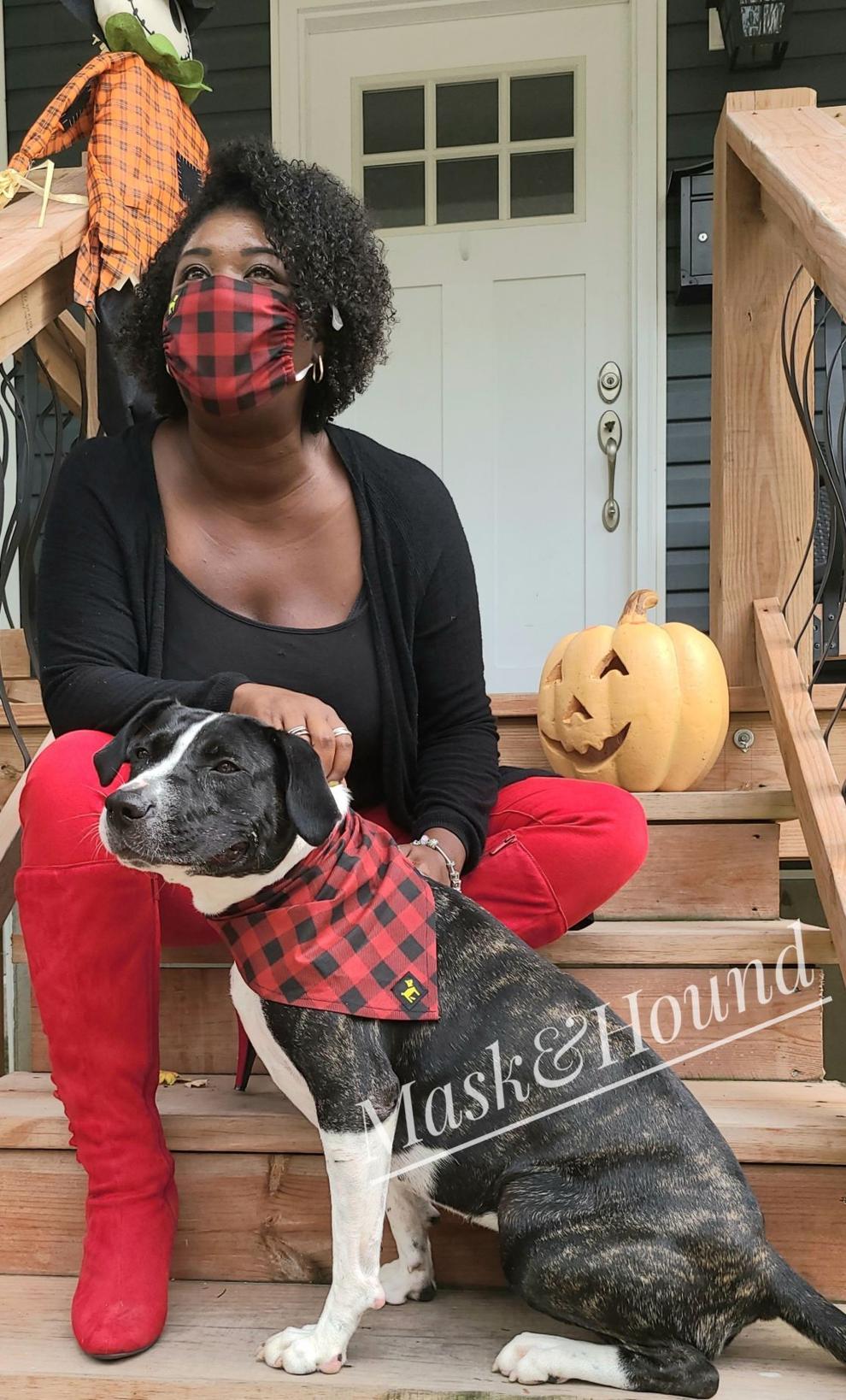 The goddess manifests • Hill named his 52-pound Labrador/pit bull mix Athena, perhaps not realizing the dog's namesake, known for her beauty, was no empty-headed flake.
In ancient Greek, Athena's special powers included the invention of useful items like the chariot, the rake and the plow as well as the development of weaving and pottery.
Bacchus arrives at the party • "We came up with our business idea one Thursday night during happy hour at home," Kelly says. Athena inspired two close friends who both worked in the staid insurance industry to start a business with a pandemic product like no other.
"We had this idea on a Thursday night, over happy hour drinks at home," Kelly says. "We thought 'Hey, what can we do?' We talked about masks. There weren't many masks I wanted to wear. The doughnuts with sprinkles mask, ice cream cone masks? I don't think so."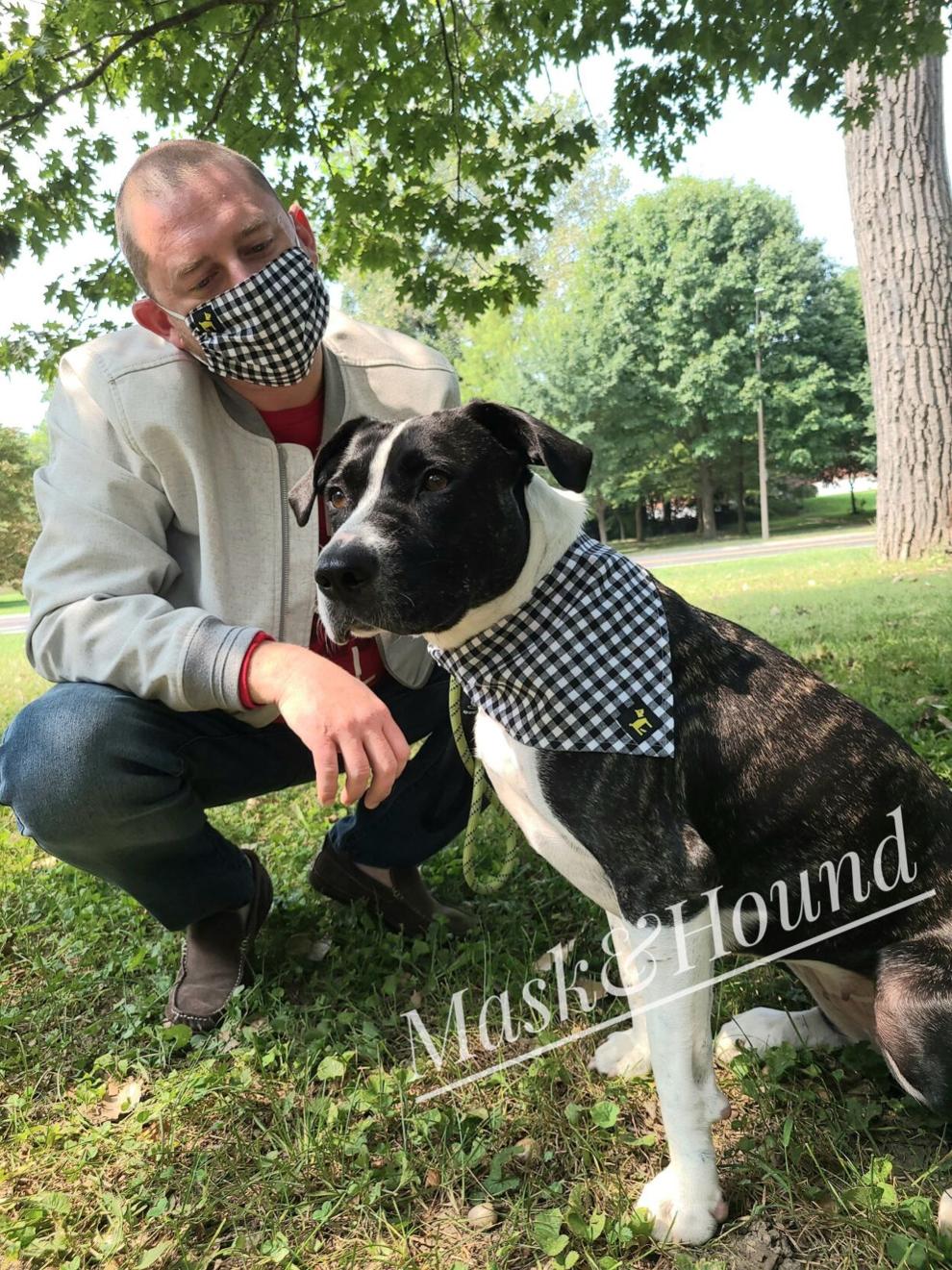 Of course, Athena came to happy hour, and in a moment of serendipity, Kelly said: "Masks and matching dog bandannas." Mask and Hound was born.
Clotho? Who's Clotho? • Once they unleashed their idea, Kelly and Hill got into production almost immediately. "We both said 'Let's get some nice materials and make masks to see what they look like,'" Kelly says. "We ran all over town to different fabric stores. Shaun stumbled on the Collective Thread, a small-batch clothing manufacturer, and we started our business."
It was almost as if Clotho, the youngest of the three fates who spun the threads of life, had stepped in to aid Athena's people.
The threads of life • Kelly and Hill chose to use the Collective Thread to sew their products. "They're a nonprofit business that trains immigrant women for work as industrial sewers and offers life-skills training as well," Hill says. "They runs a small-batch manufacturing facility where the women then work." The factory, and its workers, fit with their values.
"A Black woman and a gay man — that's us," Kelly says. "We're stepping ahead to say we value diversity."
Panacea, goddess of healing • "We are definitely not of the belief we'll be wearing masks forever, so we've been planning for change since we opened our business," Kelly says.
"We'll plan to bring in new items soon — hairbands, bow ties, headbands, collars, leashes — we plan to sustain the business as the environment changes," Hill says.
Janus, the god of doorways and transitions • Mask and Hound has been a pleasant diversion for two friends in a time of national crisis, but both have gained valuable insights that will aid them going forward in life as well.
"It has expanded my appreciation for another art form," Hill says. "I've learned there are organizations like the Collective Thread who are out there to make a difference in people's lives."
"This business has taught me more about myself," Kelly says. I remembered how much I loved to play store as a kid, and how I wanted to go to fashion design school. I didn't do that. I'm loving this creative experience — it's been a time of learning and growth."
---
Owners • Nichelle Kelly and Shaun Hill
Ages • Kelly is 42; Hill is 38.
Families • Kelly is the mother of 17-year-old brother and sister twins who are in their senior year of high school. Hill lives with his best friend, Athena, a lab-pit mix he adopted from Needy Paws.
Homes • Kelly lives in Maplewood; Hill in south St. Louis.
What they make • Kelly and Hill design fashionable masks for humans with matching bandannas for their canine companions. They are currently developing other apparel items and accessories for humans and their hounds.
Where to buy • Mask and Hound products are available online through their website, maskandhound.com, and at popup markets around St. Louis. Watch their Facebook page for upcoming market dates.
How much • Prices range from $2 to $15.