Jen Fisher's home studio holds everything she needs to create her unique jewelry in organized orderliness and joyful profusion, a state many artists know well. "Believe it or not, I know where everything is," she says.
A mannequin she uses to display jewelry when she photographs her work holds a vintage leather jacketin one corner. "That's my brother-in-law's old gig jacket," she says. "He wore it when he drummed for Billy Joe Royal — you know, 'Down in the Boondocks.'
"It's high-quality leather, but he doesn't wear it. He and my sister keep moving it from closet to closet, so they gave it to me. I'm going to use the cuffs to make a bracelet for her," Fisher says. The rest of the leather will be repurposed over time, into components for earrings, other bracelets and necklaces.
Daddy's talented daughter • Fisher didn't study art, but she trained with a teacher who believed she could make anything she chose. "My father taught me how to use tools, and that tools aren't just for boys. That's how I developed my love for tools and hardware," she says.
"I started making simple jewelry as a fundraiser for a friend of the family, and it developed into a business. I just love it," she says.
Jen's career 2.0 • Creating her unique jewelry soon became a second career for Fisher. "Right out of high school I took a marketing position with a large home remodeling company in the area," she says. She quickly moved up in the company until 2005 when she moved into sales for retirement communities.
"Both experiences helped me market and sell my jewelry today. I learned it's the face-to-face encounters, hearing people's stories that makes selling pleasurable. I miss that now," she says.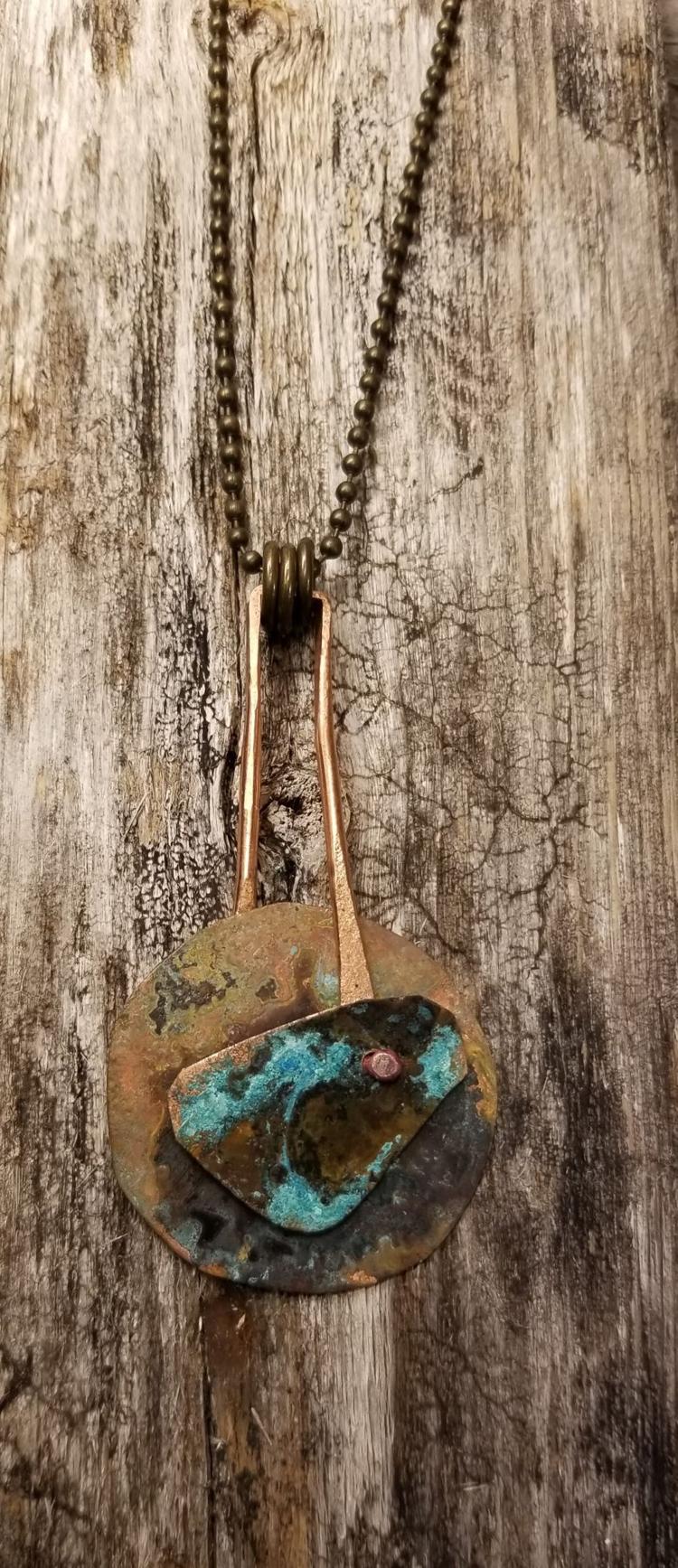 Inspiration is where you find it • Fisher enjoys finding new baubles and objects to create her unique pieces. "We have kids all over the country. Every time I take a trip I'm out searching for things. I love using found objects, which can turn up anywhere."
She is mostly self-taught, but a metal basics class at Craft Alliance taught her how to use the jeweler's tools appropriately, skills she values each day.
She studies other designers working in forged metal, including shamanic jewelry designer Susan Lenart Kazmer. "I love her whimsical funky metalwork; there's no rhyme or reason to what she does, and it's fascinating. I've taken her video courses online, plus I own all of her books.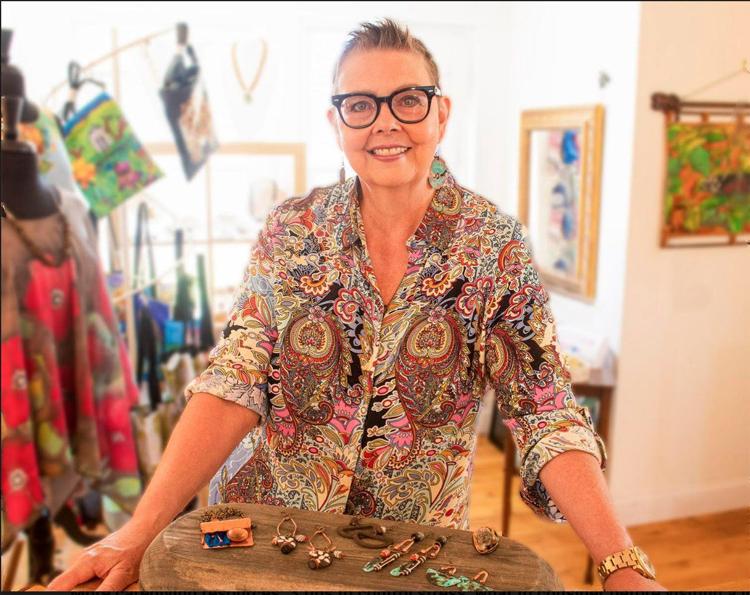 "I love creating the patinas and odd shapes. I'm inspired by color and texture. I mostly work with brass and copper. I'm just getting involved with sterling silver."
Going forward • Fisher had plans to increase her sales venues this year when the pandemic changed everything. "I'm working with a gentleman on converting a tear drop camper to a mobile store for me. In the future, I'll be able pull into my booth space, pop it open and be in business.
"I miss the markets and the outdoor shows. I've never before wanted so much to be hot and sweaty in a booth — I'd give anything to be in July and August shows this year."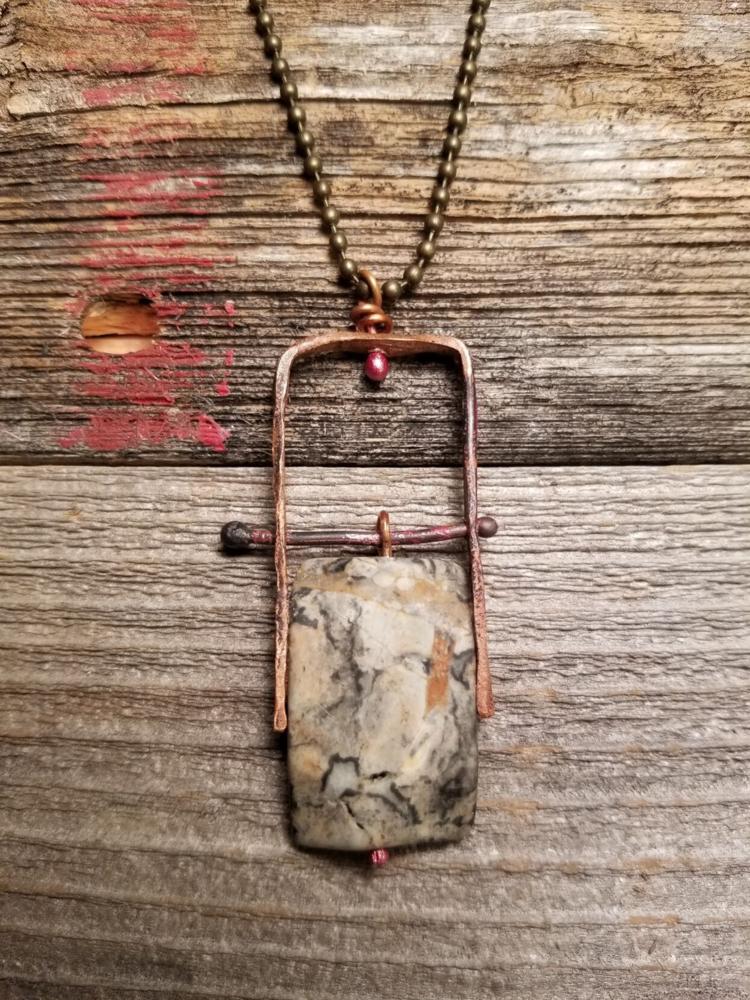 Looking back • Fisher, who was 13 when her mother died, credits her dad for raising her to be the woman she is today. "My dad had done all his contracting business out of state, but he gave that up and set up his company nearby to come home each night.
"He passed away in 2005, before I started my business. When we closed down his estate, I passed up some tools I would love to have now. Some families have trouble deciding what to do with the Hummels. I had to figure out what to do with front loaders and back hoes.
"When he taught me how to make things and use tools, he was really teaching me amazing lessons in life as well. I work on his old bench in my studio now. It brings me close to him, to his memory."
---
Jenni Be Jeweled Design


Family • Husband, Marc Fisher; two dogs, Winston, a beagle/boykin mix and Molly, a golden doodle; and a bearded dragon named Derpy. Their blended family includes Jen's son and daughter and Marc's son and daughter as well as three grandchildren with three more on the way.
What she makes • Fisher makes earthy/boho jewelry using hand-forged metals, often paired with genuine leather, semiprecious stones, beads or found objects in combination with the metal.
Where to buy • Fisher sells online through her website, jennibejeweleddesign.com. In addition, her work is available at retail stores Art Meets Vintage Gallery in St. Charles and at Outside the Box in St. Clair, Missouri. In normal selling seasons, she does pop-up shows, art fairs, arts and crafts shows, Tower Grove Farmers Market and festivals.
How much • Prices range from $29 to $148. She also accepts custom orders, which are individually priced in advance.
Be the first to know
Get local news delivered to your inbox!