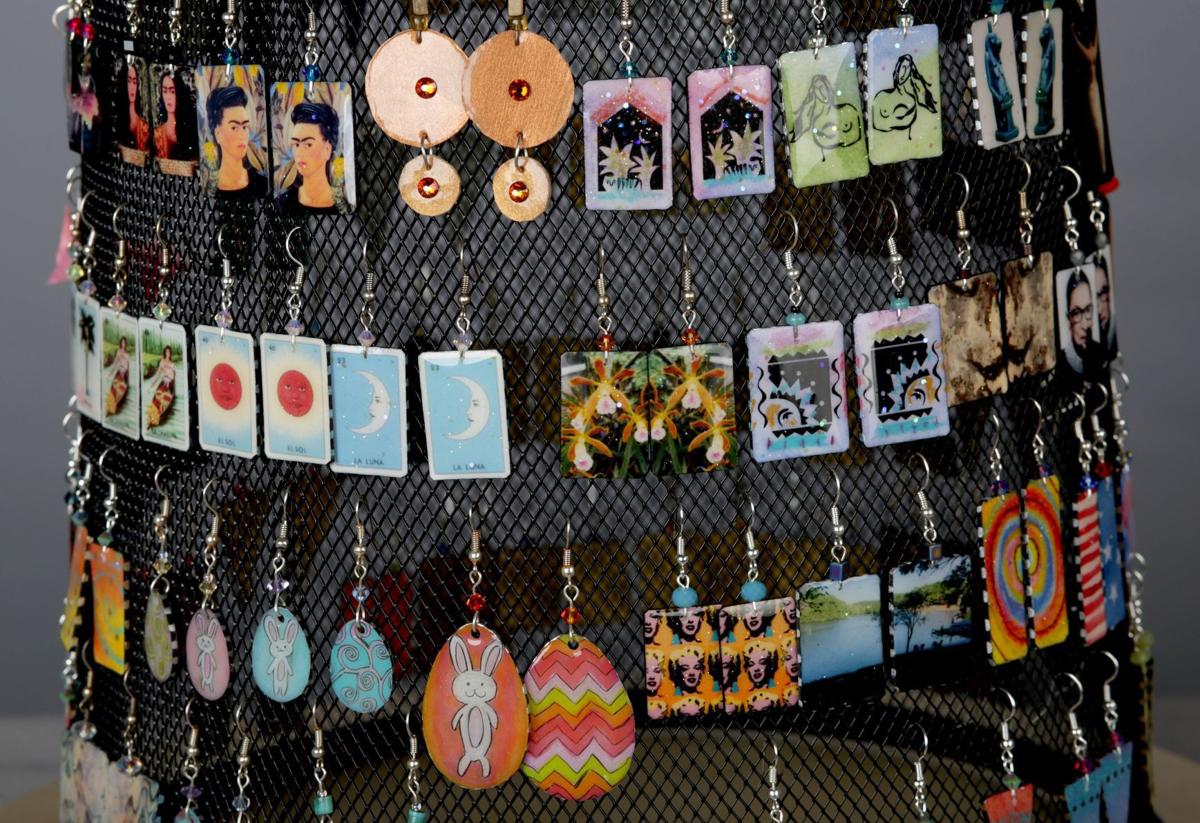 When Patrice Valle creates, there's no telling who or what will show up in her work. She describes her influences as "all things feminine, my Mexican American heritage, midwifery, honoring the feminine body and strength, and color — lots of color," she says.
In a sea of booths showcasing wares from around the world at the International Institute craft show in December, her colorful work stands out.
Lilliputian paper images of ancient and modern goddesses hung beside tiny Mexican bingo cards, caught in resin, become hundreds of earrings. Message of compassion and love amid intricate patterns, reminiscent of runes, labyrinths and spirals appear on clay pendants and ear bobs. Quilts, some brilliantly colored, some pale as moonlight and soft spring lilacs, invite further exploration. "I'm exploring softer colors and geometric forms against white space, as in some of the quilts I'm making now," she explains of the pale pieces.
How did all these images and styles converge in one artist?
A Mexican American grandfather of distinction • "Even though I was in the show at the International Institute, I'm not an immigrant. My grandfather walked across the Rio Grande in the early 1920s — in water up to his neck, as he told us. He took a job others didn't want, climbing utility poles for a Texas power company. He married in 1928, and he and my grandmother raised two daughters. He insisted they speak English in the home. He was proud to become an American citizen.
"My love of color, which is a primary thing for me, comes from my Mexican American heritage and from the time I spent in Panama in high school and college." The images she uses from the Day of the Dead, like La Catrina, and the highly colored and fun images from Mexican bingo cards show her puckish side.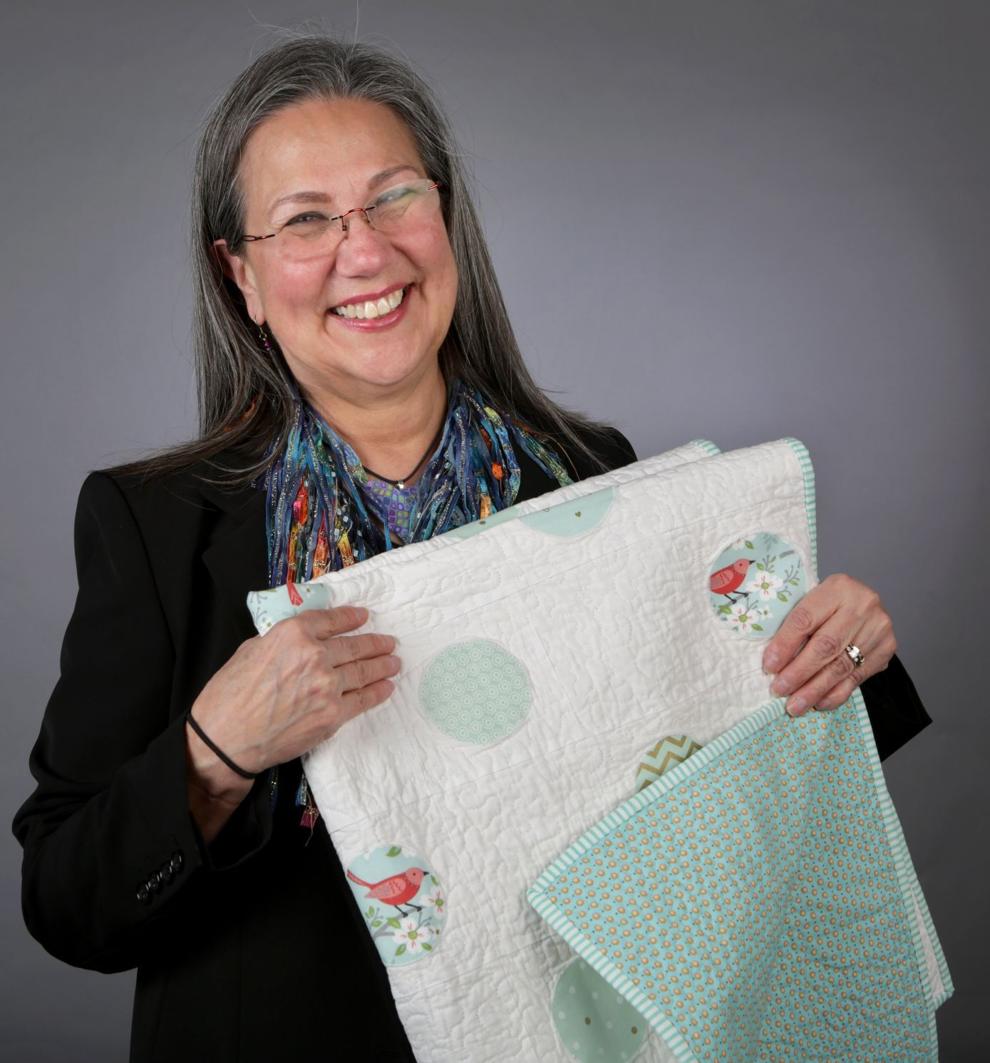 Midwife by day • Her lifelong work as a midwife informs many of her images. Valle now works part-time as a certified nurse midwife at Mercy Hospitals in St. Louis. She began her career in midwifery in the mid-1980s. "I've caught over 3,000 babies in my career," she says. "Now I provide screening and urgent care in pregnancy."
Serial crafter by night • From childhood, Valle was interested in making things. "When I was young, I watched PBS craft shows. I learned to sew from my mother. She wouldn't let me wear miniskirts in the 1960s, so I sewed my own, on the sly," she says. "I've always made things, but I move from one craft to another. For a time, I made large papier-mâché decorative bowls, then jewelry, more sewing, quilts — I guess you could say I'm a dilettante crafter," she says.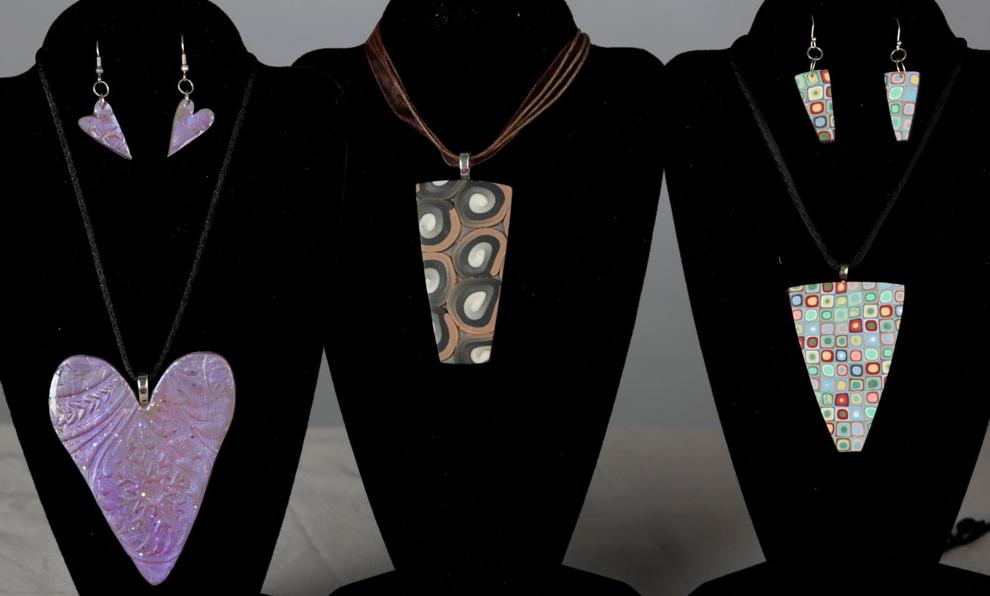 In praise of goddesses and feminine strength • Valle's subjects for her jewelry mirror what makes her tick. She's drawn to the eternal feminine, to the goddesses ancient and modern, who model strength and femininity. Resin earrings of Venus of Willendorf, a fertility goddess dating from 28000 B.C., stand strong beside earrings of a modern goddess, Ruth Bader Ginsberg; Frida Kahlo stares out from under a flowered crown; and a Minoan goddess beckons.
She's painted "Oh my uterus!" earrings for women who have lost theirs. "Sometimes they are relieved, other times, sad, but the feminine cycle of pain at birth, pain in our periods, pain in death — we need to honor that in each of us."
SuperMidwife, SuperMom • "When my son was 15, he drew the SuperHero midwife that I use today for my PatriceStuff business card," she says. Although he drew it for a charity event Valle was hosting, honoring all midwives, it seems especially appropriate for this artist and craftsperson that heeds her muses.
---
Family • Husband Mark Maravilla; son, Ian Mabley, 31
What she makes • Valle is a self-taught artist who makes crafts of all kinds, pursuing different interests as the mood strikes. Her focus now is on jewelry made from paper and resins and from clay, as well as quilts of all sizes.
Where to buy • Valle sells from her Etsy shop, etsy.com/shop/PatriceStuff, as well as at local pop-ups and markets. From April 15 to mid-November she will be a vendor twice a month at the Tower Grove Farmers Market. Check her Facebook page, facebook.com/patrice.valle, for upcoming shows and pop-ups.
How much • Paper and resin earrings are $10 per pair; clay earring and pendant sets, $35; quilts $90 to $750 depending on size and complexity.