The paintings and prints Maria Ojascastro makes reveal themselves by degrees. In the depth of layers, the studied application of colors that build energy and imagery, with subtle differences and fine distinctions of line, shape and form, her pieces draw viewers in. Her works speak universal truths through her very personal lens.
Garden sanctuaries, singing birds, buds and blooms abound; they promise a brighter tomorrow. A still life, her study of a green apple and a burgundy wine bottle, isn't an artistic trope; it's a meditation on stillness, rediscovered.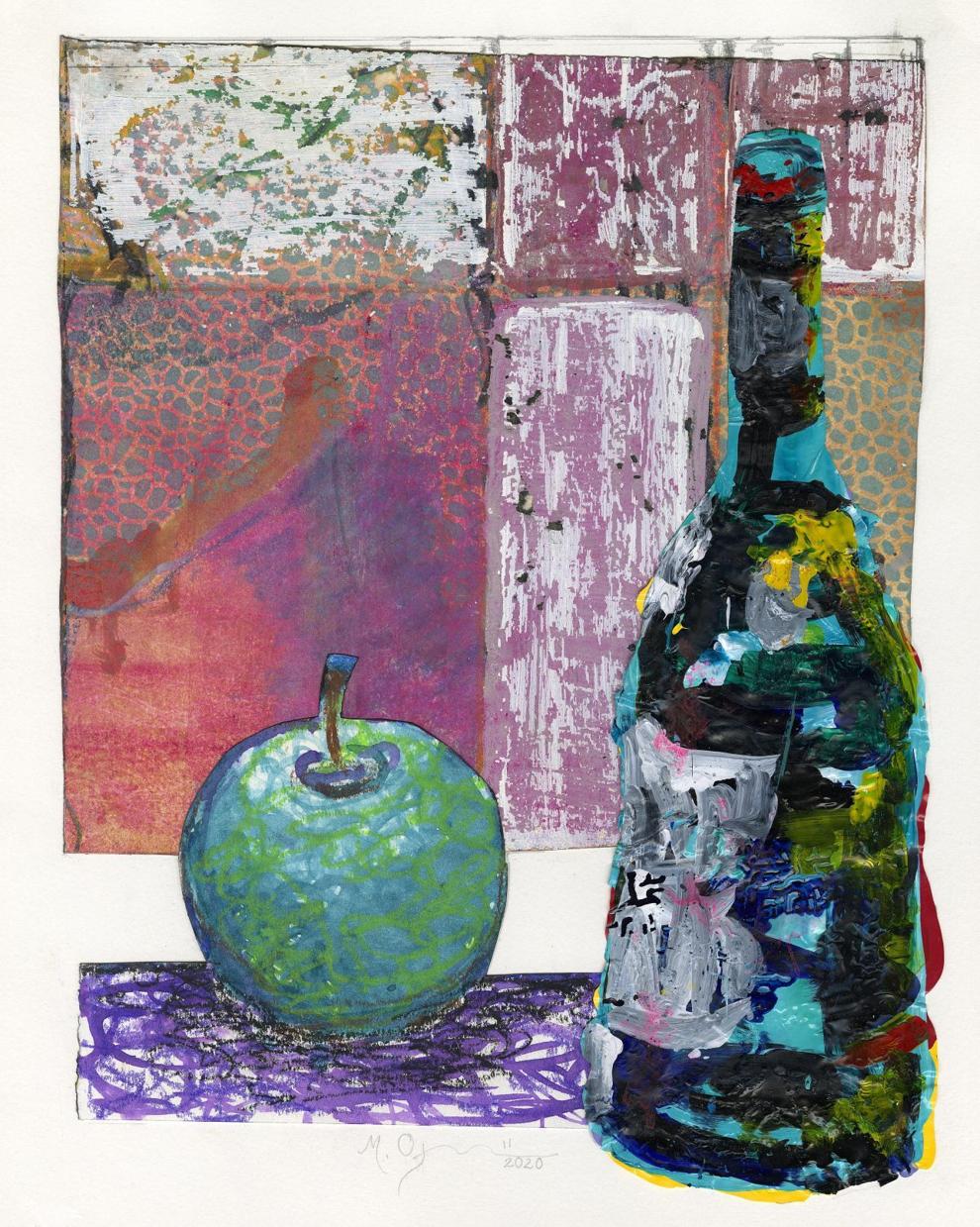 "For me, the piece was about being still, and appreciating the quiet moments during the chaos of the pandemic," she says. She counts it as a blessing. Her busy schedule cleared temporarily of classes and work gave her time to create. "This past year I've produced the most artwork since undergraduate school."
Had she stuck with her first career option, nursing, the pandemic would have affected her life very differently, but she chose art instead — and still helped people heal with online classes and teaching.
A funny thing happened on the way to a nursing degree • Ojascastro didn't study art in high school; instead she immersed herself in the biology, chemistry and anatomy classes that would benefit an aspiring nursing student, which is what she was told she was going to be.
"I drew on my own from the time I was young," she says, "but I thought I was going to be a nurse, so I enrolled in the nursing program at St. Mary's College in Notre Dame, Indiana. When I walked through the art department building on my way to the science building each day, I saw what the art students were doing, I thought 'Oh, I can do this in my dorm room' so I would draw what they were drawing," she says.
"I soon realized I liked the smells of the art department more than the smells of the science building. I decided to take a double major in nursing and art, and then work as an art therapist. By sophomore year I realized art was my thing; the thing I loved and I was good at it. I dropped all my nursing classes."
Imprints • Ojascastro earned her master's of fine arts in printmaking at Washington University where she produced experimental prints of gargantuan proportions. "My prints were collagraphs, very large, at 8 feet by 8 feet," she says.
Today, her intimate works, substantially smaller, measure in inches rather than feet; they are works that invite introspection and don't require gallery-sized walls. Today, she creates personal work in her home studio. Her studio also utilizes both indoor and outdoor spaces, a boon in the pandemic.
"I took over my dining room a long time ago, but the biggest change came when I moved my studio outside. My front yard with three big apple trees is a little cooler than the back of my house. Working outdoors turned into a social thing for me. I saw my neighbors out walking, and listened to the sounds of so many birds. Birds soon worked their way into my paintings," she says.
Champion the arts; Believe in the future • Ojascastro built her life's work in the arts not only with her personal work in painting and mixed media, but also in the work of building an inclusive arts community and strong arts organizations.
Her work includes marginalized and underrepresented people, including incarcerated individuals, those with mental health or developmental issues, people with significant medical conditions, and dementia as well as working with gifted students.
She has taught in a variety of settings. Today she primarily teaches in the stress management program with PALM Health, an integrative medicine center, and at Central and Visual Arts Performing High School in St. Louis.
Although she didn't become a nurse or an art therapist, she understands the difference the arts make in all lives. Art heals and restores.
En Avant • The lessons Ojascastro learned during the pandemic were many, but one led her to reimagine herself as an older person. "During the pandemic I've seen people struggle with the challenges of aging," she says. She is planning life changes for herself and her family. She intends to age in place, at home, and maintain her independence into the next phase of life.
In her artist's statement, she says "My artwork layers prints, paint, text and found objects as a meditation on resilience, salvaged from relics of interrupted journeys. . . . "inspired by my journey of life — a combination of struggle, joy and hope."
Artist • Maria Ojascastro
Family • Ojascastro has three sons, twins Teddy and Campbell Turner, 24, and Peter Turner, 20. The sons grew up with the family rabbit, Peanut, the runt of a litter.
What she makes • Ojascastro makes paintings, prints and mixed media pieces that pull from all of her skills. She sells original paintings, prints on canvas and paper, and lustrous prints on metal ready to hang. She also sells her art on greeting cards, coasters and small goods.
How much • Her prices range from $4 for small items like notecards, to $500 for original paintings.
Where to buy • Ojascastro's artwork is currently available online at bextraordinaire.com/ojascastro-artshop.html#. She will sell at select art fairs and shows beginning in the fall, including the Oct. 2 Art Fair at the Kirkwood Performing Arts Center.